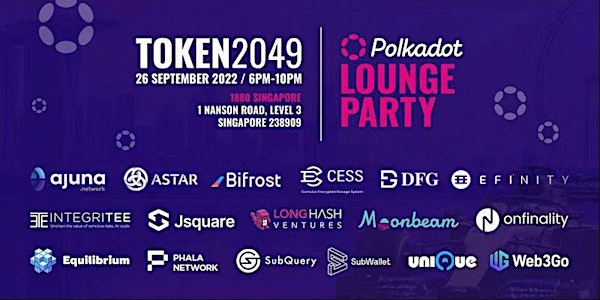 Polkadot Asia Lounge Party
Polkadot Lounge Party is a Networking Evening brought to you by the Polkadot Ecosystem. Date: Monday, 26th September, 2022
When and where
Location
1880 Singapore 1 Nanson Road #1880 Singapore, 238909 Singapore
About this event
Sign-up for the Polkadot Lounge Party in Singapore during Token2049!
Date: Monday, 26th September, 2022
Time: 6 pm to 10 pm
The Polkadot Community in Asia cordially invites you to a networking evening during Token 2049, the largest crypto event in the Asia region! The organising team is a strong group of parachains, projects investors and supporters of the Polkadot ecosystem. We aim to fulfil our goal of making a stronger and more unified Polkadot brand and ecosystem in Asia and beyond.
Sign up via the 'Register' button to express interest , and stay tuned for more details. See you at Token2049!
At the Polkadot Lounge party will get an opportunity to meet with the project teams, the ecosystem supporters and some of the investors. You can read about the participating projects here :
Polkadot : Polkadot unites and secures a growing ecosystem of specialized blockchains called parachains. Apps and services on Polkadot can securely communicate across chains, forming the basis for a truly interoperable decentralized web.
Ajuna Network: Ajuna Network makes the world's leading game development engines — Unity and Unreal — fully integrated with the world of blockchain-based assets. It empowers gamers to own and control their in-game assets, trade them in community marketplaces, and bring them to new worlds.
Astar Network is a multi-chain smart contract platform that supports multiple blockchains and virtual machines.
Bifrost Finance is a web3 derivatives protocol that provides decentralised cross-chain liquidity for staked assets. By leveraging on the cross-consensus message (XCM) format it can provide cross-chain liquid staking services for multiple chains.
Cumulus Encrypted Storage System (CESS) is the first decentralised cloud storage network to offer online dynamic data storage services and support large scale commercial Dapps. CESS adopts proprietary technologies such as R²S, PoDR² and CESS Smart Cloud Space Management etc to avoid the single failure point and ensure rapid data retrieval and index time within milliseconds. The efficient, secure and scalable CESS cloud storage network is a key infrastructure component for Web3.0.
Digital Finance Group (DFG) is a global blockchain and cryptocurrency investment firm founded in 2015 with assets under management of over $1 billion. DFG has invested in more than 120 projects and is a strong supporter of the Polkadot ecosystem.
Jsquare is a research and tech-driven investment firm focused on facilitating blockchain mass adoption, and empowering future Alpha in Web3. Currently we are self-funded with AUM of over $150M, with 50+ portfolios.
Efinity is pioneering the next generation of NFTs in the Metaverse. Built as a scalable, decentralized, cross-chain network to bring NFTs to everyone, Efinity aims to create the ultimate interoperable token standard boasting compatibility across all blockchains.
Equilibrium is the one-stop DeFi parachain built on Polkadot with high leverage in borrowing and trading without compromising system stability. Equilibrium includes a money market with lowest collateral requirements ever and a fully on-chain orderbook DEX for margin trading with leverage up to 20X.
Integritee is the most scalable public blockchain solution for securely processing sensitive business or personal data. Harness the speed and confidentiality of trusted execution environments, combined with the trust of a decentralized network, with Integritee.
LongHash Ventures is a Web 3 investment fund and accelerator collaborating with founders to build their Web 3 model and navigate the Asian crypto landscape.
Moonbeam is a smart contract platform for cross-chain connected applications that unites functionality from Ethereum, Cosmos, Polkadot — and beyond.
OnFinality is a blockchain infrastructure platform that saves Web3 builders time and makes their lives easier. OnFinality delivers scalable API endpoints for the biggest blockchain networks and empowers developers to automatically test , deploy, scale and monitor their own blockchain nodes within minutes.
Phala Network tackles the issue of trust in the computation cloud. By organizing a decentralized network of computation nodes around the world, it offers high-performance services without relying on any cloud vendor. Phala workers run the programs in Secure Enclaves, a privacy technology already embedded into modern processors, enabling versatile and confidential execution. Together, this creates the infrastructure for a powerful, secure, and scalable trustless computing cloud.
SubQuery is a decentralised data aggregation, indexing and querying layer between Layer-1 blockchains (including Polkadot, Avalanche, Algorand and Cosmos) and decentralized applications.
Unique Network provides NFT middleware and infrastructure for anyone to build NFT games or dApps. The blockchain's advanced NFT pallets like nesting, re-fungibility, sponsorship and more are designed to power the next-gen of advanced NFT use cases.
Web3Go is a multichain automation and data analytics platform and is granted by the Web3 foundation and selected as one project of Binance's MVB(Most Valuable Builder) incubation program. Currently, Web3Go is integrating the on-chain data of BNB and Aptos.
DAM Finance: dPRIME Asset Modules Finance ("DAM") is a Web3 banking infrastructure for borrowers with cross-chain portfolios. In the protocol, borrowers deposit baskets of tokens into DAM's linked-multi-collateral vault (LMCV) to mint dPRIME, a Dotsama-based stablecoin.