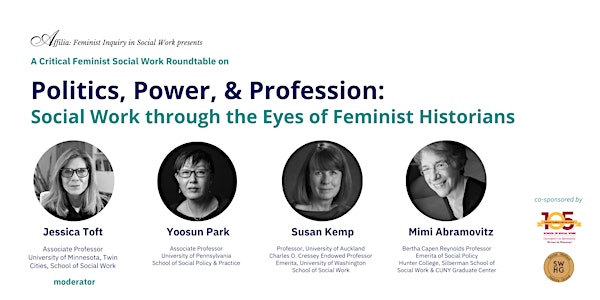 Politics, Power, Profession: Social Work & Feminist Historians
Join Affilia for a Critical Feminist Social Work Roundtable Social Work through the Eyes of Feminist Historians.
About this event
1 hour 30 minutes

Mobile eTicket
This Affilia webinar will showcase feminist social work historians Mimi Abramovitz, Susan Kemp, and Yoosun Park in conversation with Jessica Toft, who will discuss the importance of feminist historical study in social welfare and social work. Often cast into the peripheries of social work scholarship, this webinar emphasizes how historical investigation has, can, and should play a central role in our critical understanding of ever-changing socio-political-economic conditions and avenues for social change. Join us for this rare opportunity to see and hear these scholars share their intellectual journeys, insights, and recommendations for social work education, research, and practice related to feminist historical understanding and study. Barbara Levy Simon, Book Review Editor for Affilia and Professor Emerita of Social Work at Columbia University, will give closing remarks.
This webinar is co-sponsored by the University of Minnesota-Twin Cities School of Social Work and the Social Welfare History Group.
Jessica Toft (Moderator)
Jessica Toft, PhD, is an Associate Professor at the University of Minnesota-Twin Cities, School of Social Work. Her research examines the historical, political, economic, discursive, and institutional forces that influence social welfare, the social work profession, and social work practice. Her research is informed by historical methods, democratic political philosophy, and critical social theories. She chairs the Impacts of Neoliberalism on Minnesota Social Workers Project. She is the Vice President of the Social Welfare History Group (SWHG) and a lead editor of the SWHG historical bibliographies and is a member of the Affilia Editorial Board. Some of Dr. Toft's recent historical research includes:
Yoosun Park
Yoosun Park, MSW, PhD (@yoosun_p) is an associate professor at University of Pennsylvania School of Social Policy and Practice. A significant portion of Dr. Park's work consists of histories of the present, critical analyses of the profession's past intended to elucidate the profession's current practices and future imaginaries. Her award-winning historical work include the reconstruction of the occluded history of social work complicity in the forced removal and incarceration of Japanese Americans during WWII, and an examination of the profession's participation in the Americanization movement, which established that white supremacy was a constitutive, rather than a marginal, element of the development of social work. Some of Dr. Park's recent historical research includes:
Susan Kemp
Susan P. Kemp PhD is Professor of Social Work at the University of Auckland and Charles O. Cressey Endowed Professor Emerita at the University of Washington School of Social Work. Her research interests focus on place, environment and community as foci of social work practice; low-income children, youth and families; public child welfare; and social work history and theory. A Fellow of the American Academy of Social Work and Social Welfare and of the Society for Social Work and Research, she has been invested in social work history since undertaking her doctoral research at Columbia University under the brilliant mentorship of Professors Carol Meyer and Barbara Simon. Some of Dr. Kemp's historical research includes:
Kemp, S. P., & Brandwein, R. (2010). Feminisms and social work in the United States: An intertwined history. Affilia, 25(4), 341-364.
Fredriksen-Goldsen, K. I., Lindhorst, T., Kemp, S. P., & Walters, K. L. (2009). ''My ever dear'' Social work's ''lesbian'' foremothers—A call for scholarship. Affilia, 24(3), 325-336.
Park, Y., & Kemp, S. P. (2006). "Little Alien Colonies": Representations of immigrants and their neighborhoods in social work discourse, 1875-1924. Social Service Review, 80(4), 705–734.
Mimi Abramovitz
Mimi Abramovitz DSW is the Bertha Capen Reynolds Professor Emerita of Social Policy at Silberman School of Social Work, Hunter College, and the CUNY Graduate Center. A long-time feminist, her research interests include the women, US welfare state, poverty, inequality, activism, and the impact of public policy on human service organizations--all viewed through the lens of class, systemic racism, and structural patriarchy. Widely published in social work and often interviewed by the print and broadcast media, Mimi is the author of four books, including Regulating the Lives of Women: Social Welfare Policy from Colonial Times to the Present; the award-winning, Under Attack, Fighting Back Women and Welfare in the US; The Dynamics of Social Welfare Policy; and Taxes Are a Woman's Issue: Reframing the Debate. She is currently writing Gendered Obligations: The History of Activism Among Black and White Working-Class Women Since 1900 . Known as a scholar and an activist, Mimi was an early member of the Affilia editorial board. She also co-founded the Welfare Rights Initiative at Hunter College and currently co-leads the National Social Work Voter Mobilization Campaign also known as Voting is Social Work. Mimi has been honored with 17 awards including the Significant Lifetime Achievement Award from the Council on Social Work Education and the Lifetime Award for Excellence in Scholarship from Hunter College. She was inducted into the Columbia University School of Social Work Hall of Fame and in May 2023 will be awarded an honorary doctorate by Lund University in Sweden. Some of Dr. Abramovitz' historical works include:
Upcoming editorial with Jennifer Zelnick in Affilia 38(1): From the ground up: Revisiting social reproduction and the political economy of the U.S. welfare state with Mimi Abramovitz
Upcoming chapter reprint in Affilia 38(1): From the Welfare State to the Carceral State: Whither Social Reproduction?
Zelnick, J. R., & Abramovitz, M. (2020). The perils of privatization: Bringing the business model into human services. Social Work, 65(3), 213-224.
Abramovitz, M., & Sherraden, M. S. (2016). Case to cause: Back to the future. Journal of Social Work Education, 52, S89-S98.
Barbara Levy Simon
Barbara Levy Simon PhD has been a full-time faculty member at Columbia since 1986, having taught previously at La Salle University in Philadelphia and the State University of New York at Stony Brook. She serves as liaison for students in the dual-degree master's program with Union Theological Seminary. In the doctoral program, she teaches a course on the transnational history of humanitarianism. Dr. Simon holds an AB from Goucher College and an MSS and PhD from Bryn Mawr College Graduate School of Social Work and Social Research. Dr. Simon's books include Never-Married Women (Temple University Press, 1987), The Empowerment Tradition in American Social Work: A History (Columbia University Press, 1994), and The Columbia Guide to Social Work Writing (co-edited with Warren Green, Columbia University Press, 2012).
Upcoming article in Affilia 38(1): A microhistory of cross-class feminism in New York City, 1907–1911: The activism of Carola Woerishoffer