Politics As Usual

Thursday, August 4, 2016 from 6:00 PM to 9:00 PM (EDT)
Event Details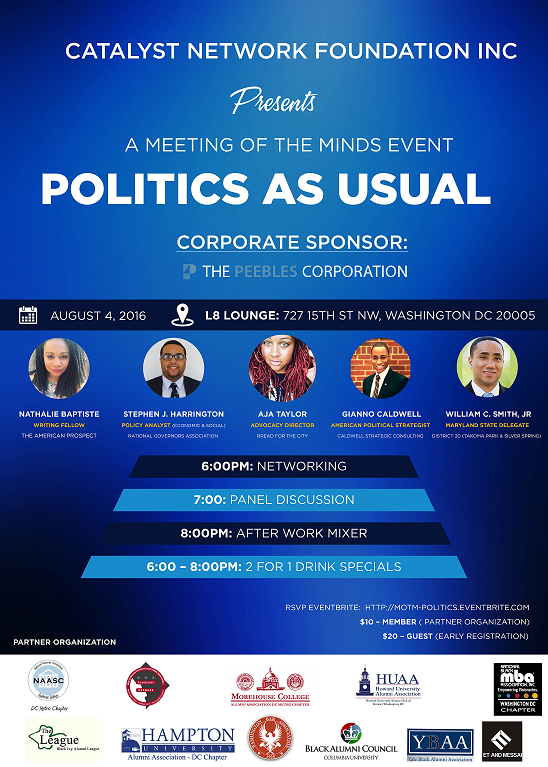 Corporate Sponsor
The Peebles Corporation
Partner Organizations
Black Ivy Alumni League
Thursday Network - Greater Washington Urban League Young Professionals
National Black MBA Association Metro Washington, DC
Yale Black Alumni Association
Washington, DC Alumnae Association of Spelman College
Columbia University - Black Alumni Council
Morehouse College Alumni Association DC Metro Chapter
Washington Bar Association
Hampton University - DC Alumni Chapter
Howard University Alumni Club of Washington, DC
Panel Discussion Topics
Media Effects: Mainstream Media and Social Media
What's your tool for change it may not be the ballot?
Politicking: State and Local
Approaches for Advocating Change: Bottom Up… Top Down…  Follow-Through... 
Black and Brown Agendas: Economic & Educational Policy 
Obama Presidential Legacy: Dream Deferred?
Panelist
Is a Democratic member of the Maryland House of Delegates, where he serves on the Judiciary Committee. He was first elected to the chamber in 2014. Will is an attorney with a public policy law firm. He previously served as Director of the US Department of Homeland Security's Advisory Council and is a commissioned officer in the United States Naval Reserve. He was the first person in his family to earn a college degree, graduating from The College of William & Mary. He earned his masters in Public Policy from Johns Hopkins University and a law degree from William & Mary.
Is the Director of Bread for the City's newly-minted Advocacy Department. She began at Bread as a a Community Organizer in the legal clinic's Community Lawyering Project.  Though she has only been organizing at Bread for the City for 3 years, her organizing experience dates back to her teenage years, when in her role as NAACP Youth Council President she did grassroots organizing work around improving conditions at Oak Hill Juvenile Detention Center.  She comes to this work as a young Black woman raised by socially conscious parents who always pushed their children to not just examine, but also challenge oppressive systems.  Aja is passionate about working with community members to build lasting infrastructure that will continue to develop leaders, put pressure on systems and challenge the status quo long after she has retired to Tahiti with her rich husband (don't laugh, it could happen). 
Past wins in her work include the passage of the Fair Criminal Records Screening Act of 2014 (Ban the Box), a transportation access win for seniors living at Victory Square Senior Apartments, and 2 resolutions to protect return rights for public housing residents who's properties are being redeveloped.  In addition to campaign work, Aja organizes and conducts political education workshops for Bread for the City's client leaders, and also for residents of CTF (the women's jail).
Is a policy analyst at the National Governors Association where he advises governors on issues pertaining to economic mobility, security, and development. Additionally he liaises with The Administration to identify opportunities for states to maximize their usage of federal dollars and programs.

Most recently, he was a researcher with The Pew Charitable Trusts' state fiscal health project where he worked with senior state officials to evaluate their economic policies and programs.

He's a 2016 New Leaders Council Fellow, graduate of Morehouse College, and an alumnus of Brown University's Watson Institute for International and Public Affairs.
Was raised by Haitian immigrants in the Washington, D.C. suburbs. She is currently a writing fellow at The American Prospect, where she covers criminal justice, race, and reproductive rights.
Is Principal at Caldwell Strategic Consulting. This bipartisan firm headquartered in Washington, D.C., focuses on healthcare, financial services, energy, and local government issues. Gianno has held a role on behalf of a member of Congress as well as roles at the federal, state, and local level reflecting over five years of legislative experience and culminating in the recognition of his ability to effectively create legislative strategies and build bipartisan coalitions.
Gianno began his government relations career serving as the Director of Government Relations for Naperville Township, a local government agency in Illinois. His primary focus was to develop strategies to cut costs relative to transportation, healthcare, taxes, pensions, and local government. In this position, he successfully lobbied the reduction of property tax rates for the whole of Naperville Township.
In 2011, Gianno served as the Director of African American Outreach for the DuPage County Republican party, the largest Republican county organization in Illinois. Additionally, Gianno served on Mitt Romney's 2012 campaign for President as an advance staffer. Gianno frequently provides analysis and commentary on Fox News Channel, Fox Business Channel, CNN, HLN as well as various National News networks. He is also as a contributor to the Hill Newspaper. Gianno is a native Chicagoan and holds a Bachelor's of Science in Psychology from Grand Canyon University.
Panel Moderator
Trey Barnette
Branch Manager, Robert Half International and Director of Professional Development at Catalyst Network Foundation Inc.
When & Where

L8 Lounge
727 15TH ST NW
Washington, DC 20005


Thursday, August 4, 2016 from 6:00 PM to 9:00 PM (EDT)
Add to my calendar
Organizer
Catalyst Network Foundation Inc. (CNF)
The Catalyst Network Foundation Inc. (CNF) is a non-profit education initiative 501(c)(3) organization based in New York City and Washington, D.C. The social enterprise is fundamentally grassroots, steered by a volunteer leadership team in New York City and Washington, D.C. In July of 2012, Ranking Congressman Ed Towns awarded a proclamation to the Foundation, in recognition of the organization's achievements.

CNF was conceived after its two founding members had a conversation about the future of youth and veterans in their community. After reviewing the lack of communal resources, skill development programs, and career-field opportunities for adults – the founders developed a vision. Through their combined efforts and strategic planning, the two founders recruited additional professionals to support the formation of Catalyst Network Foundation.
Founded in 2011, the nonprofit focuses on life enrichment and professional development, with a mission to engage high-potential youth (ages 14-25) and veterans (ages 21-30) by providing the proper tools, networks, skill-building projects, and development opportunities to maximize talent.
CNF holds a Summer Intensive Program for rising high school juniors and seniors in New York City and Washington, D.C. Successful applicants are enrolled at a CNF partnership high school. Each student receives individualized attention and internships in preparation for higher education and community service. The fellowship scholars are trained from day one: they tour corporate offices, pitch business ideas, and develop professional skills. 200+ students have been admitted to the Fellowship Program and are CNF Fellows, 99% have graduated high school, and 98% enrolled in higher education institutions (including prestigious colleges and universities).
Through CNF's Mentorship Program, Fellowship scholars are paired with a mentor that is a trailblazer in the profession or career field the fellows aspire to pursue. The CNF Internship Program secures CNF Fellows with internships at startups, corporations, and medical institutions.
Since 2011, the Fellows have participated in corporate tours and create or pitched presentations about inner-city school challenges to several companies, including: Google, Goldman Sachs, NIKE, LinkedIn, Morgan Stanley, HBO, Microsoft, Covington & Burling LLP, GAP, BET, Essence Magazine, NPR, Kaye Scholer LLP, Hughes Hubbard Reed LLP, Bloomberg, Peebles Corporation, Infor, Deloitte, FOX News, and NBC Studios.
The youth initiative annually holds tech symposiums at Google,career, and college preparatory workshops throughout the school year, instructing over 1,500 high school students in the aforementioned metropolitan areas.
CNF performs screening and facilitates seamless partnership arrangements with high schools, nonprofits, and corporations. I.e., City Poly Tech High School < > Infor
The organization works with American veterans (ages 21-30), connecting them with resources and information to assist them with their career and academic ambitions.
CNF has curated 25+ professional networking events and diversity career recruiting sessions. The organization host a professional mixer and panel discussion called The Meeting of the Minds (MOTM) a gathering that is held quarterly it uniquely combines networking and thoughtful policy discussion on topics affecting minority communities. The goal is to provide a forum for critical conversation on issues often ignored by mainstream media outlets.