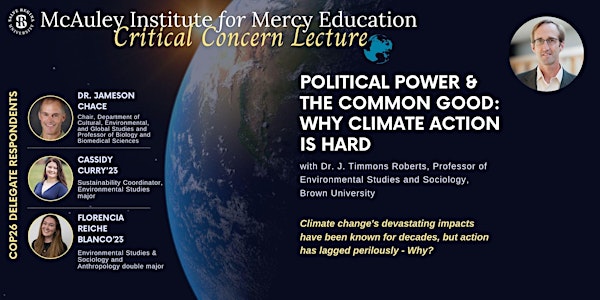 Political Power and the Common Good: Why Climate Action is Hard
McAuley Institute Critical Concern Lecture & Dialogue
When and where
Location
Bazarsky Lecture Hall, O'Hare Academic Center 100 Ochre Point Avenue Newport, RI 02840
About this event
The McAuley Institute for Mercy Education hosts a Critical Concern Lecture & Dialogue:
"Political Power and the Common Good: Why Climate Action is Hard" with Dr. J. Timmons Roberts, Professor of Environmental Studies and Sociology, Brown University, Executive Director of the Climate Social Science Network. Salve's COP26 Delegates, Dr. Jim Chace, Chair, Department of Cultural, Environmental, and Global Studies and Professor of Biology, Cassidy Curry'23, Sustainability Coordinator, Environmental Studies major, and Florencia Reiche Blanco'23, Environmental Studies & Sociology and Anthropology major will be responding.
Climate change's devastating impacts have been known for decades, but action has lagged perilously. Some account this to "human nature" or climate change being a particularly "wicked problem." Roberts will argue that powerful economic interests, led by the fossil fuel industry, have developed a complex set of institutions built to undermine ambitious action by our nation, by our state, and by institutions like universities. The talk reviews national and global trends, then moves to examples of climate obstruction in New England.
Virtual livestream available!