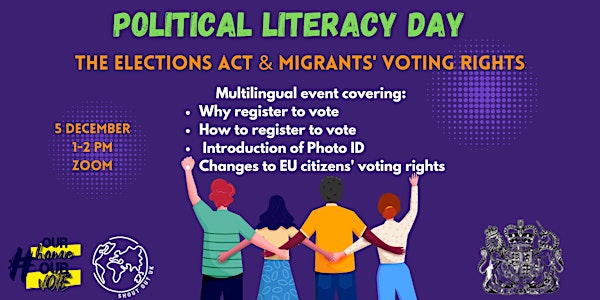 Political Literacy Day - Migrants in UK Democracy
Are you a migrant in the UK? Confused about the changes brought by the Elections Act? Join us to find out how to stay active in UK politics.
About this event
Shout Out UK is hosting Political Literacy Day on the 5th of December 2022. To support Political Literacy Day, Migrant Democracy Project are hosting an online event to inform UK migrants about their voting rights.
The Elections Act came into effect in April 2022. It has brought significant changes to who can vote and how we vote in UK elections.
Join us for a multilingual event to find out about the introduction of mandatory photo ID, changes to the voting eligibility of EU citizens, how to register to vote and why!
Speakers:
- Maddy Dhesi, Migrant Democracy Project, Chair
- Lara Parizotto, Migrant Democracy Project, Portuguese speaker
- Alex Bulat, Migrant Democracy Project, Romanian speaker
- Ana Oppenheim, Polish speaker
- Marcela Benedetti, Refuge, Spanish speaker
- Toni Petkova, Settled, Bulgarian speaker
- Panny Antoniou, Greek speaker