Description
Registration is closed. Anyone who didn't register but would like to attend can get seating after 6:50pm.
Exclusive, free speech-themed foam middle finger for everyone who attends! Must register to attend. See FAQs below for details
Lecture includes DJ mixing classics from artists with free speech controversies like Eminem, Madonna and N.W.A.

Please come with an open mind and to have FUN. No trigger warnings, safe spaces and coddling available
A celebration of free speech for ALL political orientations!
Keynote Speech and Q&A by Justin Longo, Co-Founder of libertarian drinking club Liberty on the Rocks
Hosted/DJed by YAF Hype Man, Ari Estevez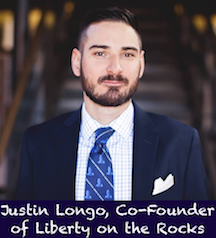 Keynote Speaker Bio: Justin Longo in 2008 co-founded Liberty on the Rocks, a drinking and social club for liberty lovers. It now has chapters around the world, including throughout the United States, Australia and Canada. Since 2007 he has been a communications specialist and media content creator for the free-market, pro-freedom think tank, Independence Institute. His roles include video production, script writing and he serves as Editor of Complete Colorado, which was named "Best Political Blog" in 2012 by Westward Magazine, and "Best State-Based Political Blog" twice by the Washington Post.

FAQs
How do I attend?
Must register to attend. REGISTRATION DOES NOT GUARANTEE SEATING! Seating is first-come, first-served. Doors open at 6:30pm. Present your registration confirmation to an usher at the entrance. One person per registration.
How do I claim a foam middle finger?
Must attend to claim. The exclusive, free speech-themed foam middle finger mitt is limited to attendees. Attendees are limited to available seating at the auditorium and the mitts will be distributed upon entrance. The earlier you arrive, the better.
Who can attend?
All University of Denver students, staff, faculty and alumni are encouraged to attend. The event is public and anyone who registers can attend.
For all further questions and inquiries, tweet @AriEstev1