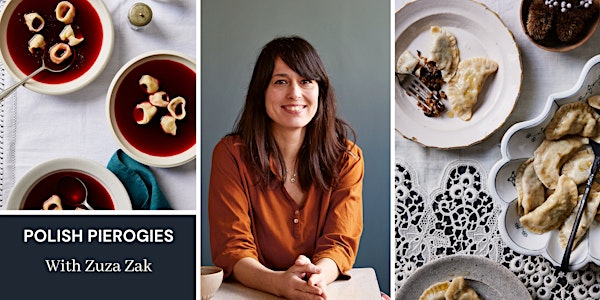 Polish Pierogies with Zuza Zak
If you love dumplings, gyoza and empanadas, then we're willing to bet you love pierogies too—you just may not know it yet.
Refund Policy
Contact the organizer to request a refund.
About this event
1 hour 15 minutes

Mobile eTicket
NOTE: iphone and ipad users, CLICK HERE to register for class.
What's on the Menu:
Sauerkraut and mushroom pierogi
Borscht with Uszka ('Little Ear' Dumplings)
If you love dumplings, gyoza and empanadas, then we're willing to bet you love pierogies too—you just may not know it yet. Made across Central and Eastern Europe, pierogies come in all shapes, sizes and flavors, and guest chef Zuza Zak, author of the new book "Pierogi: Over 50 Recipes to Create Perfect Polish Dumplings ," is here to show you the way they're made in Poland. We'll start with a deeply savory pierogi that happens to be vegetarian but gets great depth of flavor from sauerkraut and mushrooms. You'll learn how to make a versatile pierogi dough and how to shape a classic half-moon pierogi like a pro. You'll learn when to boil and when to pan-fry your pierogi and get inspiration from Zuza on the sauces and accompaniments to serve them with. Then, we'll make a dish that is on virtually every Polish Christmas table: borscht with uszka, a traditional dumpling that, literally translated, means "little ear." These delicate dumplings are most commonly stuffed with mushrooms, though you can adapt them to be filled with many other ingredient combinations of choice. Featuring a folding technique that—we promise—you will do with ease after a few tries, uszka are guaranteed to make an appearance in many of your soups to come, whether it's a beet-based borscht or something completely different.
About Zuza: Zuza Zak calls herself a Storyteller-Cook and her aim is to inspire the world to cook and eat more food from Eastern Europe. Zuza's interest lies in the culture and history of food and as such she uses storytelling as a medium for delving into another culture through its cuisine. Both in her writing and her food-focused Ph.D. at the School of Slavonic and East European Studies (UCL), Zuza explores food as a cultural anthropologist, in the context of identity, society and culture. Passionate about instilling an appreciation for food from an early age, she is now passing on her culinary love to her daughters. Besides "Pierogi" Zuza is also the author of "Polska" (Quadrille, 2016) and "Amber & Rye" (Murdoch, 2021).
Order yourself a copy of Zuza's new book, "Pierogi: Over 50 Recipes to Create Perfect Polish Dumplings"!
Want to give this class as a gift? You can purchase gift cards here.
Bonus: All attendees of this class will receive a one-time 15% off coupon to the Milk Street Store after class.
This event has limited spots, and you must register in advance via Eventbrite. One sign-up covers one device. Closed Captioning is available for this event.
Immediately after registering, you will get a confirmation email that contains the Zoom meeting log-in information. One week prior to class (or within 48 hours of registering, if you sign up less than a week in advance), you will receive an email with the ingredients, equipment and prep you'll need to cook along with us, if you choose.
After class, you will receive a recording of the event, as well as a folder of recipes and resources that we discuss during the event. Class recordings are available to all registered attendees for two weeks following each event.
Payments for Milk Street live stream classes are non-refundable. If you find yourself unable to attend, you may transfer the ticket to someone else, but we are unable to refund fees and all payments are final. Classes are subject to cancellation at any time. In the case of cancellation by the event organizer, all paid tickets will be fully refunded.
Proceeds from live stream cooking classes support Milk Street's non-profit work with The Big Sisters Association of Great Boston, The Boys & Girls Club of Dorchester, and other partners.
If you have any questions about this class, please don't hesitate to get in touch via cookingschool@177milkstreet.com.