Description
Wisconsin Bike Fed's Polish Moon Ride

Eat! Ride! Polka!
When: Friday, June 22nd, 2018.
What: Eat 5-7 p.m. Ride 7-9 p.m. Polka 9pm-11 p.m.
Where: Fuel Cafe 5th Street, 630 S 5th St, Milwaukee,. WI 53204 Located in Milwaukee's hip Walker's Point Neighborhood, right below the historic Rockwell Clock Tower (AKA the Polish Moon).
Cost: $25 Individual, $40 Tandem, $50 for a family of four (you can purchase additional children's tickets)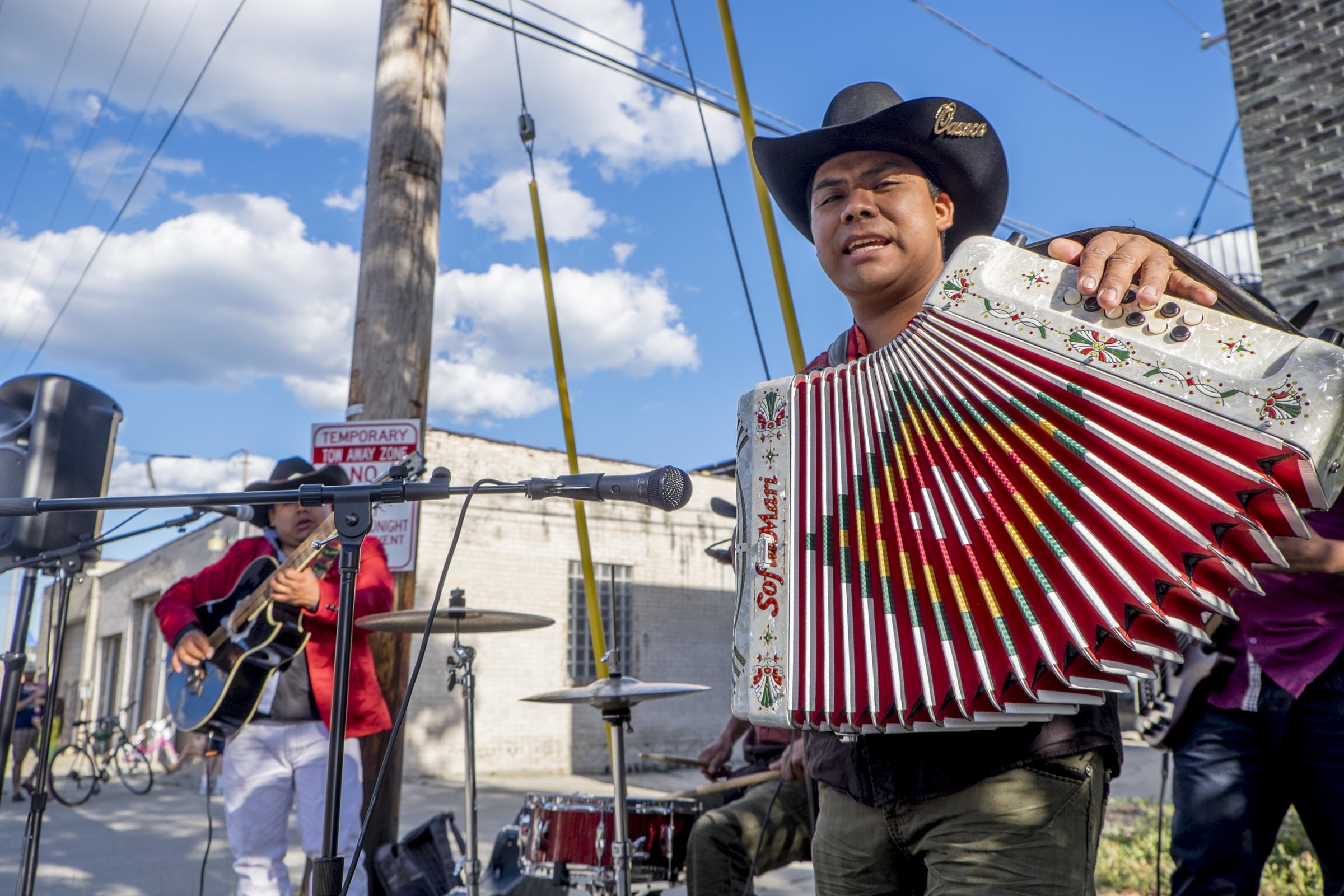 Join us Friday, June 22nd, for the fourth annual Polish Moon Ride, a unique, family-friendly bike tour through Milwaukee's historic Polish neighborhoods. The easy, slow roll through the real "Streets of Old Milwaukee" honors the area's Polish and German history while it celebrates the present-day Latino culture. Be sure to bring the whole family for this ride. The pace and distance are slow enough for all ages and abilities, and the police keep everyone safe. Kids love the feeling of riding around on these historic streets of old Milwaukee as the sun sets!
Come hungry, because the Polish Moon Ride begins at 5 with delicious Polish and Mexican food. The talented grill masters from Ben's Cycle and Milwaukee Bicycle Company will man the barbeque pit, featuring Polish sausage and Sciortino's buns. Chef Noe from Fuel will be serving great empanadas and pierogi. Of course we will have a couple flavors of Purple Door ice cream as well! While you eat, MX Rudigo Norteño, one of Milwaukee's hottest norteña bands, will get you warmed up for the ride.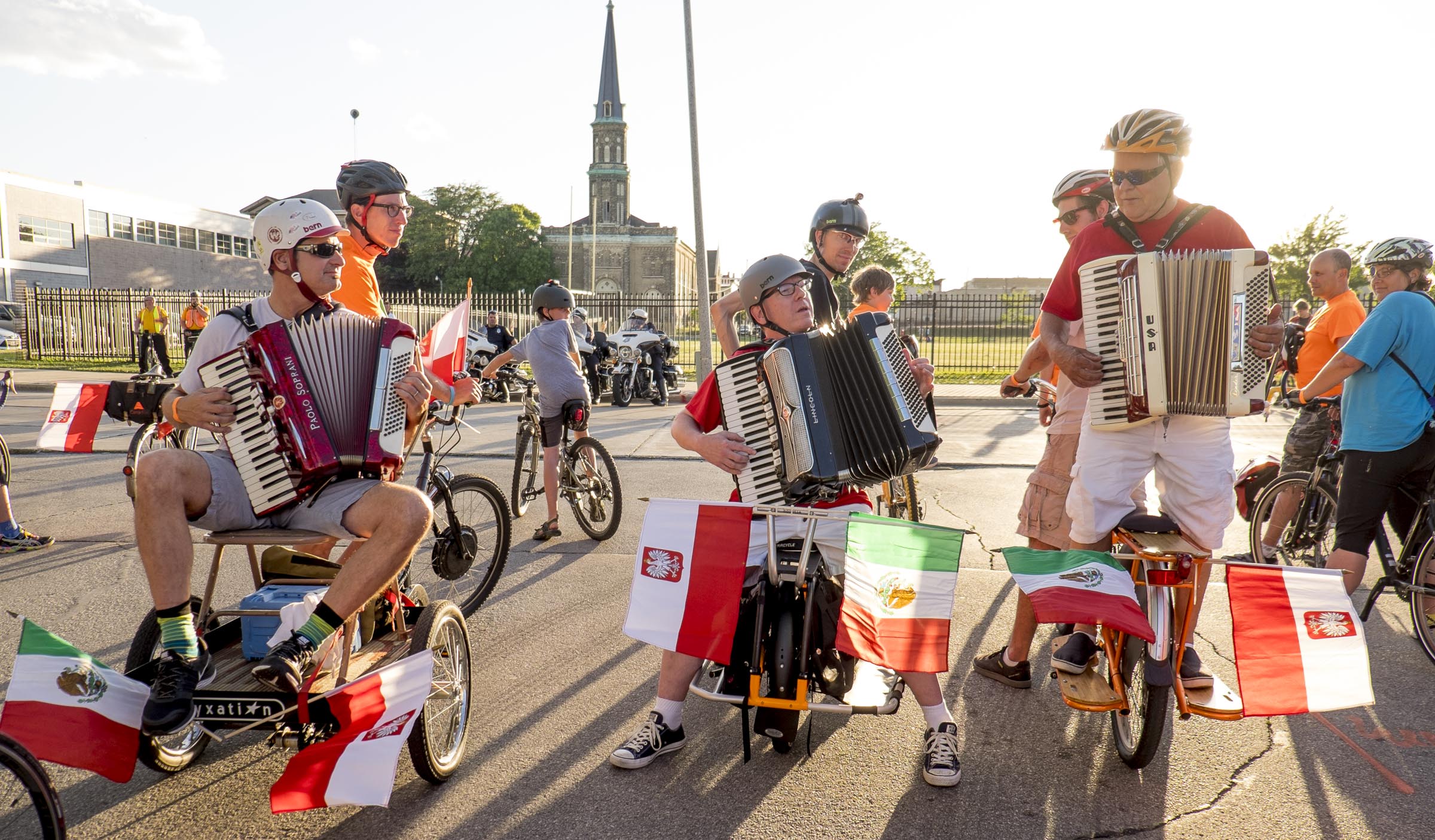 The police-led ride starts at 7 with accordion players cranking out polka on the back of cargo bikes along the entire 8-mile, family-friendly ride. Be prepared to be amazed, as the crowd of people on bikes last year stretched 10 city blocks! This is a SLOW ride, and expect lots of short stops along the route as the police hold us at intersections. We will have ride support in case you have a flat or mechanical.
As soon as you get back to the start at Fuel Cafe, the Polish Moon Polka Trio kicks off the after-party with their special Milwaukee style of Polka, so bring shoes you can dance in. Still hungry? No problem, as there will be more great local food, craft beer and free chocolate milk and ice cream while it lasts.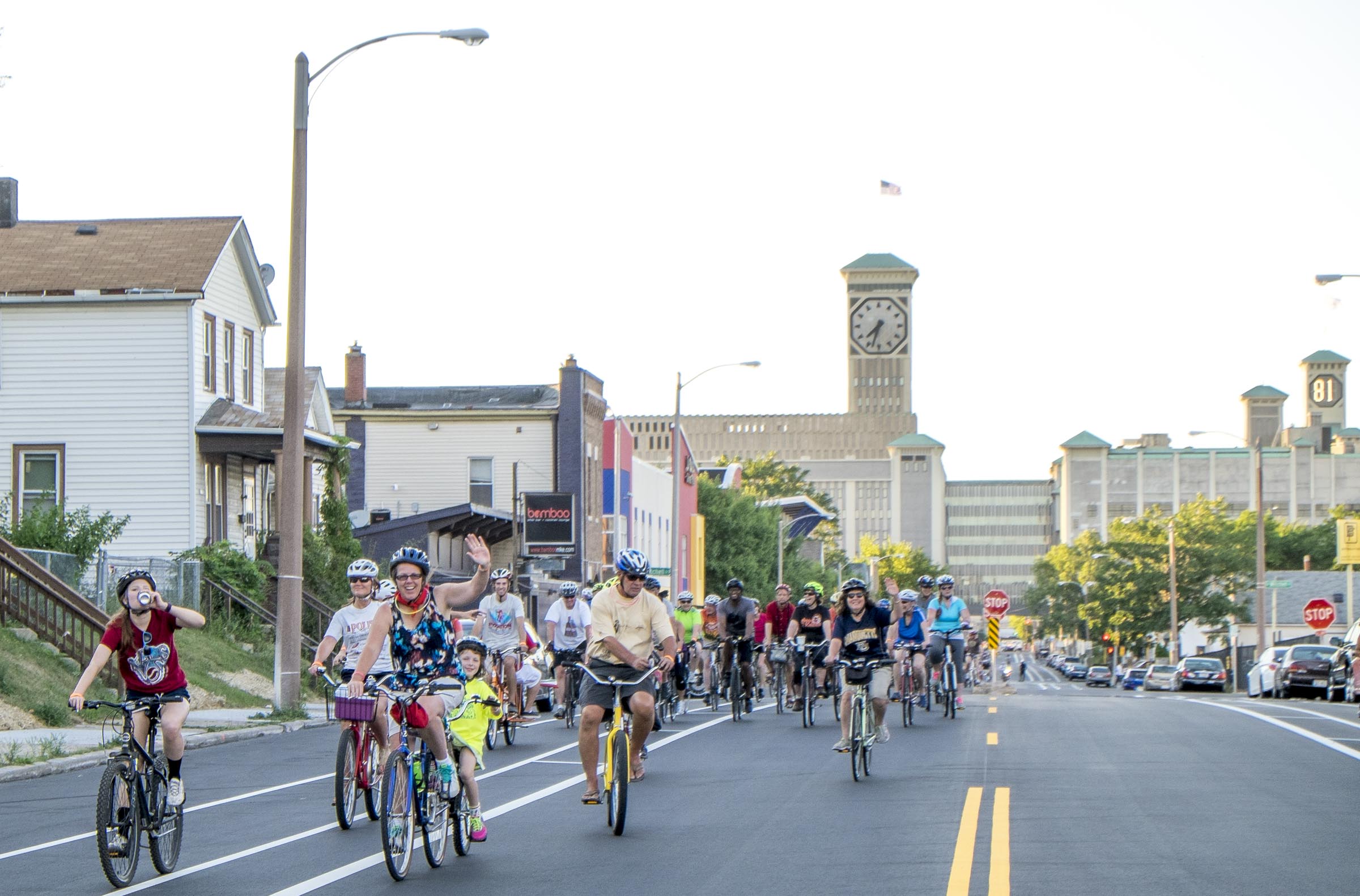 The Polish Moon Ride was the Bike Fed's first major foray into producing our own fundraising ride. For years, we helped out at hundreds of fundraising rides and races for bike clubs and charities around the state.
In order for our new ride to be successful and not compete with from the hundreds of other great rides around the state, we knew we had to create something unique. Our first brainstorm was a night ride. Then someone suggested a full moon ride. And while planning a ride for a typical full moon can be tricky because of possible clouds, or if the moon rises on a weeknight, in Milwaukee, the Polish Moon is always full.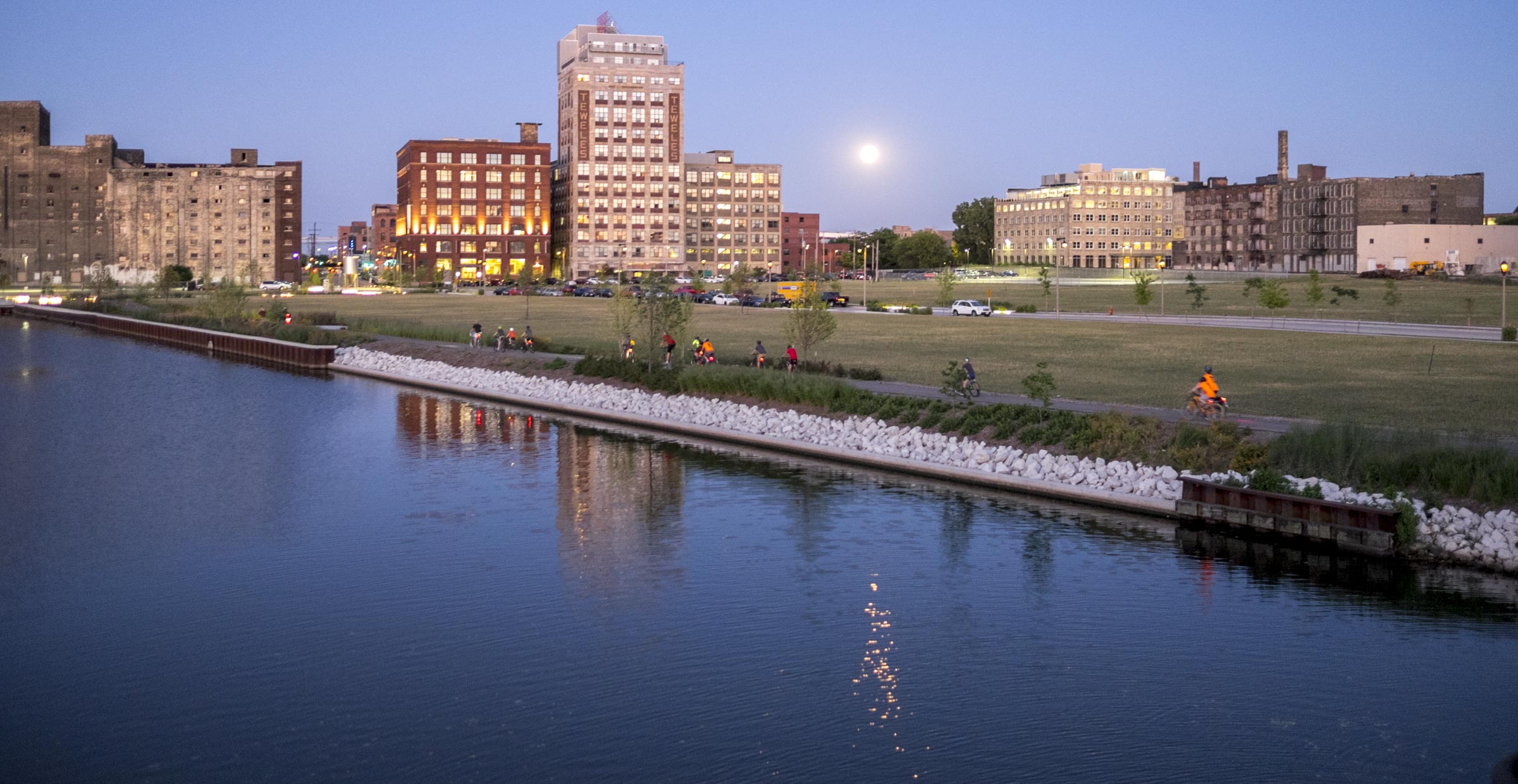 To those not familiar with Milwaukee south side lore, the Rockwell Automation Clock Tower has been affectionately referred to as the Polish Moon since it was constructed in 1962 by the-then Allen Bradley Corporation. It got it's name because the light from the four giant clock faces shines on the surrounding neighborhood, which was then largely populated by Polish immigrants. In his book about the Bradley's, Milwaukee historian John Gurda revealed that company president Harry Bradley wanted to build the largest four-faced clock in the world (which it was at the time) and "…the village clock for Allen-Bradley's home neighborhood."1 Architect Fitzhugh Scott, Jr., who designed its look, said, "Harry wanted a clock that Allen-Bradley's workers could read from their houses."2
These days, people on Milwaukee's near southside speak more Spanish than Polish, and the neighborhood has become a destination for foodies. It seems like whenever I ride my bike through the Walker's Point or Fifth Ward neighborhoods, I discover a hip new bar, coffee shop, restaurant, craft brewery or distillery. There is even an urban cheese factory!
If all that wasn't enough, it seemed perfect that both Mexican and Polish cultures embrace Polka music. With all that positive synergy, we decided that our ride would start under the Polish Moon. The event begins with great Mexican and Polish food, and even Purple Door Ice Cream, delivered from their creamery down the street. Everyone who registers gets a wooden nickel good for a free food item or beverage, but you can buy more if you are still hungry. Ice cream is free. Food will be served from 5 p.m. to 7 p.m., so you can grab some dinner and take in some great live music before the ride.
The ride begins at 7 p.m., with live polka music played the entire route courtesy of our accordion players riding on the backs of cargo bikes! The ride is very slow-paced, easy even for young children. Milwaukee motorcycle police lead the ride and bring up the back. They do an amazing job keeping everyone safely together by blocking traffic as the rolling polka party snakes through the old historic streets. The ride stops at some major intersections for cross traffic and to let the "accordion" of people compress and mass up. This also gives the accordion players an opportunity to stand up and stretch a bit!
It takes the group about one and a half to two hours to complete the eight-mile route and return to the start location at Fuel Cafe, where the Polish Moon Polka Trio will take the stage to get the Polka dancing started. There will also be more food, great local beer and even Żywiec, from a brewery founded in 1856, in Żywiec, Poland.
This unique night ride starts and ends early enough that parents can bring even younger children. The kids all really seem to get a kick out of riding at night through an urban area. Neighbors come out to cheer and take videos of the rolling polka party as we go by their homes and businesses.
You can find out more details about the ride and register early at our Polish Moon Ride page at our website: http://wisconsinbikefed.org/events/polish-moon-ride/. You can also follow our Polish Moon Facebook page to stay updated on the event and the Polish Moon "training rides," outings to visit sponsors like the Purple Door Ice Cream Shop, the Wednesday night Polka Jam at Kochanski's Concertina Beer Hall, and the historic Holler House (the nation's oldest two-lane bowling alley) and for a chance to win prizes by answering fun trivia questions about Milwaukee's south side.
1 John Gurda, The Bradley Legacy (Milwaukee, Wisconsin, Lynde and Harry Bradley Foundation, 1992) page 129.
2 Ibid. Page 130.