Description
Wisconsin Bike Fed's Polish Moon Ride

Eat! Ride! Polka!
When: Friday, June 22nd, 2018.
What: Eat 5-7 p.m. Ride 7-9 p.m. Polka 9pm-11 p.m.
Where: Fuel Cafe and Nomad Nacional Fanzone, 630 S 5th St, Milwaukee, WI 53204, in Milwaukee's hip Walker's Point Neighborhood, just a little north of the Polish Moon.
Cost: $20 Individual, $40 Tandem, $50 for a family of four (you can purchase additional children's tickets)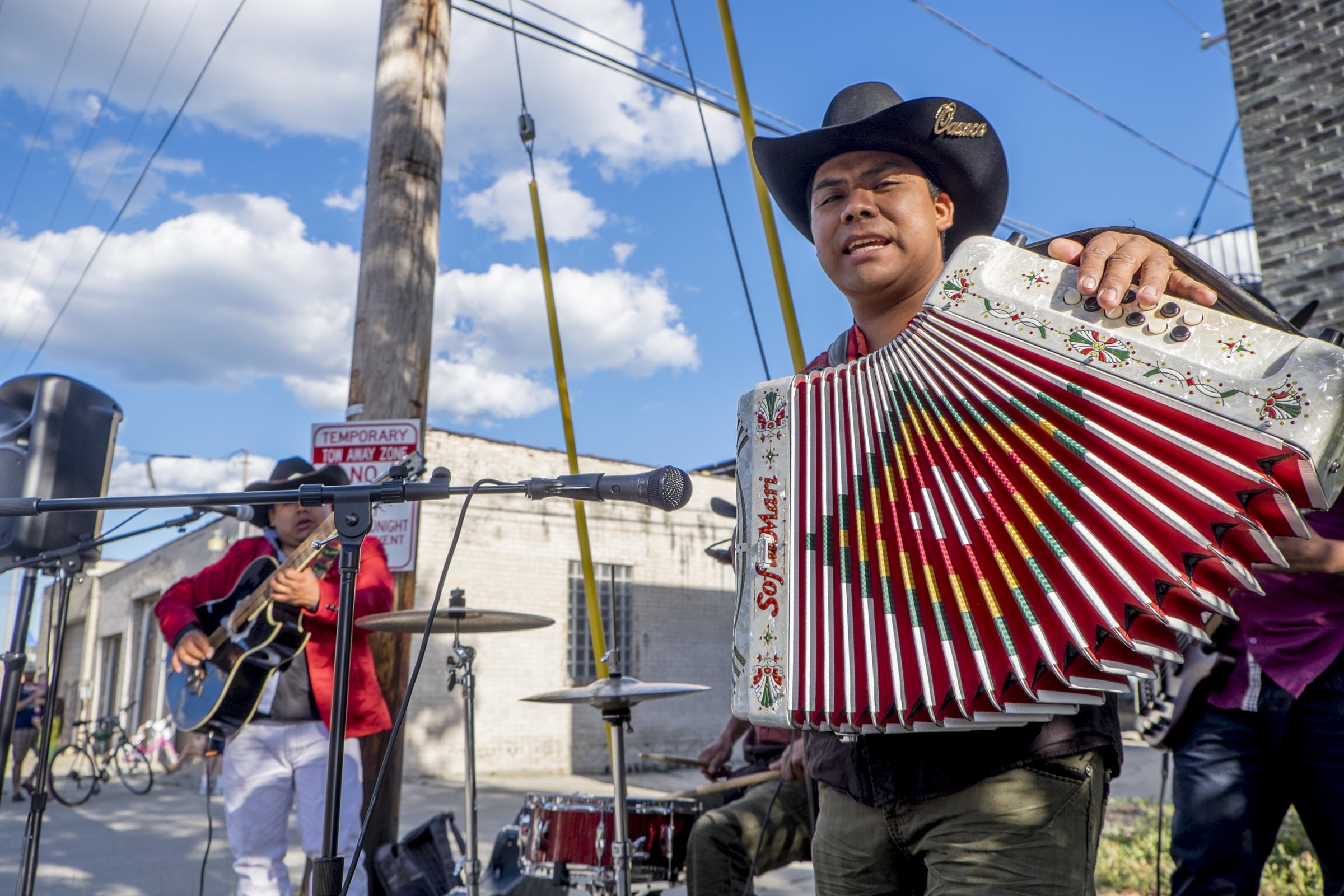 Join us Friday, June 22nd, for the fourth annual Polish Moon Ride, a unique, family-friendly bike tour through Milwaukee's historic Polish neighborhoods. The easy, slow roll through the real "Streets of Old Milwaukee" honors the area's Polish and German history while it celebrates the present-day Latino culture. Be sure to bring the whole family for this ride. The pace and distance are slow enough for all ages and abilities, and the police keep everyone safe. Kids love the feeling of riding around on these historic streets of old Milwaukee as the sun sets!
This year the ride will be hosted by the super cool new Fuel Cafe 5th Street location and Nomad Nacional across the street. Both are new businesses who opened on the recently reconstructed South 5th Street. Nomad Nacional's 2018 Fanzone is a new summer hub for alfresco eats & drinks, colorful vibes, dance nights & world music, and all things FIFA World Cup!
Come hungry, because the Polish Moon Ride begins at 5 with delicious Polish and Mexican food. The grill masters from Ben's Cycle and Milwaukee Bicycle Company will man the barbeque, featuring Klements Polish sausage on Sciortino's buns. Fuel Cafe and Nomad Nacional will be serving amazing Mexican food and Pierogies as well. Of course we will have free ice cream again for the kids thanks to Wisconsin's Cedar Crest, who also donate for the kids races at ToAD! MX Rudigo Norteño, one of Milwaukee's hottest norteña bands, will play at Fuel to get you warmed up for the ride. Nomad Nacional will also have a mariachi band.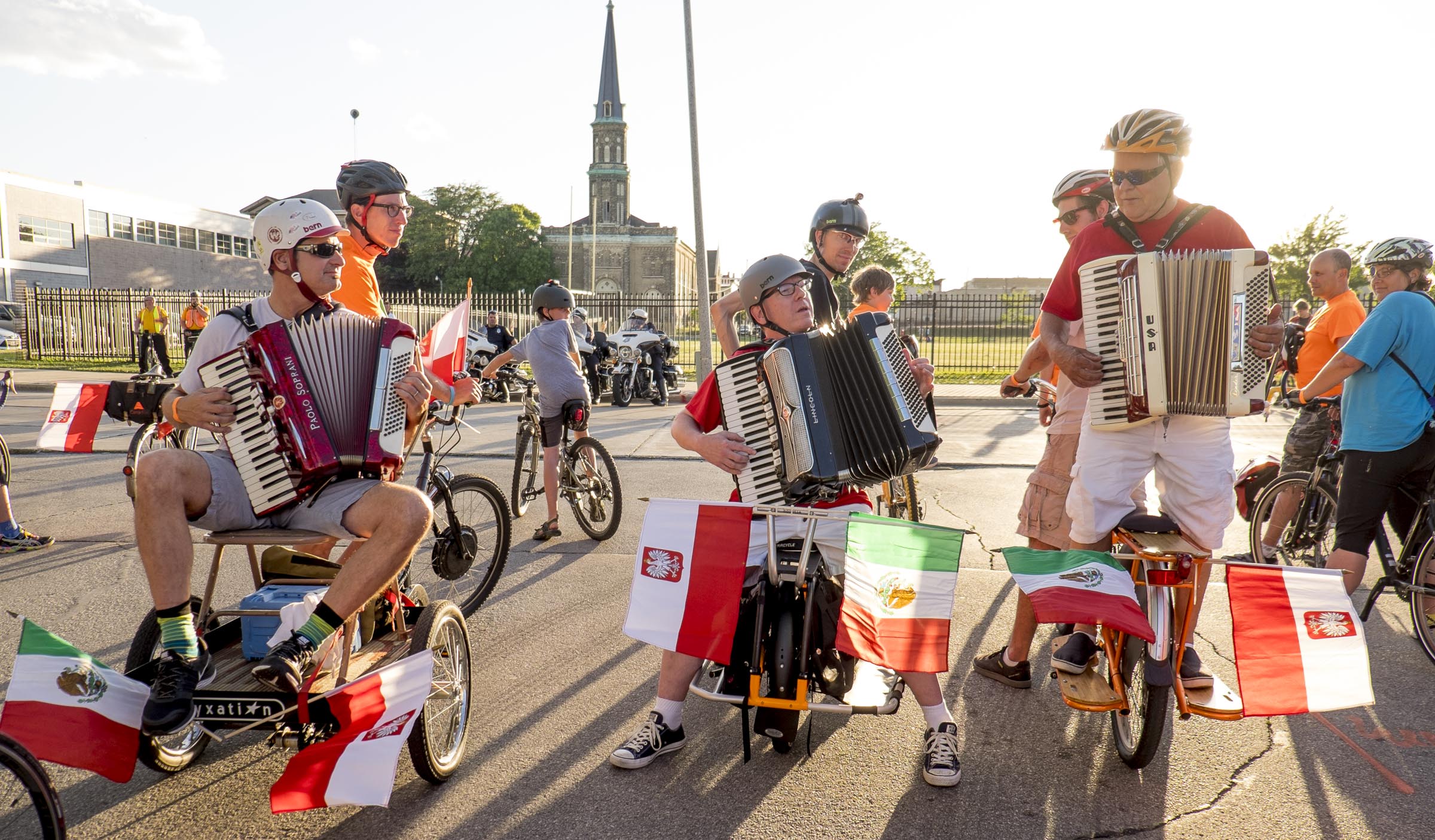 The police-led ride starts at 7 with accordion players like the crowd favorite Uncle Kenny cranking out polka on the back of cargo bikes along the entire 8-mile, family-friendly ride. Be prepared to be amazed, as the crowd of people on bikes last year stretched 10 city blocks! This is a SLOW ride, so no need for spandex! There will also be lots of short stops along the route as the police hold us at intersections. We will have ride support in case you have a flat or mechanical.
As soon as you get back to the start at Fuel Cafe, the Polish Moon Polka Trio kicks off the after-party with their special Milwaukee style of Polka, so bring shoes you can dance in. Still hungry? No problem, as there will be more great food and Milwaukee Brewing Company will be pouring Polish Moon Stout and other tasty brews.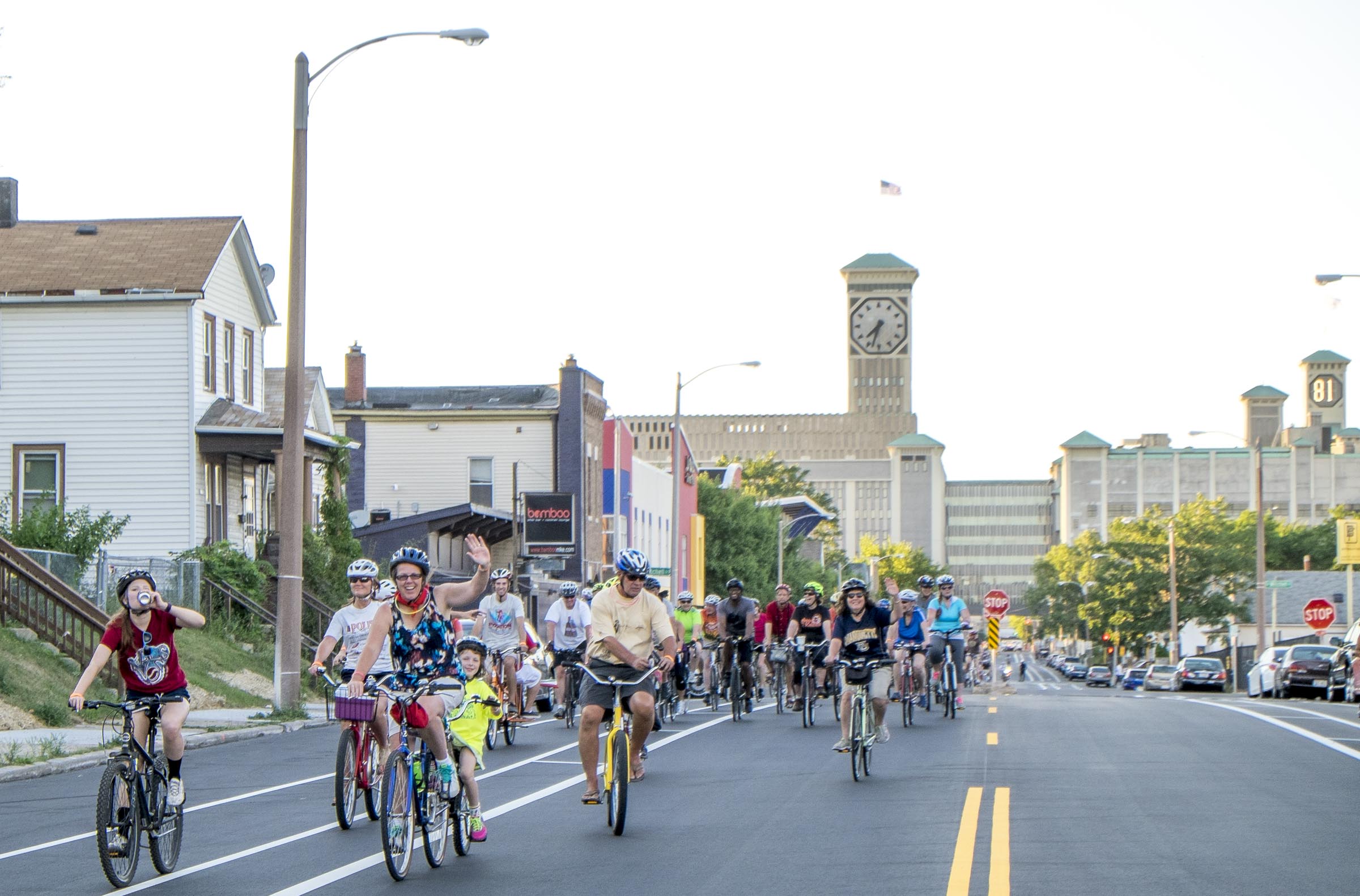 If you have joined us in the past, we haven't changed much except the location. You can listen to awesome Norteña music while you stuff yourself with great Mexican and Polish food and Cedar Crest ice cream before the ride. The police-led, family friendly 8-mile ride begins at 7 and will again feature live accordion players pumping out the Polka from the backs of cargo bikes. We will finish back where we started for more food and drink specials while you are entertained by the world famous Polish Moon Polka Trio.
If you have never done the ride, please come join us for the casual, slow, mostly flat, family-friendly ride. Be sure to bring your kids (we have special family rates), as the kids on the ride love the chance to ride at night on urban streets. We hire the Milwaukee Police Department to surround us with officers on motorcycles to keep everyone safe and motor vehicle traffic out of the ride.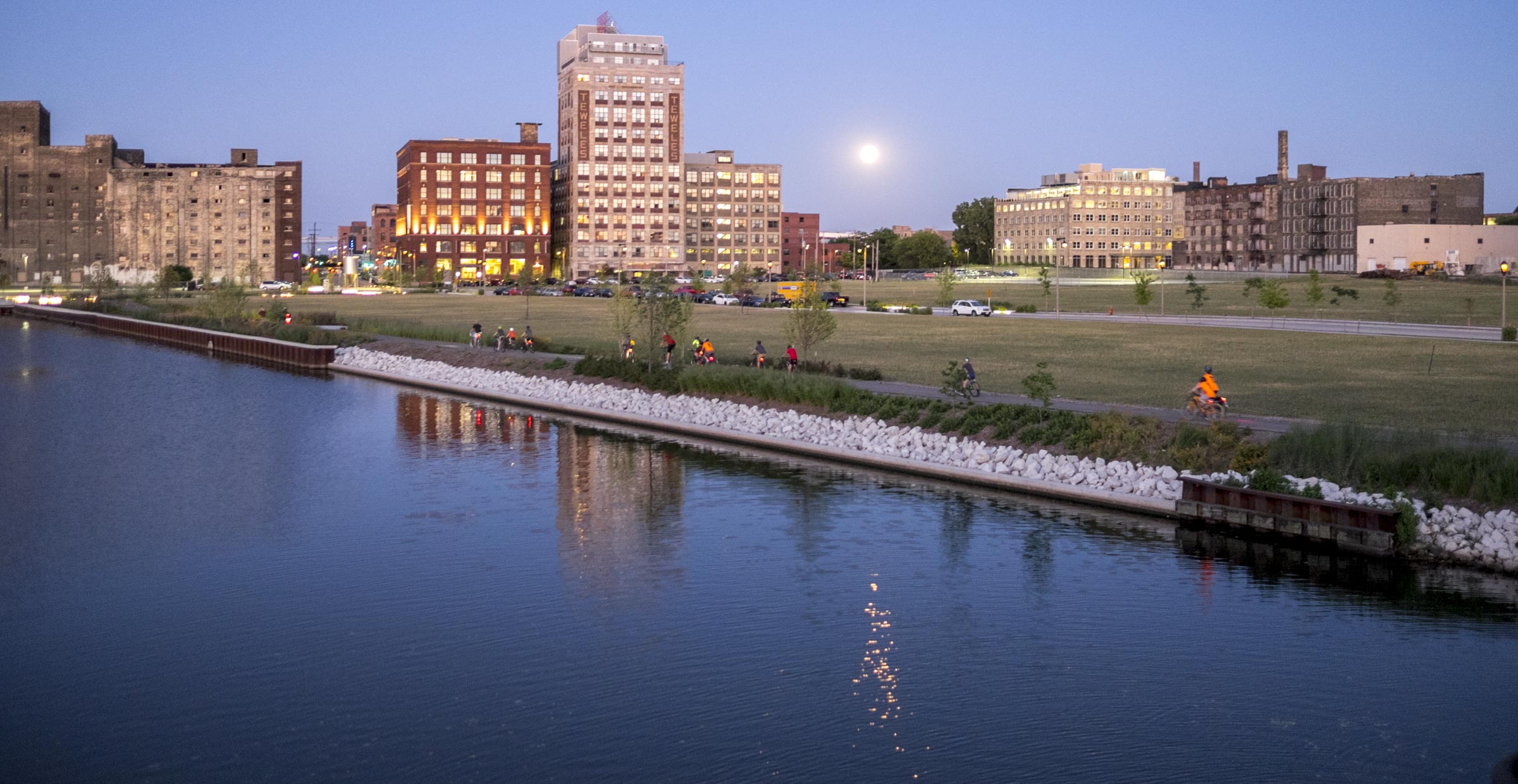 A huge thanks go out to our hosts, sponsors and particularly our media sponsors at Urban Milwaukee and 88 Nine Radio Milwaukee for helping to spread the word about this fun ride that supports our Mobile Bike Repair Program! The Wisconsin Bike Fed operates two Mobile Repair Programs in Milwaukee, bringing free bike fixes to the community — by bike! Repair Coordinators partner with high school-aged youth who are trained and hired to do bike repairs at parks, schools, special events, and more! One program is based out of the Milwaukee Bike Fed office on the south side and the other out of North Division High School on the north side
To those not familiar with Milwaukee south side lore, the Rockwell Automation Clock Tower has been affectionately referred to as the Polish Moon since it was constructed in 1962 by the-then Allen Bradley Corporation. It got it's name because the light from the four giant clock faces shines on the surrounding neighborhood, which was then largely populated by Polish immigrants. In his book about the Bradley's, Milwaukee historian John Gurda revealed that company president Harry Bradley wanted to build the largest four-faced clock in the world (which it was at the time) and "…the village clock for Allen-Bradley's home neighborhood."1 Architect Fitzhugh Scott, Jr., who designed its look, said, "Harry wanted a clock that Allen-Bradley's workers could read from their houses."2
Thanks to all our amazing sponsors this year!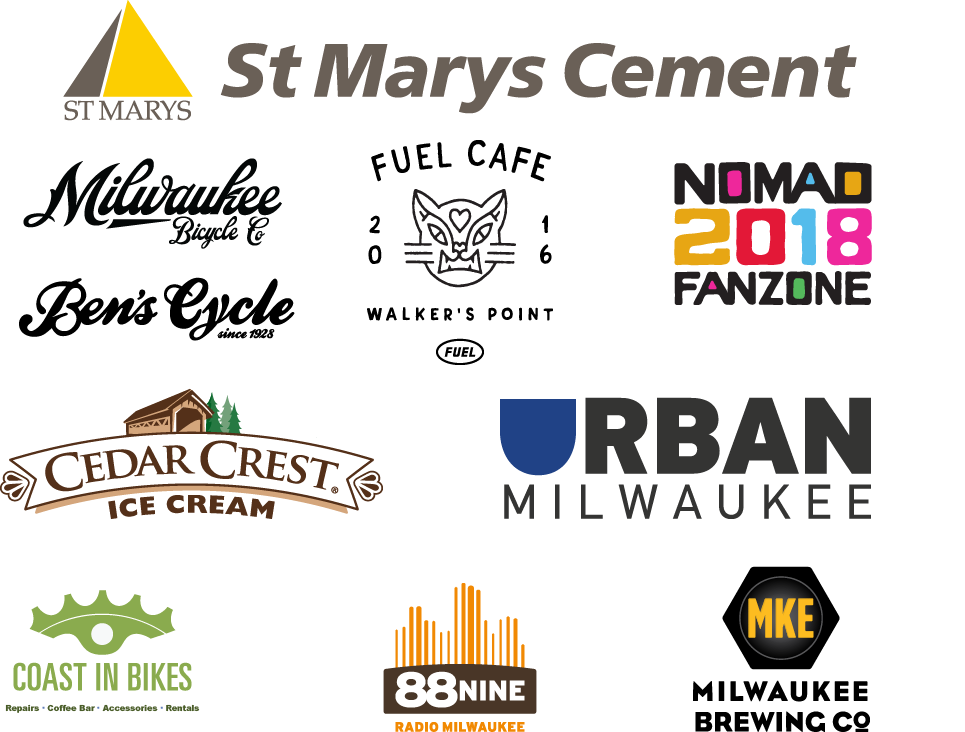 If all that wasn't enough, it seemed perfect that both Mexican and Polish cultures embrace Polka music. With all that positive synergy, we decided that our ride would start under the Polish Moon. This unique night ride starts and ends early enough that parents can bring even younger children. The kids all really seem to get a kick out of riding at night through an urban area. Neighbors come out to cheer and take videos of the rolling polka party as we go by their homes and businesses.
You can find out more details about the ride and register early at our Polish Moon Ride page at our website: http://wisconsinbikefed.org/events/polish-moon-ride/. You can also follow our Polish Moon Facebook page and event page to stay updated on the event.
1 John Gurda, The Bradley Legacy (Milwaukee, Wisconsin, Lynde and Harry Bradley Foundation, 1992) page 129.
2 Ibid. Page 130.