Policy Insights 2020

Monday, March 9, 2020 from 8:30 AM to 4:30 PM (PDT)
Event Details

Join us as the Budget Center celebrates 25 years of working to improve public policies affecting the economic and social well-being of Californians with low and middle incomes.
Our premier conference brings together legislative staff, state and local government leaders, nonprofit and philanthropic organizations, community advocates, and others dedicated to seeing more Californians share in the state's prosperity.
This year's event will feature many timely sessions to guide you in your work, including: 
Behavioral Health: We explore the intersections of behavioral health from homelessness to child welfare, juvenile justice to criminal justice, and take a look at the policy proposals that can help promote wellness and recovery for individuals in need of services.
Census 2020: It's more than numbers - it determines how the federal government funds and responds to the specific needs of your family and neighborhood. The census affects services like schools, hospitals, roads, and community centers. Learn how community organizations are working across the state to ensure historically undercounted groups are represented.
Criminal Justice: What does the local fight for justice reinvestment look like in the wake of California's statewide reforms? Criminal justice reforms that many believe reflect a promising shift away from costly and punitive policies that disproportionately impact people of color. Hear key advocates discuss the prospects for justice reinvestment in their communities.
Disaster Equity: As California grapples with a variety of disasters, it's imperative we understand how race, gender, and immigration status affect Californians' ability to survive and recover when catastrophes strike communities. 
Family-Friendly Policies: Balancing career and caregiving responsibilities is a challenge for workers in California, particularly workers with low wages. These workers – disproportionately women, Black, and Latinx workers – commonly have jobs with limited benefits, are often subject to unfair scheduling practices, and are struggling to pay the bills. Learn how paid family leave, subsidized child care, and predictable work schedules can help families juggle work and family responsibilities, and actions policymakers can take to better support Californians at home and at work.
Higher Education: Public support has not kept pace with rising tuition and costs of living in the state that students face. We seek to understand the barriers and discuss the solutions that state policymakers can advance to help make college affordable and accessible for more Californians.
Housing Affordability: Many workers' earnings are flat while rent rises across California. We explore how efforts to address stagnant wages are tied to housing affordability, and learn how policies that address high housing costs can affect the well-being of workers.

Workforce & Income Inequality: Californians are building one of the strongest economies in the world but are locked out of sharing in the state's prosperity. The challenges are particularly acute for workers in low- and middle-wage jobs, women, Black and Latinx families, and immigrants. We look at how workers have fared against a growing economy and what policies can improve their daily lives.
Professional Development: Whether during coalition meetings, presentations to funders, testimony before legislators, conference panels, or answering questions from reporters, speaking with confidence is a must. This interactive session provides tips you can immediately use to develop your professional presence.

Among our speakers: 
Senator Holly J. Mitchell, Chair, Senate Budget and Fiscal Review Committee

Mayra E. Alvarez, The Children's Partnership

Jessica Bartholow, Western Center on Law & Poverty

Alex Briscoe, California Children's Trust

Oscar Chavez, Sonoma County Department of Human Services

Genevieve Flores-Haro, Mixteco/Indígena Community Organizing Project

Natalie Foster, Economic Security Project

Alma Hernández, Service Employees International Union California

September Jarrett, Heising-Simons Foundation

David O'Brien, California Student Aid Commission

Varsha Sarveshwar, University of California Student Association

Dr. Bjørn Stillion Southard, Spoken With Authority 

Catherine Teare, California Health Care Foundation

Jessica Thompson, Institute for College Access and Success

Stephanie Welch, California Department of Corrections and Rehabilitation
---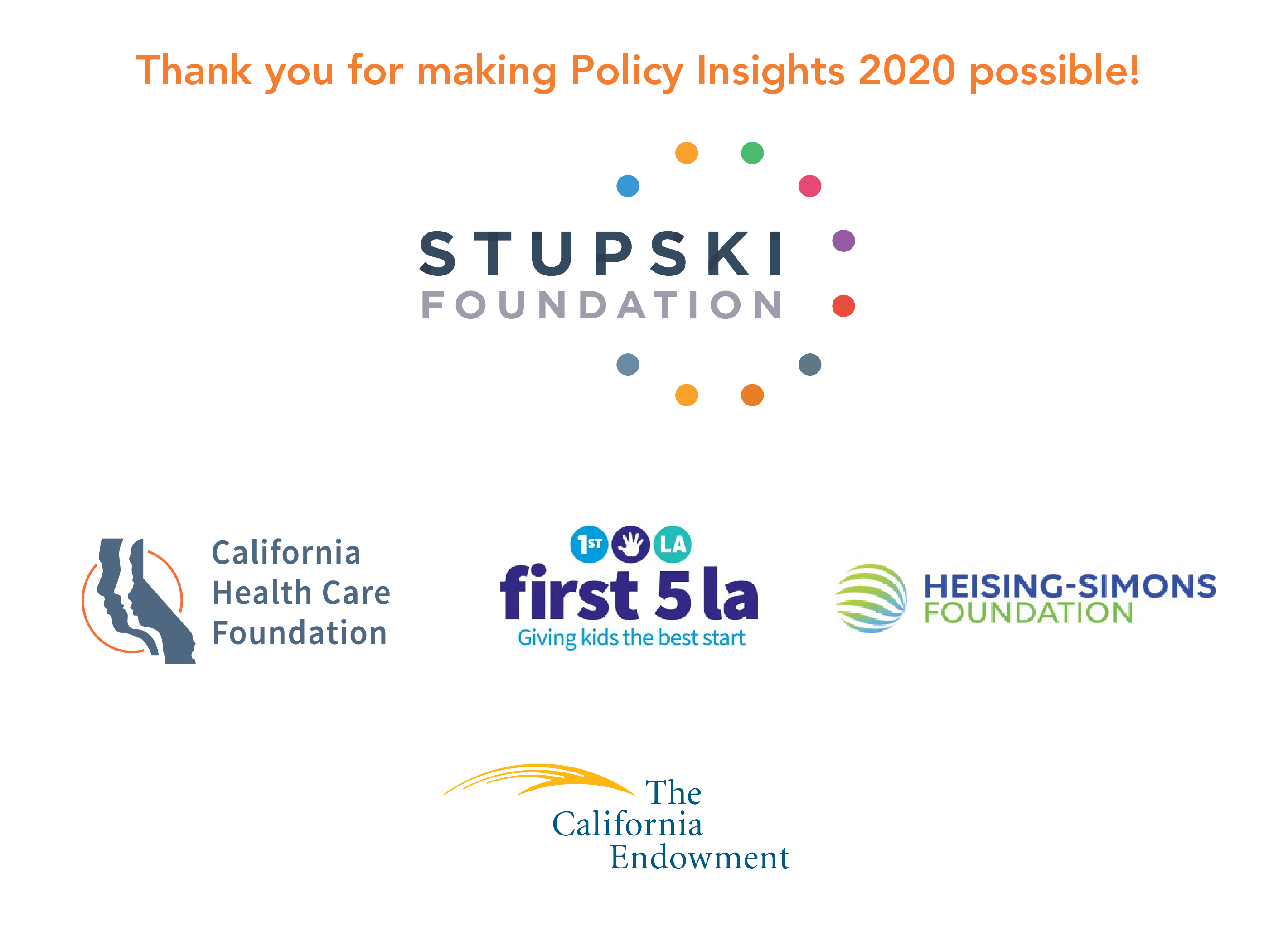 Five or more attendees from your organization? Email contact@calbudgetcenter.org for group discount details.
Follow the conversation at #PolicyInsights2020
FAQs
What are my transportation options for getting to and from the event?
Public transportation is strongly encouraged. The event is accessible by several convenient bus and light rail routes, visit  www.sacrt.com for more information.
Save This Event
When & Where

Sheraton Grand Sacramento Hotel
1230 J Street
Sacramento, CA 95814


Monday, March 9, 2020 from 8:30 AM to 4:30 PM (PDT)
Add to my calendar
Organizer
The California Budget & Policy Center engages in independent fiscal and policy analysis and public education with the goal of improving public policies affecting the economic and social well-being of Californians, with low and middle incomes.