POLICING THE CRISIS - DEFEND THE RIGHT TO PROTEST NATIONAL CONFERENCE
Description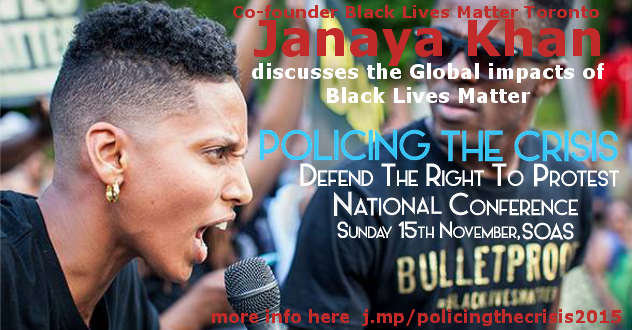 ABOUT:
Organised by Defend the Right to Protest, this one day event will focus on civil liberties, the criminalisation of protest and the racist demonising of suspect communities. It will provide a space to discuss with a wide range of campaigns, activists, writers and lawyers active around these issues: to share ideas and experiences and to look at ways to build a stronger movement.
PROGRAMME:
Opening Plenary - Policing the Crisis 11am -12 noon
Imran Khan civil rights lawyer
Moazzam Begg former Guantanamo prisoner
Hannah Dee Defend the Right to Protest
Ade Johnson & Aamer Anwar Justice for Sheku Bayoh
Shelly Asquith National Union of Students
12-2pm WORKSHOPS
1. Prevent, "counter extremism" and the criminalisation of dissent
Gareth Peirce human rights lawyer
Malia Bouattia NUS Black Students
Patricia McManus UCU national executive
Hilary Aked writer and researcher
Student X reported under Prevent for Palestine rights campaigning
2. Whose communities? Policing the police
Adam Elliott Cooper LCAPSV
Gloria Morrison (JENGbA)
Anti Raids Network
Others tbc.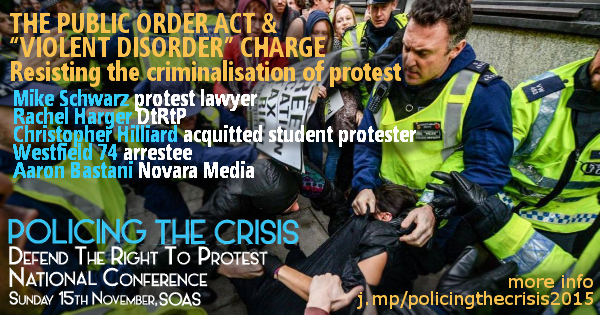 3.The Public Order Act and the criminalisaton of protest
Mike Schwarz protest lawyer
Rachel Harger DtRtP
Christopher Hilliard acquitted student protester
Westfield 74 arrestee
Aaron Bastani Novara Media
4. From Legal Aid to the Human Right Act: defending civil rights against the austerity state
Debalena Dasgupta LIBERTY and Human Rights lawyer
Charlotte Haworth Hird INQUEST lawyers Group
Nina Power DtRtP and writer
Rebecca Roberts Centre for Crime and Justice Studies
WORKSHOPS 3-4.30pm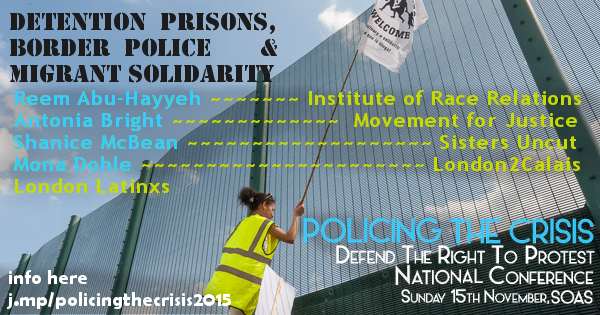 1.Detention Prisons, border police & migrant solidarity
Antonia Bright of Movement for Justice
Reem Abu-Hayyeh Institute of Race Relations
Shanice McBean Sisters Uncut
Mona Dohle of London2Calais
London Latinxs
2.#BlackLivesMatter and Deaths in Custody sharing strategies internationally
Marcia Rigg Sean Rigg Justice and Change
Kadisha Burrell-Brown sister of Kingsley Burrell
Stephanie Light Bennett United Families and Friends
Wail Qasim writer and DtRtP
Natasha Dhumma YStop
3. Undercover policing and the new inquiry
Rob Evans The Guardian/author Under Cover
Janet Alder sister of Christopher Alder
Suresh Grover The Monitoring Project
Jules Carey lawyer to Inquiry participants
4. The politics of prisons – abolition or reform?
Alfie Meadows acquitted protester
Charlie Gilmour imprisoned protester
FINAL PLENARY 4.30-5.30pm - CONNECTING OUR STRUGGLES
J Khan #BlackLivesMatter Toronto,
John McDonnell MP
Wail Qasim Defend the Right to Protest
5.30pm Music and performance – full details tba soon! Plus hot food- suggested donation £3-5
MORE INFO:
Global economic crisis and austerity has made society a more unequal and punishing place to be. Politicians invest in border police and barbed wire fences in response to the biggest refugee crisis for decades. Police rough up disability rights protesters in parliament whilst MP's debate massive cuts to welfare. The Tories plan to ban strikes and slash legal aid whilst driving through a sustained assault on living standards and public services. Gentrification of local areas goes hand in hand with stop and search and racist harassment and the use of new laws to evict housing protesters. New figures show deaths in police custody has increased, a public inquiry is promised – but will anything change? Meanwhile Muslim school students are reported under new counter terrorism legislation for questioning government foreign policy and deemed "extremist". Islamophobic hate crime goes up. At the same time, this "extremism" label is applied to an ever widening spectrum of views and activites: Cameron warns the new leader of the opposition Jeremy Corbyn is a "threat to national security" whilst Occupy, environmentalists and student protesters are deemed "domestic extremists" in Prevent briefings –all justifying an enormous expansion of surveillance over our day to day lives.
These are the means by which the establishment are seeking to "police the crisis" –a sustained assault on our civil liberties and racist demonising of "suspect communities".
This conference will provide a space to discuss with a wide range of campaigns, activists, writers and lawyers active around these issues: to share ideas and experiences and to look at ways we can build a stronger movement.
SPEAKERS INCLUDE:
Imran Khan lawyer to Doreen Lawrence
Mona Dohle London2Calais
Justice for Sheku Bayoh family members
Moazzam Begg former Guantanamo prisoner
Aaron Bastani Novara Media
Gareth Peirce civil rights lawyer & author Dispatches from the Dark Side on Torture and the Death of Justice
Shanice McBean Sisters Uncut
Black Dissidents
Janet AlderJustice for Christopher Alder
Jules Carey police actions & civil liberties lawyer
Antonia Bright Movement for Justice (M4J)
Anti Raids Network
Rob Evans The Guardian and author of Undercover
Malia Bouattia NUS Black Students,
Debaleena Dasgupta Liberty
Nina Power DtRtP
Shelly Asquith NUS
Nadine El-Enany law lecturer and DtRtP
London Campaign Against Police and State Violence (LCAPSV)
Aamer Anwar civil rights lawyer
Rachel Harger DtRtP and trainee Lawyer
Patricia McManus UCU NEC
Mike Schwarz protest lawyer and author Public Order and Protest
Suresh Grover The Monitoring Group and many others to be announced
Wail Qasim writer and Defend the Right to Protest
Book in advance: help us out by booking in advance and making a contribution to our work and the costs of the conference. (Suggested Donation £3 un-waged, £5 waged, FREE if skint, £10 solidarity donation)
Organizer of POLICING THE CRISIS - DEFEND THE RIGHT TO PROTEST NATIONAL CONFERENCE