Actions and Detail Panel
Police Benevolent Fund - CrossFit Pushin Weight
Sat, Jun 17, 2017, 7:00 AM – Sat, Aug 26, 2017, 4:00 PM EDT
Description
CrossFit Pushin Weight is proudly hosting The Guardian Games on June 17th, 2017 benefitting the Police Benevolent Fund
All net proceeds will be donated to the Police Benevolent Funnd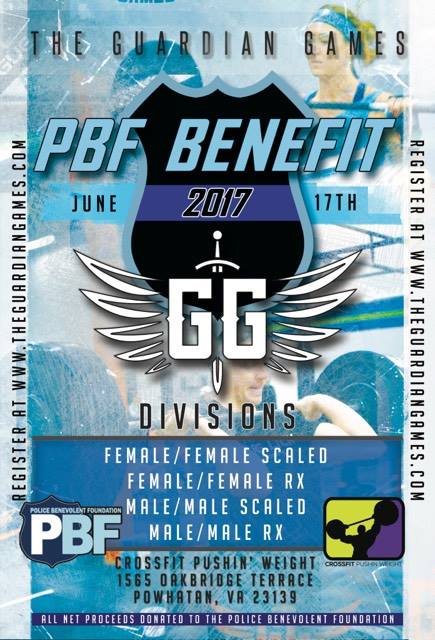 Divisions
Male / Male RX
Female / Female Rx
Male / Male Scaled
Female / Female Scaled
Description of Divisions
Rx athletes should be able to complete most CrossFit workouts as Rx and movements such as Handstand Push Ups, Chest to Bar Pull Ups, Ring or Bar Muscle Ups, Handstand walks, toes to bar etc.
Scaled athletes should be comfortable with most movements but should be able to complete movements such as chin over bar pull ups, pushups, kettlebell swings, etc.
Format / Schedule
Teams will compete in 3 workouts. Top 5 teams in each division will compete in a final workout to determine placing.
Example of potential workouts:
Workout 1
With an 8 minute cap
Eestablish a 1RM Clean and Jerk
Workout 2
Complete as Many Rounds as Possible in 7 minutes of
10 Toes to Bar
10 Box Jumps 24in/20in
20 Hang Snatch 95lbs/65lbs
20 OHS 95lbs/65lbs
Workout 3
EMOM 10
Row 15 cal
AMRAP
Front Squat 135lbs/95lbs
Registration Changes
Any registration changes must be made by Monday the week before the event.
If you are unable to attend or participate, in lieu of a refund you may choose to instead claim the price of your registration as donation since we are a nonprofit 503-1(c) and all net proceeds are donated to the Police Benevloent Fund.