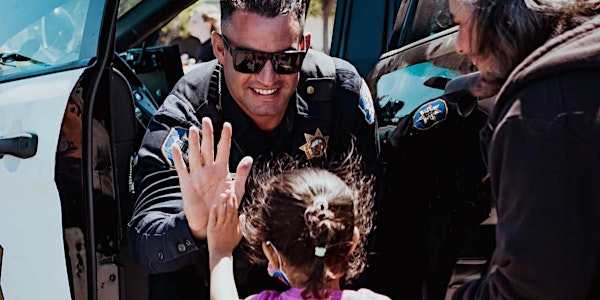 Police Advisory Committee (PAC) Town Hall
Help make Redwood City safer for all!
When and where
Location
3399 Bay Rd 3399 Bay Road Redwood City, CA 94063
About this event
To attend the event virtually, please register on Zoom:/Para asistir al evento virtualmente, regístrese en Zoom: https://redwoodcity.zoom.us/meeting/register/tJUldeGurjIvE9KY4vIjY1VnvGv8gvjoCgGb
Dinner and childcare provided!/¡Cena y cuidado de niños proporcionados!
The Redwood City (RWC) community member Police Advisory Committee (PAC) wants to hear from YOU on policing, crime, and public safety.
Spanish interpretation available
Eat and discuss with neighbors—dinner served during event!
Participate in small group discussions on key issues in local public safety
Provide feedback to the RWC PAC
Give feedback anonymously
The town hall will last from 6 p.m. to 7:30 p.m. on Wednesday, 10/12/2022 at Redwood City-Police Activities League (PAL) at 3399 Bay Rd, Redwood City, CA and will be accessible both in-person and via Zoom. Dinner served for in-person attendees!
The town hall will start with an introduction to the PAC and then move to small group discussion on key issues facing Redwood City policing. Your feedback will be used to help the RWC PAC advise the Redwood City Police Chief.
There will be a Spanish-language interpreter and there will be an opportunity to give feedback anonymously.
Transportation and parking info for the Town Hall event:
The location is accessible via the 270 bus line and you can plan your trip via the SamTrans Planner. The 270 bus (Redwood City Loop) is a circular line with 29 stops departing from Redwood City Caltrain-Bay.
Public Parking is available a few blocks away at 3700 Florence St.
El Comité Asesor de la Policía (PAC) liderado por los miembros de la comunidad de Redwood City (RWC) quieren saber de USTED todo lo relacionado con el crimen, policia, y seguridad pública.
Interpretación en español disponible
Come y hable con los vecinos: ¡la cena se servirá durante el evento!
Participe en discusiones de grupos pequeños sobre temas clave en la seguridad pública local
Proporcione comentarios al comité RWC PAC
Da comentarios de forma anónima
La reunión del ayuntamiento durará desde las 6 p.m. a las 7:30 p.m. el miércoles 12 de octubre de 2022 en Liga de actividades policiales (PAL) en 3399 Bay Rd, Redwood City, CA y se podrá accesar la reunión en persona y a través de Zoom. ¡Cena servida para los asistentes en persona!
La reunión comenzará con una introducción al PAC y luego pasará a una discusión en grupos pequeños sobre los problemas clave que enfrenta la policía de Redwood City. Sus comentarios se utilizarán para ayudar al RWC PAC a asesorar al jefe de policía de Redwood City.
Habrá un intérprete de español y habrá la oportunidad de dar su opinión de forma anónima.