Polar Trek to Mars

Tuesday, February 3, 2015 from 12:00 PM to 1:00 PM (PST)
Event Details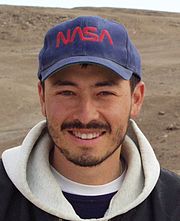 Speaker: Pascal Lee, SETI Institute
Pressurized rovers are airtight all-terrain motorhomes in which future planetary explorers will live, work, sleep, and drive during multiple-day excursions far away from their home base. Although pressurized rovers are commonly featured in science-fiction lore and technical studies on paper, there is still very little practical experience with the use of such vehicles in terrestrial field exploration. Since 2003, the NASA Haughton-Mars Project (HMP) has begun leading a series of field simulations of planetary pressurized rover traverses on Devon Island, High Arctic, a bleak and barren polar analog often described as Mars On Earth. As stand-ins for pressurized rovers, the HMP uses specially modified Humvees equipped with living quarters, satellite comms & nav systems, robotic arms, and spacesuit ports. Rover traverses at HMP are also set in a true field exploration operations environment in which dangers, while not as unforgiving as on Mars, are nevertheless real and relevant.
This talk summarizes the HMP's experience with simulated pressurized rover treks to date, and lessons learned for planning future road trips on the Moon or Mars. Focus is placed on the HMP's Northwest Passage Drive Expedition (2009-2011), an epic rover journey from the continental United States to Mars On Earth, across hundreds of kilometers of sea-ice along the fabled Northwest Passage. During the voyage, the expedition crew encountered conditions and challenges analogous in basic ways to those awaiting future pressurized rover crews on Mars: hostile environment, dust storm-like blizzards, uncertain route, treacherous terrain, equipment failure, tight crew quarters, limited resources, remoteness, and isolation.
While pressurized rover treks will dramatically expand the range and productivity of human planetary exploration, they will remain expeditions within an expedition. If not planned and implemented with care, they will quickly spell doom for their crews.
When & Where

SETI Institute
189 N Bernardo Ave
Mountain View, CA 94043


Tuesday, February 3, 2015 from 12:00 PM to 1:00 PM (PST)
Add to my calendar
Organizer
The mission of the SETI Institute is to explore, understand and explain the origin, nature and prevalence of life in the universe.
We believe we are conducting the most profound search in human history — to know our beginnings and our place among the stars.
The SETI Institute is a nonprofit corporation founded in 1984 (California Corporation #1261957). The Institute is a scientific and educational organization governed by the provisions of Section 501(c)(3) of the U.S. Internal Revenue Code, and the Institute's Federal identification number for reporting and tax purposes is 94-2951356.
The Institute welcomes support from private foundations or other groups/individuals interested in SETI. Each funded effort (135 separate multi-year projects funded since 1984) is supervised by a principal investigator who is responsible to the Board of Trustees for the conduct of the activity.
----------------------------------------------------------------------------------------
Presenting Sponsor (2016): Leonard Tramiel
----------------------------------------------------------------------------------------