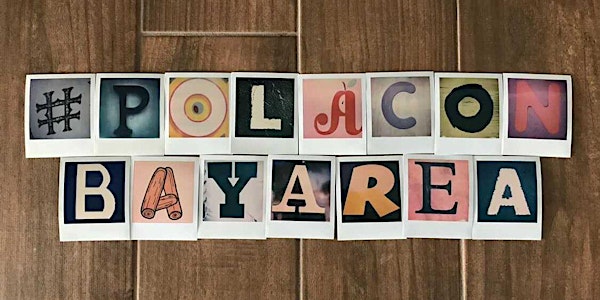 PolaCon Bay Area 2022
PolaCon Bay Area returns to San Francisco and Oakland from March 11-13, 2022!
Refund Policy
Contact the organizer to request a refund.
Eventbrite's fee is nonrefundable.
About this event
The world's first (and only?) three-day instant film conference returns to the Bay Area in March 2022!
For the uninitiated, read this excellent, comprehensive recap of Polacon 2017: http://prymeeditions.com/blog/polacon-2017-recap
Or this one from 2018: https://orangephotography.com/polacon-2018-an-instant.../ And here's a fantastic, thorough recap of the very first PolaCon: http://www.thedentonite.com/blog/polacon-one-denton-texas
Tickets are available now at the Eventbrite link! To help offset the required resources necessary to put on PolaCon, we are asking for a suggested donation of $5 for tickets, however feel free to share as little or as much as you would like.
For PolaConBayArea, we'll feature more than 20 instant photography-related events from workshops, demos and sessions (from cyanotype demos to FP negative bleaching to a loft/transfer demo to "Instax in a 4x5" to instant 8x10s and more) with guest speakers and photographers to Saturday's Zines & Things Swap Meet (bring your photography zines, small prints or other photo-related art to show, share, swap or sell) to an instant film exhibition, as well as film- and camera-specific meet-ups and demos – in addition to four unique PolaWalks in distinctive, picturesque areas led by IFS members from across the U.S.
Highlighted walks include Friday's sure-to-be unforgettable Neon-at-Night Chinatown PolaWalk through San Francisco's historic Chinatown, which is the oldest in North America. Saturday morning's Mission District Murals PolaWalk – the area is a vibrant must-see stop when visiting the Bay Area. Oh, and there's Sunday's San Francisco Bay Ferry ride over to Oakland for a Photowalk lead by the East Bay Photo Collective (EBPCO).
Friday 3/11:
All-Day - Stop by Glass Key Photo* to stock up on film
6pm - Meet & Greet at Geary Club
8pm - Nighttime Neon Polawalk through Chinatown
*Check them out here: glasskeyphoto.com
and on IG: @glasskeyphoto
Saturday 3/12:
9am-11am - Mural PolaWalk through Mission District
12pm-6pm - Thee Parkside** (Full afternoon of networking, Zine swaps, and discussions, including OpenSX70 demo, 8x10 demos, cyanotype demos, an update from the 1212 Project, camera re-skinning, and MORE!)
7pm-? - Post-Parkside Party (details TBD)
**Thee Parkside 1600 17th St, San Francisco, CA 94107 (Visit theeparkside.com for more info on the venue.)
Sunday 3/13:
11:15 Gather at Gate G at the Ferry Building. Try to buy tickets in the ferry building before you board. (Address: 1 Ferry Building, San Francisco)
11:30AM Meet-up to take the Ferry SF -> Oakland — the ferry LEAVES at 11:30. Don't be late or you'll have to take a later ferry.
1PM -Meet-up for the Oakland Photowalk Jack London Square, meet at Heinold's First and Lady Chance Saloon. (48 Webster, Oakland)
3PM Federation 420 3rd St a, Oakland, CA
federationbrewing.com
6PM after party? Ask Brian, Andy, or Daniel on the ferry ride back.
This'll be a joint photo walk with the East Bay Photo Collective.
Check them out here: https://www.ebpco.org
And on IG: @eastbayphotocollective
COVID-19 Information: All of the venues hosting PolaCon Bay Area events require proof of vaccination, so please be prepared to show that in order to fully participate with PolaCon events.