Event Information
Location
Point Sebago Reggae Festival
Point Sebago Road
Casco, ME 04015
Description
June 8th and 9th, 2018, Casco, Maine
All ages accompanied by an adult. Children 12 and under are free
Live concert of internationally recognized artists on Sebago lake at
Point Sebago
.
Camping and lodging available separately through Point Sebago -
www.pointsebago.com
ask about their reggae weekend packages. Lodging guests receive additional performances on Friday night and Saturday night.
June 8th lodging guests only 8pm-10pm (Free)
June 9th general admission open to the public 2pm-10pm
June 9th free for lodging guests 10pm-midnight
Saturday's Lineup with more TBA
Exco Levi
-
The JUNO Awards
5 time award winner
JahRiffe & Jah-N-I Roots Movement
-
Saturday - 6/9/18
General Admission Access
MC Mikey
Dj - The Professah
2:00 PM Doors -
2:30 PM Total Collision
4:00 PM Hills and Valleys
5:30 PM Jahriffe
7:00 PM Royal Hammer
8:30 PM Exco Levi
Lodging guests only -
June 8th - CatchaVibe 8pm-10pm
June 9th - VERSION (Michael Taylor Dub Set) 10:00 PM
Point Sebago charges a $5 parking fee for the event. For lodging guests parking is included based on your package.
Featuring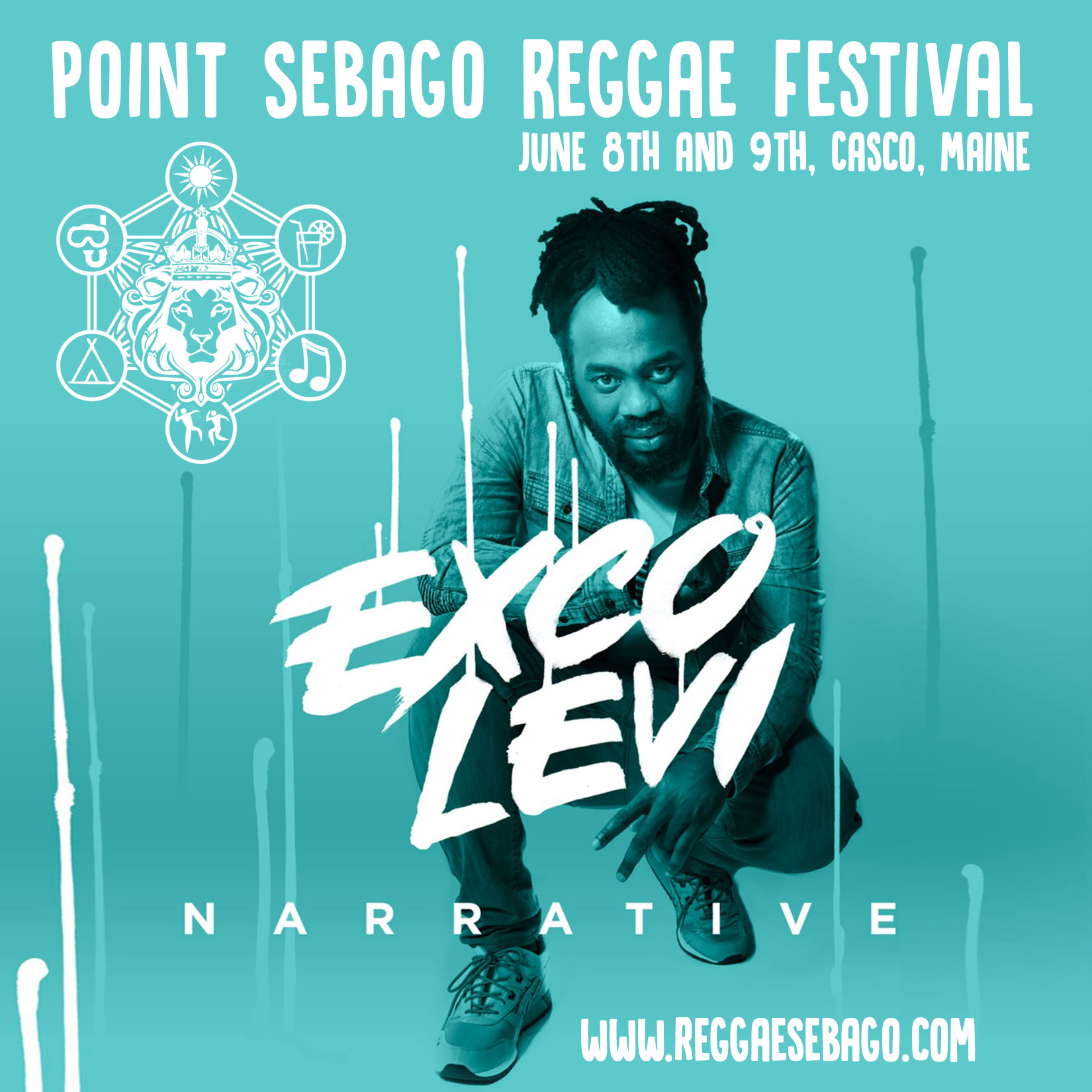 Exco Levi - Saturday, June 9th - 8:30pm
With music at his core, Exco Levi is one of Reggae's most attractive voices delivering uplifting messages wrapped in engaging melodic compositions. Born in Manchester, Jamaica, Exco migrated to Canada and pursued music as a career. Following in the footsteps of his father, an artist and sound system selector, Exco realized his gift for writing significant lyrics, and weaving those lyrics with song. Also an adept piano player, Exco has crafted some of the most thought provoking singles in Reggae since 2009. Exco has written almost 200 songs and in 2015, Levi released his debut album "Country Man" two weeks after receiving his 4th consecutive JUNO. In September 2016 Levi 're- fixed' his first Canadian recording, aptly titled OH Canada. The song, a tribute to his 'home away from home', was CBC Radio's Song of the week during Canada's sesquicentennial celebrations. CTV news called it Canada's new anthem.

Jahriffe - Saturday, June 9th -
"Jahriffe"Barriffe Mackenzie born July 6, a Reggae musician healing through music, expressing freedom, spiritual awakening, and love for all. Jahriffe founder of Roots Reggae band, JAH-N-I Roots Band release their first album "Rastafari Love" in 2005. A ten song album of a journey and purpose which received national & international audience attention. Jahriffe, lead vocal of JAH-N-I Roots Band began opening for great reggae musicians like Kymani Marley, Anthony B, Mighty Diamonds, Midnite, while also winning 2007 Urban Music Award. By 2013 still holding strong to the inspiration births forth a second JAH-N-I Roots Band release "Check Your Timing" an album of persistence and love for creating music with reason. Receiving great welcoming to the album from the listeners songs like Empress, You Remind Me, and Bless The Seed becoming fans favorites. Alongside a 2014 performance opening for Chronixx was good promo for the release. In 2015 changes start to take place for the long standing Roots Reggae Band. Inspired for a new direction Jahriffe brings himself to the fore front as Jahriffe & JAH-N-I Roots Movement. The evolution created more vision for the task felt in the soul of Jahriffe. He becomes the voice and face of a music that defines an experience of humanity's higher self. This metamorphoses opened up the platform to guest speaking at Mobile Alabama University which led to many lectures in the US, and closing 2015 with an energetic performance supporting Kabaka Pyramid & Iba Mahr. Jahriffe takes it straight to the roots with a single giving veneration to his spiritual foundation of The Rastafari Movement."Rasta Can't Fade" single released October of 2016 awaken the souls of the people accompanied with a music video receiving more than 100 thousand YouTube views and currently growing. Gaining more support from fans, "Love is One" wins best video of the year 2016 Garrison Award. Keeping a steady flow, Jahriffe was awarded from the Mayor of Boston for he's musical contribution during his live performance featured in the sold out 2016 African Fashion Week Boston. Jahriffe welcomes 2017 with a theatrical role as, Bob Marley in the play " Its about Time" located at the historical Strand Theatre in Boston. His desire to be apart of the change for truth, rights, love and equality for all using Reggae Music as a vehicle to send the message, is alive and well within his community and beyond. Jahriffe delivers a hopeful, compassionate, fearless, inspired performance that re-awakens the JAH-N-I Roots Movement in the mind, body, and souls of he's audience. The success of the movement continues to grow and develop a wanted experience by many. Jahriffe stands in the place with other humanitarian of the world, feeding the inspired with more inspiration.


Policies -


Children 12 and under free per paid adult

No pets do not bring them and leave them in the car

No smoking or vaping on the beach

Smoking and vaping allowed in designated area

Concert opens at 1pm for VIP and 2pm for General Admission

Concert closes at 10pm if you are not staying at Point Sebago as a lodging guest you must leave the premises. There is no overnight parking allowed.

Show will take place rain or shine.

Festival pass must be worn at all times.

Line-up and set times are subject to change.

All attendees are subject to search upon entry.

All ages are welcome. Children ages 12 and under are free.

Ins and outs will be allowed.

Gate is $40 day of show no refunds

Lifeguard on duty until 5pm


Not allowed at the event
Coolers
Drugs or Drug Paraphernalia
Fireworks, Explosives or Road Flares
Glass or Metal Water Containers
Guns, Ammunition or Tasers, Knives or Weapons
Outside Food or Beverage
Pepper Spray or Mace
Pets or Other Animals
Toy Guns, Water Guns or SlingShots
Umbrellas
Allowed at the event
Backpacks (Medium)
Blankets (Small) & Beach Towels
Cameras
Chapstick and Lip Balm
Sealed/Unopened Cigarettes and Lighters
E-Cigs and Vape Pens (Mid-Sized) and Single-Use Minis/Cig-a-likes
Ear Plugs, Eye Drops
Fanny Packs and Hip Bags
Hand Sanitizer and Baby Wipes
Purses and Handbags
Sunblock, Sunglasses


By attending Point Sebago Reggae Festival you ("ATTENDEE") expressly assumes all risk and danger arising from or incidental to participation in the Point Sebago Reggae Festival ("Event"), whether such risk occurs prior to, during or subsequent to Event. ATTENDEE expressly releases and indemnifies the owner of the facility, promoters, sponsors, performers, artists, vendors, attendees and ticketing services provider (collectively "Management") and all of their owners, officers, directors, shareholders, members, employees, agents, representatives, affiliates and contractors, from any and all claims that ATTENDEE has or may have that arise from or are incidental to Event, including any claims arising out of the negligence of Management or Management's owners, officers, directors, shareholders, members, employees, agents, representatives, affiliates and contractors. Admission is subject to compliance with all laws and facility rules as posted online and at Event and ATTENDEE consents to reasonable examinations and searches to ensure compliance. ATTENDEE may be denied admittance or asked to leave Event at any time due to noncompliance with any law or Event rule.


Date and time
Location
Point Sebago Reggae Festival
Point Sebago Road
Casco, ME 04015
Refund policy