Description
Avenue Media presents
Point Sebago Reggae Fest
June 8th and 9th, 2018, Casco, Maine
All ages accompanied by an adult.
Children 12 and under are free
Live concert of internationally recognized artists
on Sebago lake at
Point Sebago
.
General admission open to the public Saturday, June 9th, 2pm-10pm. Friday, June 8th, 8-10pm for lodging guests only. All guests must obtain general admission passes for Saturday's concert.
Circus Ole' - Beach Puppets
Nocturnal Fixation - Fire Spinning
Barefoot Truth Dance Co - Belly Dancers
Henna art - Face Painting - Bouncy House
Camping and lodging available separately through Point Sebago

(800) 655-1232

- www.pointsebago.com ask about their reggae weekend packages. Lodging guests receive additional performances on Friday night and Saturday night.
June 8th free for lodging guests only 8pm-10pm
June 9th general admission open to the public 2pm-10pm
June 9th free for lodging guests 10pm-midnight
Featuring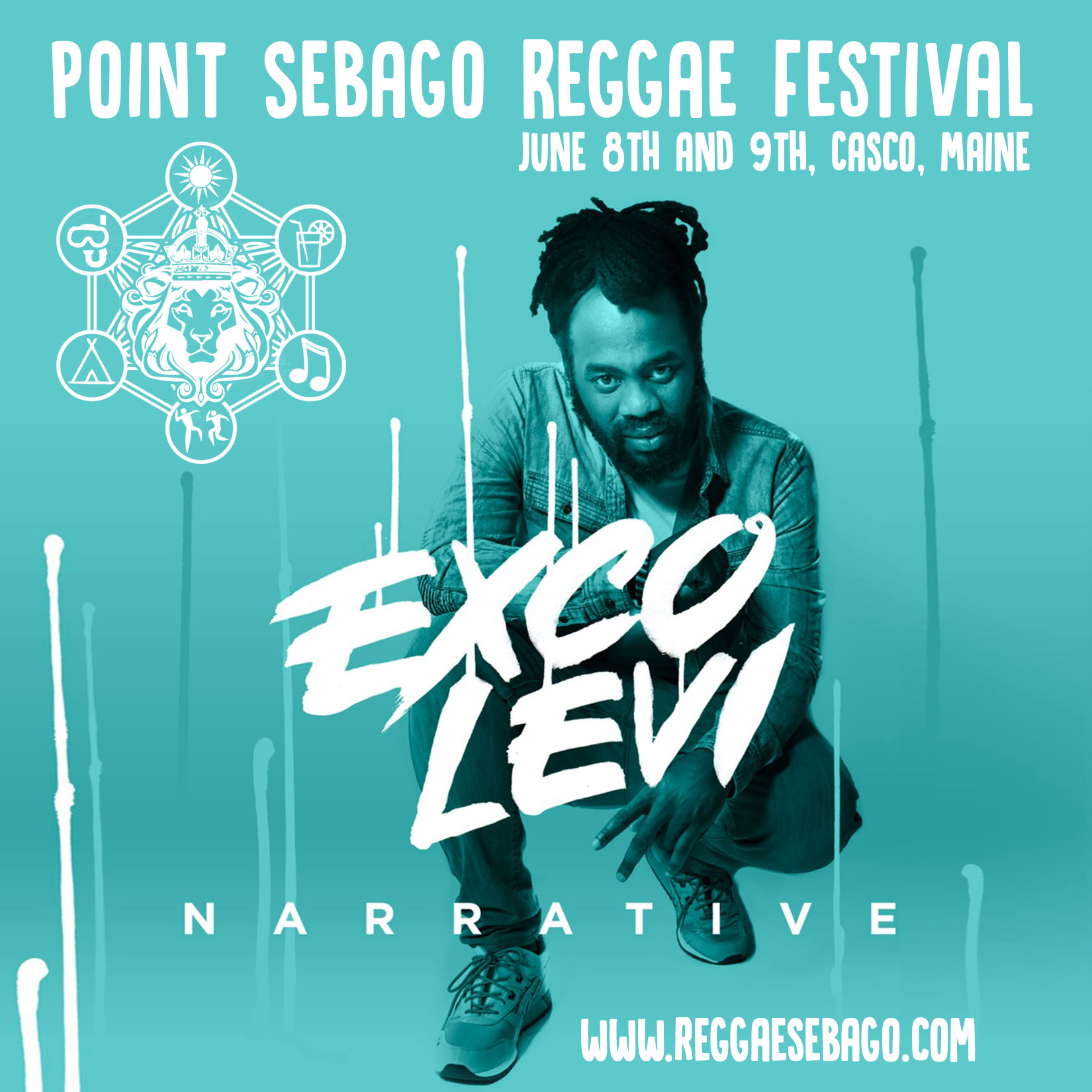 Exco Levi - Saturday, June 9th - 8:30pm
With music at his core, Exco Levi is one of Reggae's most attractive voices delivering uplifting messages wrapped in engaging melodic compositions. Born in Manchester, Jamaica, Exco migrated to Canada and pursued music as a career. Following in the footsteps of his father, an artist and sound system selector, Exco realized his gift for writing significant lyrics, and weaving those lyrics with song. Also an adept piano player, Exco has crafted some of the most thought provoking singles in Reggae since 2009. Exco has written almost 200 songs and in 2015, Levi released his debut album "Country Man" two weeks after receiving his 4th consecutive JUNO. In September 2016 Levi 're- fixed' his first Canadian recording, aptly titled OH Canada. The song, a tribute to his 'home away from home', was CBC Radio's Song of the week during Canada's sesquicentennial celebrations. CTV news called it Canada's new anthem.

Jahriffe - Saturday, June 9th -
"Jahriffe"Barriffe Mackenzie born July 6, a Reggae musician healing through music, expressing freedom, spiritual awakening, and love for all. Jahriffe founder of Roots Reggae band, JAH-N-I Roots Band release their first album "Rastafari Love" in 2005. A ten song album of a journey and purpose which received national & international audience attention. Jahriffe, lead vocal of JAH-N-I Roots Band began opening for great reggae musicians like Kymani Marley, Anthony B, Mighty Diamonds, Midnite, while also winning 2007 Urban Music Award. By 2013 still holding strong to the inspiration births forth a second JAH-N-I Roots Band release "Check Your Timing" an album of persistence and love for creating music with reason. Receiving great welcoming to the album from the listeners songs like Empress, You Remind Me, and Bless The Seed becoming fans favorites. Alongside a 2014 performance opening for Chronixx was good promo for the release. In 2015 changes start to take place for the long standing Roots Reggae Band. Inspired for a new direction Jahriffe brings himself to the fore front as Jahriffe & JAH-N-I Roots Movement. The evolution created more vision for the task felt in the soul of Jahriffe. He becomes the voice and face of a music that defines an experience of humanity's higher self. This metamorphoses opened up the platform to guest speaking at Mobile Alabama University which led to many lectures in the US, and closing 2015 with an energetic performance supporting Kabaka Pyramid & Iba Mahr. Jahriffe takes it straight to the roots with a single giving veneration to his spiritual foundation of The Rastafari Movement."Rasta Can't Fade" single released October of 2016 awaken the souls of the people accompanied with a music video receiving more than 100 thousand YouTube views and currently growing. Gaining more support from fans, "Love is One" wins best video of the year 2016 Garrison Award. Keeping a steady flow, Jahriffe was awarded from the Mayor of Boston for he's musical contribution during his live performance featured in the sold out 2016 African Fashion Week Boston. Jahriffe welcomes 2017 with a theatrical role as, Bob Marley in the play " Its about Time" located at the historical Strand Theatre in Boston. His desire to be apart of the change for truth, rights, love and equality for all using Reggae Music as a vehicle to send the message, is alive and well within his community and beyond. Jahriffe delivers a hopeful, compassionate, fearless, inspired performance that re-awakens the JAH-N-I Roots Movement in the mind, body, and souls of he's audience. The success of the movement continues to grow and develop a wanted experience by many. Jahriffe stands in the place with other humanitarian of the world, feeding the inspired with more inspiration.
More artists to be announced. Line up and set times are subject to change without notice