Location
Point Sebago Resort
261 Point Sebago Road
Casco, ME 04015
Description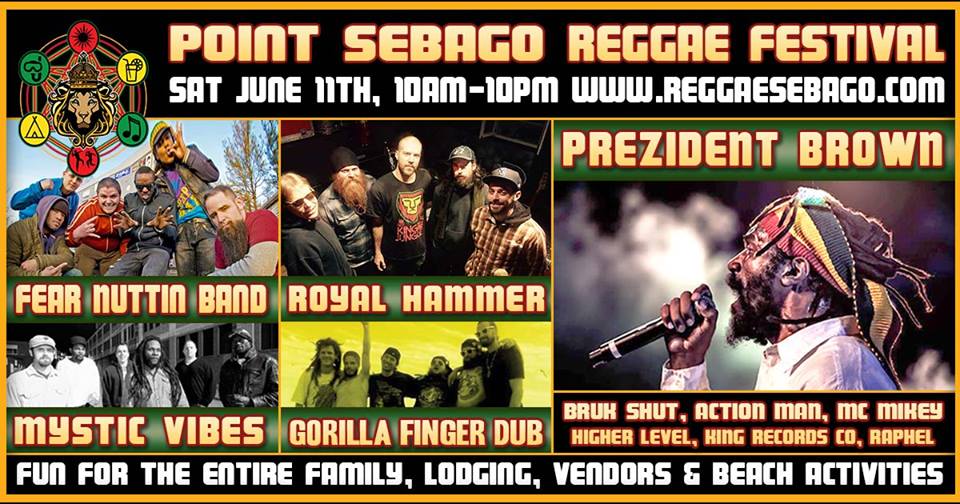 ---
---
Point Sebago Reggae Festival, Reggae Concert on Sebago Lake
Online tickets now on sale! $5 parking onsite per car load!
Beach Activities - Bouncy House 10am-4pm, Zip Line 2pm-6pm and more TBA
Two Beer Gardens - POI -
Lodging available - Vacation Homes, Park Homes & Campsites - (800) 530-1555
All ages accompanied by an adult, Fun for the entire Family!
Must be 21+ to Drink - No outside Alc allowed in the event
---
---
Music all day!

(More TBA)
12-10pm Main Stage General Admission
Prezident Brown has been very well received in the United States and is building a large fan base, and as a champion of the new roots and reality consciousness reggae movement he entertains, informs and inspires. Prezident Brown's music speaks a universal language. All of his albums and singles will remain timelessly beautiful and his fourth album, To Jah Only, features one of the most spiritually devoted songs in reggae history, "To Jah Only." His music is echoed overseas and his talent is unequivocal. All of his albums are a must for anyone who loves reggae music. Prezident Brown is an artist driven by a sense of mission and purpose which dictates that he "edutains" (heightens the consciousness of a people) as much as entertains. Prezident Brown is eminently qualified for the role in which he is seen as a vessel from which flows the healing effect of his musical staple.
Fear Nuttin band is an all original reggae/rock style band that is driven to write honest and real music. Comprised of 3 members from Jamaica and 3 from the United States FNB has developed a sound that combines elements of Reggae, Rock,Hip Hop, Hardcore, Dancehall and Metal drawing on their cultural diversity to make the mix true and real. This is demonstrated by the one of a kind live show full of energy and good vibes that has blended well with bands they have shared the stage or toured with like SOJA, Toots and the Maytals, Warped Tour, Streetlight Manifesto, Kanye West, Sublime, Pepper, Rebelution, Reel Big Fish, Steel Pulse and many others http://youtu.be/cCpTBO7mV6Q
The Royal Hammer is a six-piece roots reggae group from Portland, Maine. Heavily influenced by Gregory Isaacs, Dennis Brown, and Roots Radics, Royal Hammer takes pride in the authenticity of their sound. Mike Taylor (The Awesome) is backed-up by a heavy rhythm section including Gary Gemetti (Grupo Esperanza, Fogcutters Big Band) on drums, Mike Effenberger (Grupo Esperanza) on keys, and bass player Stu Mahan (Zach Jones band, The Awesome), and with Ryan Zoidis (Rustic Overtones, Soulive) on sax and Dave Noyes (Rustic Overtones, The Plains) on trombone, Royal Hammer's grooves are deep and infectious. The Royal Hammer has shared the stage with reggae legends Lee 'Scratch' Perry and Barrington Levy and has backed up international reggae artist Marty Dread and are currently working on their debut album.
---
Gorilla finger is a reggae outfit suited for any crowd. Preforming a variation of Original music roots and Popular reggae. The band has won over countless crowds over the last 3 years. Preforming memorable sets at the 2012 & 2013 Sugarloaf reggae festivals, and countless packed shows & festivals around New England. Including the Boston freedom rally & Micro festivals such as Harry Browns, Ziontific, Greatnorth, Uphoria, Big dig, hempfest, heads in harmony, ect. Sharing the stage with acts like J-Boog, Giant panda, John Browns body, Satellite Rockers, Badfish, Mr. lif and many others, Gorilla Finger has truly become a promising up and coming live act.


A band is akin to a living thing. It is born, it grows and matures, just like any living creature. Every experience along the way helps to shape what it eventually becomes. And while it grows, it continuously evolves. Ultimately, if the right circumstances are present, it thrives and bears fruit. The beginning stirrings of that evolution is what is happening to A Mighty Lion right now. If you're a music fan, it's worth paying attention to. Because it's really starting to get good.
<<< By attending this event you agree to the following >>>
::: PARKING :::
Paid Parking $5 per car. No tailgating allowed. Any attendees consuming personal alcoholic beverages in the Parking Areas will not be allowed into the venue.
::: FOOD/BEVERAGE :::
There will be food and beverage for sale at the event. No outside food or beverages will be allowed in the event. There will be bottled water available for purchase. No ice chests, picnic baskets, etc -
//// All purses, bags, and backpacks are subject to search. Management is not responsible for any confiscated items.
//// This show is General Admission Beach Standing/Seating. Okay to bring blankets and low-backed chairs (less than 2 feet high) into General Admission area. Blankets and Low-Backed Chairs (under 2 feet) will be allowed in G/A only. No High-Backed Chairs will be allowed. No one will be allowed into the venue prior to doors. Early comers will wait in line. First come first served.
//// No pets. Please do not bring your pet and leave them in the car.
//// Children 12 and under are free when accompanied by paid adult in General Admission Lawn Standing/Seating only, one child per one paid adult.
//// ALLOWED ITEMS (OK to bring)
>> Small backpacks
>> 1 sealed water bottle and/or 1 empty water bottle
>> Blankets
>> Low-Back chairs (less than 2 feet high)
>> Hat
>> Sunscreen
//// PROHIBITED ITEMS (do NOT bring)
>> Large backpacks
>> Pets
>> Weapons
>> Drugs
>> Alcohol
>> Outside food, beverages
>> Ice chests, coolers
>> Picnic baskets
>> High-Back lawn chairs (higher than 2 feet)
>> Umbrellas
>> Pop-up Tents
Tickets are NON REFUNDABLE.