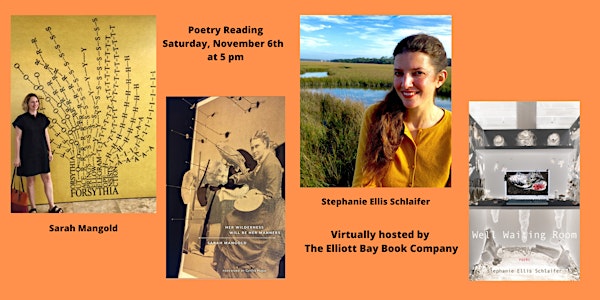 Poets Sarah Mangold and Stephanie Schlaifer Ellis
Sarah Mangold, author of "Her Wilderness Will Be Her Manners" reads with Stephanie Ellis Schlaifer, author of "Well Waiting Room."
About this event
Tonight we'll feature two poets published by Fordham University Press. Edmonds based poet Sarah Mangold reads from her new collection, Her Wilderness Will Be Her Manners , which was selected by Cynthia Hogue for the POL Prize. "Sarah Mangold's poetry of preservation is kin to Susan Howe's archival work. It is both haunted and haunting." —Rae Armantrout, author of Conjure. Reading with her tonight is Stephanie Ellis Schlaifer, author of Well Waiting Room. "These are poems of fierce wit, intense grief, and immense linguistic beauty, that pose—in tones alternately harrowing, savage, heartbreaking, and droll—the most urgent philosophical, moral, and spiritual questions of our time.---Lee Ann Roripaugh, author of tsunami vs. the fukushima 50, on Well Waiting Room.
Sarah Mangold is the author of the poetry collections Household Mechanics (New Issues, selected by C. D. Wright for the New Issues Prize), Electrical Theories of Femininity (Black Radish Books), and Giraffes of Devotion (Kore). She is the recipient of a 2013 NEA Poetry Fellowship, as well as support from MacDowell, Djerassi Resident Artists Program, Willapa Bay AIR, Virginia Center for the Creative Arts, Whiteley Center at Friday Harbor Labs, Seattle Arts Commission and Artist Trust. She lives in Edmonds, Washington.
Stephanie Ellis Schlaifer is a poet and installation artist in St. Louis. She is the author of the poetry collection Cleavemark (BOAAT Press, 2016) and the children's book The Cloud Lasso (Penny Candy Books, 2019). Her poems and art have appeared in Bomb, Bennington Review, Georgia Review, Harvard Review, Iowa Review, AGNI, Washington Square, At Length, The Offing, Denver Quarterly, LIT, Colorado Review, and on PoetryNow and the Poetry Foundation website, among others. She frequently collaborates with other artists, most recently with Cheryl Wassenaar on the installation The Cabinet of Ordinary Affairs at the Des Lee Gallery. Her work can be viewed at stephanieschlaifer.com.