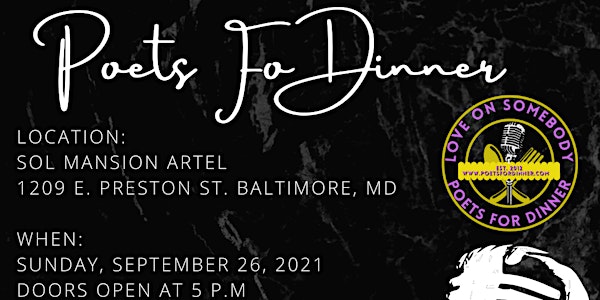 Poets For Dinner Special September
Poets For Dinner loves to "Love On Somebody"; by feeding our community physically, spiritually, emotionally and artistically.
When and where
Location
Sol Mansion Artel 1209 E. Preston St. Baltimore, MD 21202
Refund Policy
Refunds up to 7 days before event
About this event
Free food, food hugs, free love, free open mic, free show and freedom to be. There will be door prizes, raffles, vendors an amazing feature and so much more!!!! Please don't wait to get your tickets.
>>>> Sick? Stay Home!
>>>> Face Coverings Are Mandatory!
>>>> Respect Boundaries!
>>>> Guests Will Be Served By Volunteers!
>>>>Clean It Up!
****RULES OF PFD:
1. Eat, Dammit
2. Love On Somebody
3. Respect The Non-Mic and Our Covid-19 Action Plan
4. Live and Let Live
*********
If you need; to know anymore information, interested in becoming a sponsor, interested in hosting one or just need some inspiration; hit us up & let us know. Grace at (707) 335-6837
*******
Special thanks to our sponsors Better Than Family Services, Inc.
*******
Poets For Dinner
(Subject to change based on funding or laziness, lol)
**Please note, I do NOT use pork or beef products of any shape or form.
**Please let me know of any allergies or dietary restrictions before Saturday so I can make needed adjustments.
menu:
Mains-
Seafood boil // Fried chicken // Vegan stuffed potatoes
Sides-
Cabbage // mac and cheese // yams
Drinks:
-High Quality H2O aka Bottled Water While Supplies Last
-Please Bring Yourself Something Sweet To Drink
*********
​Oh Yes! I almost forgot to mention it. As always, this is an open invite! You, yours and theirs are all welcomed! Sharing is caring! But RSVP!
If you need; to know more information, interested in becoming a sponsor, interested in hosting one or just need some inspiration; hit us up & let us know, we can be reached at
70PFDLOVES // 707-335-6837
**********