Poets For Dinner loves to "Love On Somebody"; by feeding our community physically, spiritually, emotionally and artistically.
About this event
We are recognizing National Domestic Violence Awareness Month with our special; "We Wear The Masks" Halloween Edition.
>>>> Sick? Stay Home!
>>>> Face Coverings Are Mandatory!
>>>> Respect Boundaries!
>>>> Guests Will Be Served By Volunteers!
>>>>Clean It Up!
****RULES OF PFD:
1. Eat, Dammit
2. Love On Somebody
3. Respect The Non-Mic and Our Covid-19 Action Plan
4. Live and Let Live
*********
If you need; to know anymore information, interested in becoming a sponsor, interested in hosting one or just need some inspiration; hit us up & let us know.Grace at (707) 335-6837
*******
Special thanks to our sponsors Better Than Family Services, Inc.
*******
Poets For Dinner
(Subject to change based on funding or laziness, lol)
**Please note, I do NOT use pork or beef products of any shape or form.
**Please let me know of any allergies or dietary restrictions before Saturday so I can make needed adjustments.
Mains:
Fried Fish // Baked Chicken // Vegan Pasta Salad
Sides:
Greens // Yams // Seasoned Rice
Drinks:
-High Quality H2O aka Bottled Water While Supplies Last
-Please Bring Yourself Something Sweet To Drink
*********
​Oh Yes! I almost forgot to mention it. As always, this is an open invite! You, yours and theirs are all welcomed! Sharing is caring! But RSVP!
If you need; to know more information, interested in becoming a sponsor, interested in hosting one or just need some inspiration; hit us up & let us know, we can be reached at
70PFDLOVES // 707-335-6837
**********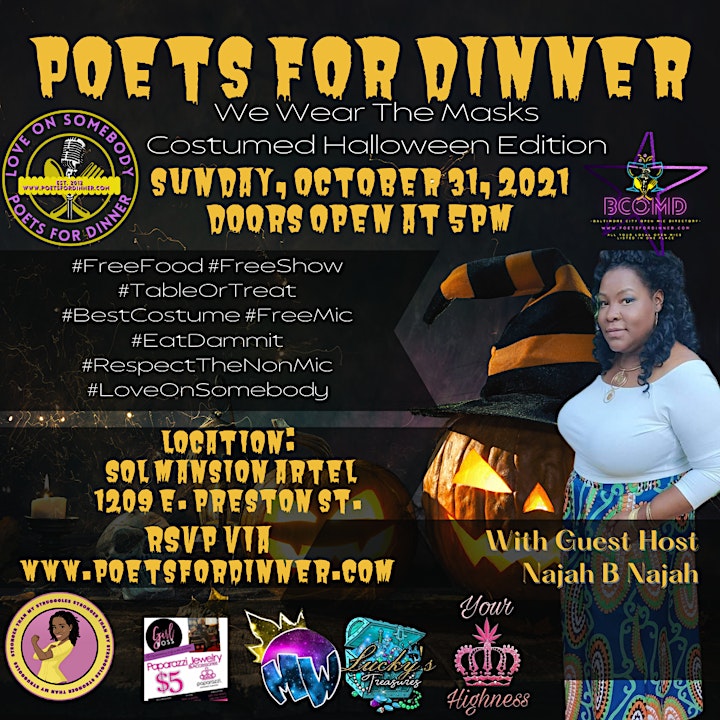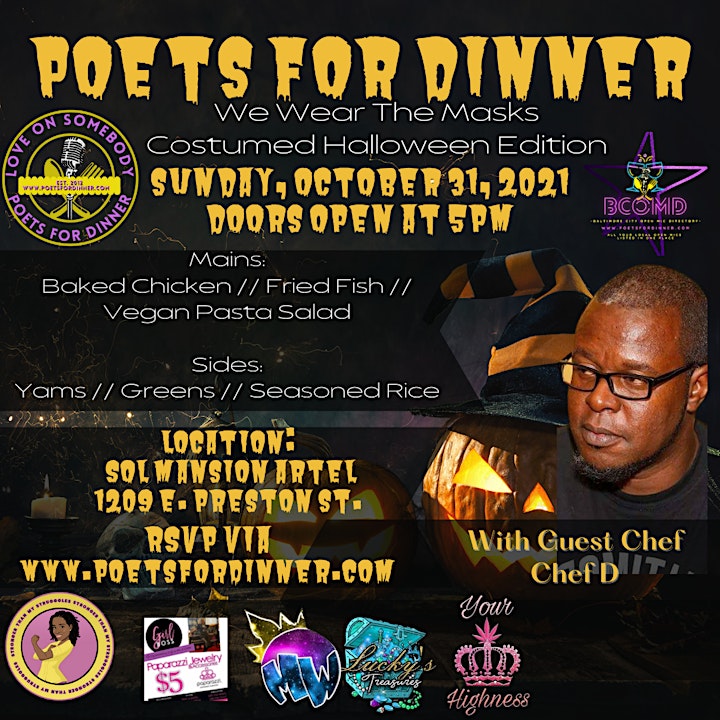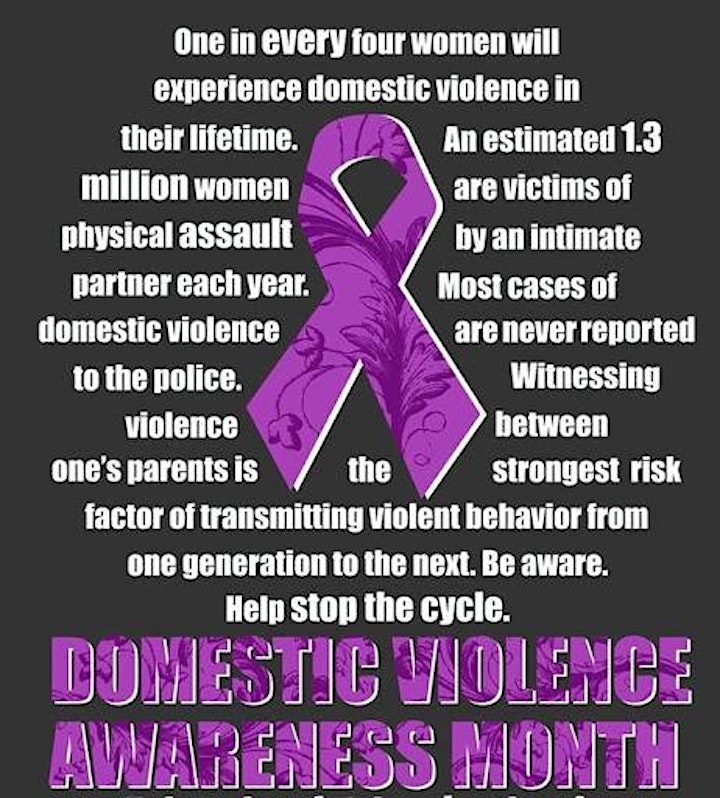 Organizer of Poets For Dinner October: We Wear The Masks/ Halloween Edition
I come from a time where people would gather from all walks of life, share a meal and join together in a moment of positivity and togetherness. As time progressed (or as I have gotten older); I've noticed that we as human beings, in our interconnections, regressed. We have settled for needing an excuse, a holiday or special occasion to come together; show compassion for our fellow man and/or commune. We have been coaxed into believing that needing help makes you less human and giving it makes you an authoritative figure. It is in this way of living and thinking, our innate rights to just be human, interdependence  and to not go hungry has gone ignored.

In the 13 years I have been performing spoken word off and on; I have encountered the same recurring problem in my travels; hungar. The performing artists are starving. Their families are starving. High school students are starving. College students in town away from home are starving. The homeless people outside these beautiful art galleries and museums are starving. People who do 40 plus hours a week at work to pay the rent and utilities are starving. Beyond food, people are starving to even feel welcomed. We come in and out of contact with these people on a daily basis; eating and living abundantly; while people sit quietly, starving. Out of this calamity Poets for Dinner was born.

For the 5 years PFD has been in existence, it has been our mission of PFD: to spread awareness of our human connection, encourage and increase kindness, promote peace and assist in the end of the "starving artist" and "the less fortunate" by; feeding, "loving on" them and providing connections to resources to help them thrive. Long story short; we feed people. But... we don't just feed people. We invite people into our own personal space; allot them a platform to be heard, space to feel apart of something greater than destitution and feed them. Every person who comes to Poets For Dinner, doesn't only get to eat for free. PFD welcomes people to be apart of a moment where their individual existence is recognized and appreciated.

If they choose to; they are encouraged and supported to perform in whatever form of artistic expression that is righteous to them, in the form of an open mic. If not, then they are just privied to a free show.  Even those; who chose to abstain from the show portion of the dinner all together; are still encouraged to come and eat for free. So in addition to an actual physical; healthy, home-cooked, catered, hot meal buffet being served; we are enriching people's lives as well.
Currently, we are servicing out of the City Arts 2 Building, 1700 Greenmount Ave. Baltimore, MD. 21202 the last Sunday of every month. Our goals are to extend our program from a monthly event to a weekly cornerstone of relief in our community.
"There's a messenger for every ear and our mission is to give, not make them accept. So go forth and love on somebody."