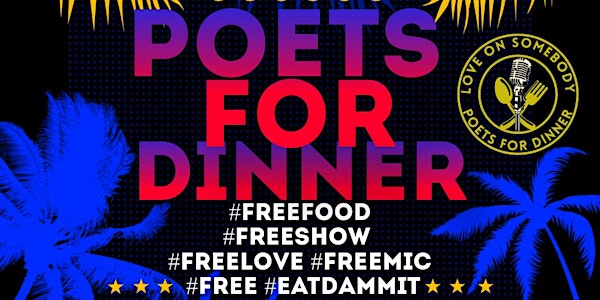 Poets For Dinner July's Joy
Poets For Dinner loves to "Love On Somebody"; by feeding our community physically, spiritually, emotionally and artistically.
When and where
Location
Sol Mansion Artel 1209 E. Preston St. Baltimore, MD 21202
Refund Policy
Refunds up to 7 days before event
About this event
We've been having Poets For Dinner for 9 years!!!!! That's 9 years of free food, food hugs, free love, free open mic, free show and all the freedom to just be. So come on out, #GrabAPlate #EatDammit and #LoveOnSomebody
>>>> Sick? Stay Home!
>>>> Face Coverings Are Mandatory!
>>>> Respect Boundaries!
>>>> Guests Will Be Served By Volunteers!
>>>>Clean It Up!
****RULES OF PFD:
1. Eat, Dammit
2. Love On Somebody
3. Respect The Non-Mic and Our Covid-19 Action Plan
4. Live and Let Live
*********
If you need; to know anymore information, interested in becoming a sponsor, interested in hosting one or just need some inspiration; hit us up & let us know.Grace at (707) 335-6837
*******
Special thanks to our sponsors Better Than Family Services, Inc.
*******
Poets For Dinner
(Subject to change based on funding or laziness, lol)
**Please note, I do NOT use pork or beef products of any shape or form.
**Please let me know of any allergies or dietary restrictions before Saturday so I can make needed adjustments.
Mains:
bbq shRIMP//
Grilled Chicken BREAST //
gRILLED sTUFFED eGGPLANT
Sides:
Candy aPPLE Yams //
cABBAGE // Mac & Cheese
Drinks (While Supplies Last):
-High Quality H2O aka Bottled Water
-Soft Drinks (Brisk Tea, Orange Soda, Fruit Punch, Pepsi and Ginger Ale) with $1 Donation
-Poets Punch (Adult Beverage) with $6 Donation
-Beer (Seagram's, Corona and Bud Ice) with $3 Donation
-Glass of Wine (Sweet Red and Pink Moscato) with $3 Donation
*********
​Oh Yes! I almost forgot to mention it. As always, this is an open invite! You, yours and theirs are all welcomed! Sharing is caring! But RSVP!
If you need; to know more information, interested in becoming a sponsor, interested in hosting one or just need some inspiration; hit us up & let us know, we can be reached at
70PFDLOVES // 707-335-6837
**********