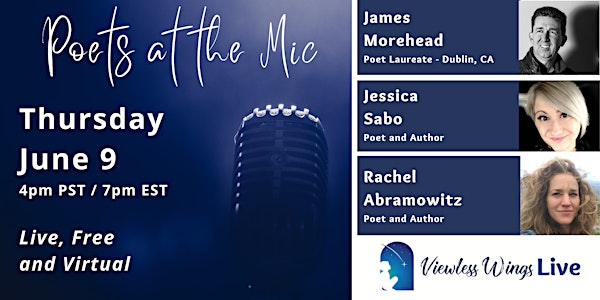 Poets at the Mic with James Morehead, Jessica Sabo, & Rachel Abramowitz
Free poetry reading livestream featuring James Morehead, Jessica Sabo, and Rachel Abramowitz. Sponsored by Viewless Wings.
About this event
Join poets James Morehead (Poet Laureate - Dublin, CA), Jessica Sabo (author of Body of Impulse), and Rachel Abramowitz (author of The Birthday of the Dead) for a live poetry reading and discussion on YouTube Live.
James, Jessica, and Rachel will present a live mix of poetry readings and discussion, and take live questions.
James is Poet Laureate of Dublin, California, author of canvas and portraits of red and gray, and he hosts the Viewless Wings Poetry Podcast. James' poem tethered was transformed into an award-winning hand drawn animated short film, gallery was set to music for baritone and piano, and his poems have appeared in Beyond Words Magazine, Wingless Dreamer, Prometheus Dreaming and Prompt Press.
Rachel is a graduate of the Iowa Writers' Workshop and the University of Oxford. She has been the Editor-in-Chief of the literary magazine Wave Composition, an intern at the Paris Review, a stock analyst (for three months), and has taught English Literature at The University of Iowa, the University of Oxford, and most recently at Barnard College in New York. She is the author of The Birthday of the Dead, the winner of the 2021 Marystina Santiestevan prize from Conduit Press, the chapbooks The Puzzle Monster, winner of the 2021 Tomaz Salamun prize (forthcoming from Factory Hollow Press in 2022), and Gut Lust, the winner of the 2019 Burnside Review prize (Burnside Review Press, 2020). Her poems have appeared in numerous prestigious journals. Rachel is currently based in Brooklyn.
Jessica Sabo is a former classical ballet dancer and writer whose work focuses on the intersection between eating disorders, trauma, and sexuality. Her poems and essays have appeared in publications by 805 Lit + Art, Inklette Magazine, and the Dead Mule School of Southern Literature, among others. Her work has been anthologized with ChannelMarker Literary Journal, Adelaide Literary Magazine, Damaged Goods Press, and is forthcoming with Quillkeepers Press. Jessica was selected as a finalist for the Adelaide Literary Award in Poetry in 2020 and is also the author of a chapbook, A Body of Impulse, (dancing girl press & studio, 2021). A west-coast transplant and Virginian at heart, she currently lives in southern Nevada with her wife and two rescue dogs, one of which has wings.