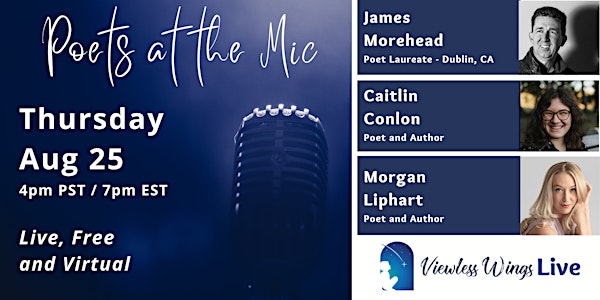 Poets at the Mic with James Morehead, Caitlin Conlon, & Morgan Liphart
Free poetry reading YouTube Live event featuring James Morehead, Caitlin Conlon, and Morgan Liphart. Hosted by Viewless Wings.
About this event
Join poets James Morehead (Poet Laureate - Dublin, CA), Caitlin Conlon (author of The Surrender Theory), and Morgan Liphart (author of Barefoot and Running) for a poetry reading and discussion on YouTube Live.
James, Caitlin, and Morgan will perform a live mix of poetry readings and discussion, and take live questions.
James Morehead is Poet Laureate of Dublin, California, author of canvas and portraits of red and gray, and he hosts the Viewless Wings Poetry Podcast. James' poem tethered was transformed into an award-winning hand drawn animated short film, gallery was set to music for baritone and piano, and his poems have appeared in Beyond Words Magazine, Wingless Dreamer, Prometheus Dreaming and Prompt Press.
Caitlin Conlon is a poet and avid reader from Upstate New York. She holds a BA in English and a Creative Writing Certificate from the University At Buffalo and, while there, was chosen for the Friends of the University Libraries Undergraduate Poetry Prize, and the Arthur Axlerod Memorial Prize for Poetry. Her debut poetry collection, The Surrender Theory, was released in 2022 with Central Avenue Publishing. You can find her online almost anywhere @cgcpoems.
Morgan Liphart's work has appeared in anthologies and journals across the United States and England, such as the University of Oxford's Literary Imagination, The Comstock Review, and Third Wednesday. When she's not writing, Morgan enjoys her career as an attorney and adventuring in the wild spaces surrounding her home in Denver. Morgan's debut poetry chapbook, Barefoot and Running topped several bestselling lists and has brought healing and comfort to readers worldwide.