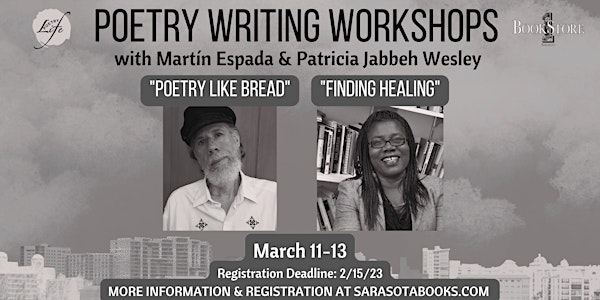 Poetry Writing Workshops with Martín Espada and Patricia Jabbeh Wesley
Award-Winning Poets Martín Espada and Patricia Jabbeh Wesley offer poetry writing workshops: "Poetry Like Bread" and "Finding Healing."
When and where
Location
Bookstore1Sarasota 117 S. Pineapple Ave. Sarasota, FL 34236
Refund Policy
Refunds up to 7 days before event
About this event
2 days 11 hours

Mobile eTicket
As part of our Sarasota PoetryLife 2023, join either Martín Espada or Patricia Jabbeh Wesley as they offer small-group workshops with a one-on-one conference to help you hone your craft.
About the Workshop Leaders:
Martín Espada:
Martín Espada's many awards include the National Book Award, the International Latino Book Award, and the Ruth Lilly Poetry Prize from the Poetry Foundation. His poems are known to "celebrate - and lament - the working-class experience (Poetry Foundation)." Read more about Martín Espada here.
Patricia Jabbeh Wesley:
Patricia Jabbeh Wesley has won several literary awards, including the 2023 Theodore Roethke Memorial Poetry Prize; the 2022 Levinson Poetry Prize from Poetry Magazine for her two poems, "Black Woman Selling Her Home in America" and "Healing will Come: Elegy After Natural Disaster;" the Prairie Schooner 2022 Edward Stanley Prize for her poem "My Name is Dawanyeno;" the Crab Orchard Award (2002), the Wise Women Award for Literary Arts (2016), the Theodore Roethke Memorial Poetry Award, and a Barack Obama Award from NAACP of Blair County, PA. Wesley's poetry is "heartfelt, wise, and alive... One senses in her that rare combination of someone who has been deeply schooled in both literature and life, and who has integrated those two into a deeply felt and shrewd worldview (Stuart Dybek)." Read more about Patricia Jabbeh Wesley here.
About the Workshops:
Martín Espada Workshop "Poetry Like Bread:"
Espada says, "The goal is the creation of a new poem every day, proving the proposition of Salvadoran poet Roque Dalton that 'poetry, like bread, is for everyone.'"
This is a generative workshop. Participants generate new work based on the discussion of model poems by major poets, and the poetic tools or themes they represent. We may write poems of unheeded prophecy, speak in the voices of the damned and despised, wander in the company of our ancestors, mock the vanity of demagogues, or curse our enemies. Workshop participants will write on the spot, then share their work, reading aloud to the group (for thunderous applause only).
Patricia Jabbeh Wesley Workshop "Finding Healing:"
Together we will explore how a poet can craft pain, sorrow, or trauma without compromising poetry as art.
The pain from grief, loss, and tragedy can be truly traumatic. The same can be said of the COVID-19 pandemic. When buried, pain can destroy. How can we use our craft to navigate painful experiences of all kinds? As someone who is all too familiar with tragedy, including war and its corresponding deaths, I have employed writing as a tool in finding healing. In this workshop, we will dig into what we may have buried and explore the deep matters of life. Participants will read poems about pain and draft poems to heal and restore.
Patricia welcomes her students to send three poems in advance of the start of the workshop.
Each ticket includes:
- Three two-hour workshop sessions
- One individual conference with workshop leader
- Six books by festival poets
- Most meals
- Opportunity to read your work for our audience
- Tickets to Sarasota PoetryLife 2023 events at Florida Studio Theatre, including panel discussions with and readings by Martín Espada and Patricia Jabbeh Wesley
- Panel discussion with translation experts
Detailed schedule will be provided before the workshops begin.
REGISTRATION DEADLINE: Wednesday, February 15, 2023
In registering, you will be asked which workshop you prefer. Each workshop is limited to 12 participants. The earlier you apply, the greater your chances of enrolling in your preferred workshop. You will be notified as to which workshop you have been placed by Monday, February 20. Attendees are responsible for their own lodging. With three days packed with poetry, full availability on Saturday, Sunday, and Monday is advised.
If you have questions about the workshops, please send a message to poetrylife@sarasotabooks.com.
About PoetryLife:
Bookstore1Sarasota is a New York Times reporting bookstore in the heart of Sarasota's downtown arts, entertainment and restaurant district. An institution for more than 11 years, we are an independent bookstore that features the latest releases from both renowned and rising voices in the literary scene, aiming to fight against censorship to make books available for all. Whenever we can, we love to highlight Florida authors and books about the state of Florida.
Our annual PoetryLife events are a cornerstone that attract some of the finest poets including Ocean Vuong, Robert Pinsky, W.S. Merwin, Juane Felipe Herrera, Billy Collins, Kevin Young, Tracy K. Smith, Mark Doty, Aimee Nezhukuhatatahil, Carolyn Forché, Pádraig Ó Tuama, and more.
Click here to go to the Bookstore1Sarasota website.