Description
SATURDAY AUG 4TH 8P
Poetry vs. Hip-Hop, LLC Present: POETRY VS. HIP-HOP CHARLOTTE 3 ‼️
@ Morehead Tavern 300 Morehead St. Charlotte, NC
Headlining Live Music by Dee Dray, Poetry by Slam Charlotte & introducing Dajulyn Wallace!

****** THIS IS NOT A FREE EVENT! THIS IS THE RSVP PAGE FOR GENERAL ADMISSION *******
>>>>>>>>>To purchase tickets click HERE <<<<<<

$15 General Admission in ADVANCE
$25 GENERAL ADMISSION at the door!
VIP AVAILABLE
*PLEASE READ CAREFULLY - This eventbrite page is a RSVP PAGE! If you bring this RSVP on your phone, you will receive $5 off at the door. General Admission only! Which means first come, first sit. Purchase tickets HERE and reserve your seat or table!

***If tickets are sold out online, you can still purchase tickets at the door; the day of the show.***
- General Admission means first come - first sit in the (available) chairs! Standing room after the chairs are gone. No holding seats for friends that have not arrived yet! Tell everyone to get there at 8P!!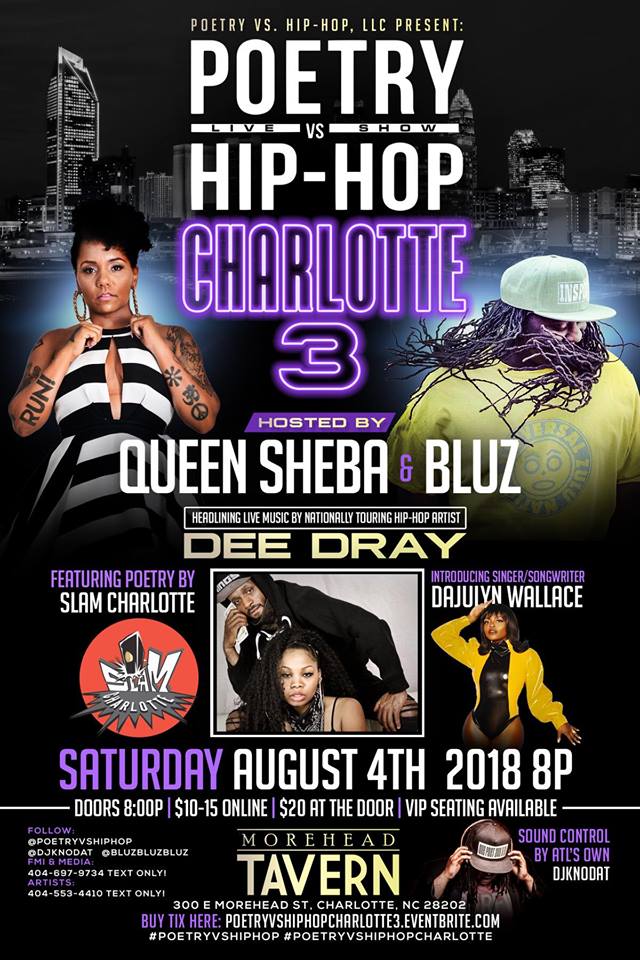 + Team Poetry vs. Team Hip-Hop in a FRIENDLY "battle" and more!

Hosted by Internationally Award Winning Poet & Comedian Queen Sheba as seen on Verses & Flow, 106 & Park Apollo Theater and 11-Year-Host Famous 4th Sundays, in Atlanta, hosts this nationally touring show

+ Soundtrack by: International spinmaster DJ Knodat - toured in Germany, South Africa & across the U.S.

*Every single show has sold out! No B.S.

In each city we look for the 5 best poets to side with Queen Sheba on #TeamPoetry and we look for a roving, guest 'Captain' of the emcees + Hip-Hop artists to oppose the poets and see who's got the best lyrics & stage show!

How it works: 5 CHARLOTTE Poets will go head-to-head with 5 CHARLOTTE Emcees in a FRIENDLY, all Peace and all Love "battle". Queen Sheba will call up one poet and one emcee for each round, they are REQUIRED to hug (or dap or show each other love in some way) to emphasize the bridging of gaps and culture - then the Poet and the Emcee performs one at a time; with the order being alternated each round. Each artist is encouraged to perform their BEST work in a 4 minute time period - then at the end of each round the audience cheers wildly, throws money, stomps on the floor and goes bananas for their favorite performance. The team who wins the best out of 5 rounds wins!

What do you win?!: Bragging rights! Connections, new friends, networking. Healing people's hearts. Saving someone from a messed up relationship. These are all the things you REALLY win! And then, you get to Snapchat all your friends and tell them you won your round and your team won the battle! Most shows, the winners of each round gets to choose between a mystery envelope with a small cash stipend (YAY! Chicken and Waffles for everyone!) -OR- some Poetry vs. Hip-Hop (PvHH) swag.

At the end of the show: Audience members are introduced to the best Poetry, Spoken Word & Hip-Hop CHARLOTTE has to offer and you will leave feeling empowered and light hearted, cheering, hugging and taking picture with everyone! The artists are reminded they are the pulse of their community and are continued to be inspired to produce great works to heal the world.

...and our small, touring, crew that makes up PvHH goes back to our hotel room, or airbnb or someone's home who was kind enough to house us ... feeling fulfilled and exhausted .... ready to plan our next trip! (Hint...hint... this means bring us to your city!)

PvHH CHARLOTTE Brought to you by: Poetry vs. Hip-Hop, LLC, Below The Radar, LLC, One Poet & a DJ, and our Ambassador Bluz

Social Media: (Facebook, Twitter, Instagram)
@poetryvshiphop
@onthebsdie
@thepoetryspot
@msingridb
@thequeensheba
@djknodat
@redwritinghoodpoet

#poetryvshiphop
#poetryvshiphoplive
#poetryvshiphopworldwide
#teampoetry
#teamhiphop
#chooseaside
#hiphopcharlotte
#trappoetry
#poetrymiami
#slampoetry
#slamcharlotte
#realhiphop
#worldstarhiphop



FAQs:

Are there ID or minimum age requirements to enter the event?
We prefer 21+ but 18+ is accepted
Please do not bring young children to this event it changes the mood for everyone and we will not curb our language or behavior - lol

How can I contact the organizer with any questions?
404-697-9734 TEXT ONLY!

What's the refund policy?
*ABSOLUTELY NO REFUNDS!