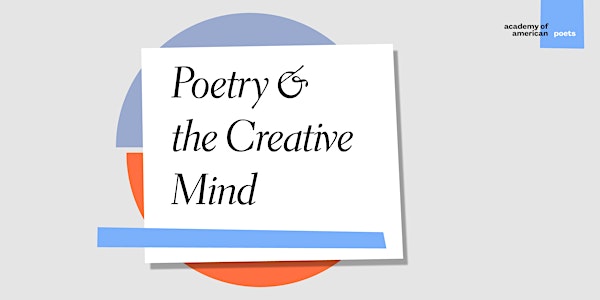 Poetry & the Creative Mind — a National Poetry Month gala fundraiser
The Academy of American Poets annual gala presents luminaries from across the arts sharing favorite poems for National Poetry Month.
About this event
Poetry & the Creative Mind is presented by the Academy of American Poets, the nation's leading organization championing poets and poetry.
This special event, which features actors, artists, and leaders from across culture, celebrates poetry's important place in our society and its impact on the lives of readers.
Hosted by
Richard Blanco & Terrance Hayes
presenting the 2022 Leadership Award to
Joy Harjo
with readings from
David Banks
Ishmael Beah
Rosanne Cash
Willem Dafoe
Claire Danes
Ann Dowd
Jack Gilpin
Gregory Gourdet
Bill T. Jones
Debra Monk
Dr. Saad Omer
Shahzia Sikander
Sharon Van Etten
Join us for our live broadcast Apr 28, 2022 at 7:30 p.m. EDT, free to all attendees.
Supporting this event
As our signature National Poetry Month reading, Poetry & the Creative Mind also raises funds to support the Academy of American Poets Education Program, which serves over 100,000 K–12 students each year.
Your generous contribution, should you choose to make one, is a tax-deductible investment in the programs and publications of the Academy of American Poets, a recognized 501(c)(3) nonprofit.

Attending live
Limited virtual attendance is available through our broadcast partner Crowdcast, with additional access via YouTube available to all. Your registration through Eventbrite includes access to one of these streams, depending on availability and your preference.
The Academy of American Poets strives to host inclusive, accessible events. Captioning will be available for viewers of the YouTube livestream. If you have any questions or requests related to access, please email galasupport@poets.org or call (888)790-0721.

Frequently Asked Questions
Will the event be available for replay after April 28?
This presentation will be offered only once as a live broadcast and will not be available for replay.
Is this appropriate for school-aged children?
Poems read will not have been screened for appropriateness for school-aged children and viewer's discretion is advised.
Where is this event being broadcast?
Our primary broadcast feed, with live chat hosted by twenty contemporary poets, will be available via Crowdcast.io with limited virtual seating. A simultaneous stream will be available via YouTube.
For assistance with additional questions visit poets.org. To learn about special benefits for event supporters in the Producers Circle, as well as corporate sponsorship opportunities, visit the Event Producers page.