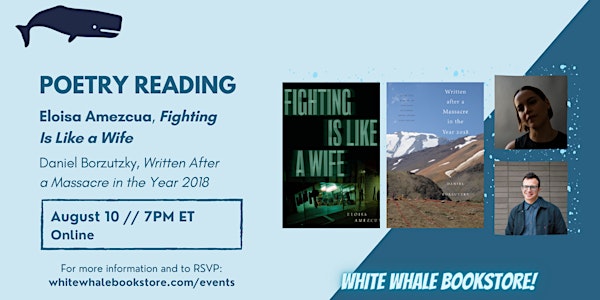 Poetry Reading: Fighting Is Like a Wife, Eloisa Amezcua w/ Daniel Borzutzky
Sign on to hear from Eloisa Amezcua (Fighting Is Like a Wife), feat. Daniel Borzutzky (Written After a Massacre in the Year 2018)!
Refund Policy
Contact the organizer to request a refund.
Eventbrite's fee is nonrefundable.
About this event
This is a night for Coffee House Press poets—we're so excited to host Eloisa Amezcua (Fighting Is Like a Wife), along with Daniel Borzutzky (Written After a Massacre in the Year 2018). Join us online!
Head to this event's page on our website to order these writers' books! Check out our website, where you can search our whole inventory or order any books we don't have in stock, and don't miss our lists of recommended and best-selling titles.
This event will be hosted on Zoom. You'll receive the link to the Zoom meeting the day of the event via email. Free registration/ticket sales will end at 6:30pm ET on 8/10. Please email events@whitewhalebookstore.com if you miss this cut-off and need a ticket. For questions, check out our FAQ for events here.
About Fighting Is Like a Wife:
"Through formally varied poems about the real-life featherweight boxer Bobby Chacon and his wife, Amezcua's second collection probes notions of violence, sport, marriage and gender roles." —The New York Times
"In Amezcua's work every possible choice available to a poet has been made with intention and expert execution. . . . This level of attention to the physicality of poetry allows form and placement to become part of the language or perhaps a language of its own." —Angie Dribben, The Los Angeles Review
"The vibrant second collection from Amezcua explores the life of world-boxing champion Bobby Chacon and his wife, Valerie Ginn. . . . Using redaction, repetition, and a dizzying variety of concrete poems that are like a literary magic- eye, Amezcua reveals new implications beneath the haunting text." —Publishers Weekly
Bobby took to fighting the way a surfer takes to water: the waves and crests, the highs and the pummeling lows. Valorie, as girlfriend, then wife, then mother of their children, was proud of Bobby and how he found a way out of the harsh world they were born into. But the brain-sloshing blows, the women, and the alcohol began to take their toll, and soon Bobby couldn't hear her anymore. With her fate affixed to Bobby's, and Bobby's to the ring, Valorie sought her own way out of this dilemma.
Using haunting, visceral language to evoke the emotion of the fight, and incorporating direct quotations from sports commentators and Bobby himself, Fighting Is Like a Wife reveals how boxing, like love and poetry, can be brutal, vulnerable, and surprising.
About the readers:
Eloisa Amezcua is from Arizona. She is the author of From the Inside Quietly (2018). A MacDowell fellow, Eloisa has published poems and translations in the New York Times Magazine, Poetry Magazine, Kenyon Review, Gulf Coast, the Academy of American Poets Poem-a-Day series, and elsewhere.
Daniel Borzutzky is the author of several poetry collections, including The Book of Interfering Bodies; In the Murmurs of the Rotten Carcass Economy; The Performance of Becoming Human, winner of the 2016 National Book Award; and Lake Michigan, a finalist for the 2019 Griffin International Poetry Prize. His translation of Galo Ghigliotto's Valdivia received the National Translation Award. He has also translated books by Chilean poets Raúl Zurita and Jaime Luis Huenún. He teaches at the University of Illinois at Chicago.