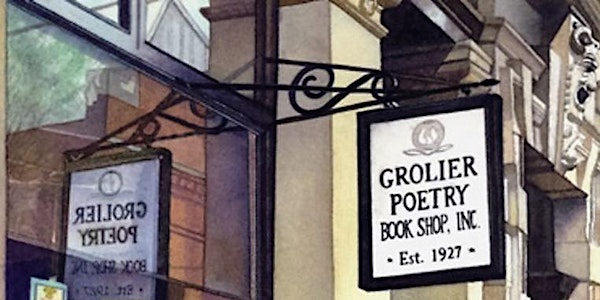 Poetry Reading Ben Mazer and A.E. Stallings
When and where
Location
Grolier Poetry Book Shop 6 Plympton Street Cambridge, MA 02138
Refund Policy
Refunds up to 1 day before event
Description
Ben Mazer and A. E. Stallings will read
Ben Mazer was born in New York City in 1964. He was raised in Cambridge, Massachusetts, and educated at Harvard University, where he studied with Seamus Heaney, and at the Editorial Institute, Boston University, where he did his Masters and his Ph.D. in Literary Editing andTextual Scholarship under Christopher Ricks and Archie Burnett. He is the author of nine collections of poetry, including most recently Selected Poems (MadHat Press). He is the editor of several critical editions, including Selected Poems of Frederick Goddard Tuckerman (Harvard University Press), The Collected Poems of John Crowe Ransom (Un-Gyve Press), and Landis Everson's Everything Preserved: Poems 1955-2005 (Graywolf Press), which won the Emily Dickinson Prize from the Poetry Foundation. His poems have recently been translated into Spanish by Mario Murgia and published by UNAM in Mexico City as Te Conozco? (Do I Know You?), and Thomas Graves has written a book-length critical study of Mazer's poetry, Ben Mazer and the New Romanticism, which is forthcoming from Pen & Anvil).
A.E. Stallings is the author of four poetry collections, most recently, Like, with Farrar, Straus & Giroux. She has translated Lucretius' philosophical epic, The Nature of Things , and Hesiod's almanac,Works and Days for Penguin Classics. Awarded fellowships from the MacArthur and Guggenheim foundations, she lives in Athens, Greece.

She studied classics in Athens, Georgia, in the previous millennium, and now lives in Athens, Greece. She has published four collections of poetry: Archaic Smile (University of Evansville Press), Hapax (TriQuarterly Books), Olives (TriQuarterly Books), a finalist for the National Book Critics Circle Award, and Like , recently out from Farrar, Straus & Giroux. She has published a verse translation of Lucretius' philosophical epic, The Nature of Things , and Hesiod's 8th century B.C. almanac, Works and Days , with Penguin Classics. An illustrated and annotated translation of the pseudo-Homeric poemThe Battle of the Frogs and the Mice is forthcoming from Paul Dry books. Stallings has received a translation grant from the National Endowment of the Arts, the Willis Barnstone Translation Prize, the 2008 Poets' Prize, and the Benjamin H. Danks Award from the American Academy of Arts and Letters. A member of the American Academy of Arts and Sciences, she was a 2011 Guggenheim fellow and a 2011 MacArthur fellow.