Description
This National Women's History Month, join us at IA&A at Hillyer for a night of inspiration and empowerment. Bring your favorite verse by women who inspire you, choose from a prepared selection of poems and prose, or share your original work that speaks to the themes of female empowerment, resistance, and progress toward equality.
The Raise Your Voice Open Mic will be hosted by spoken word artist and emcee Charity Blackwell and feature former national and international poetry slam champion Gayle Danley. Hillyer is pleased to partner with local women-owned business Teaism, bookstore and socially-engaged community space The Potter's House, and the To Future Women project by artist Georgia Saxelby to present this event!
Teaism will be serving complimentary tea and treats, and a selection of female-authored literature from The Potter's House will be available for sale throughout the evening. Guests will also receive the gift of stationery and a stamped envelope to take home and add their voice to the #ToFutureWomen project, a collection of letters containing our hopes for the next generation of women that will be archived and re-exhibited to the public in 2037.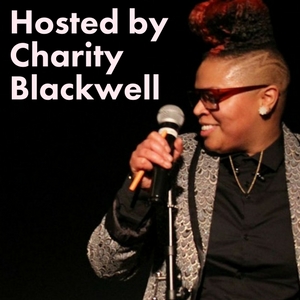 Charity Blackwell is a spoken word artist, host, emcee, and poetry specialist who has spent several years contributing to the arts scene at DC SCORES. She is a Trinity University graduate, where she received her B.A and M.A, for Communications, and played soccer for four years. Since her early college days, Charity's natural stage presence and charm has led her to many hosting opportunities, including events such as the Poetry SLAMS for DC SCORES (2013-2016), the America SCORES New York National Poetry SLAM! (2015 -2016), Busboys and Poets Open Mic (2016-Current), and the Our Words Our City Poetry Show Case (2017), Women's March Open Mic (2017) and many more. She has performed her original work on international networks such as BBC News and numerous stages across Washington D.C. and the east coast.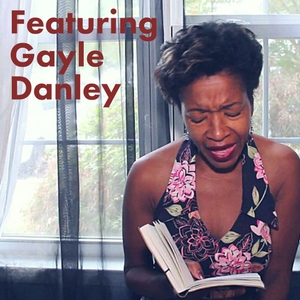 Gayle Danley is a former national and international poetry slam champion. Recently she joined the Kennedy Center's roster of master teaching artists providing high-level arts integration workshops for language arts educators. Soon after earning a Master's Degree in Radio, Television, and Film from Syracuse University, Ms. Danley discovered Slam poetry. Embracing this stimulating art form, she immediately won the 1994 National Individual Slam Poet Competition and followed that success by becoming the 1996 International Slam Poet Champion. Ms. Danley was featured on CBS' 60 Minutes in 1999 and has published three books: Naked, Soulfull-A Slam Poetry Study Guide, and Passionate-Poems You Can Feel. Ms. Danley's style combines movement and emotion as she performs her magic on the audience, sweeping them up in her words as she addresses and explores contemporary issues.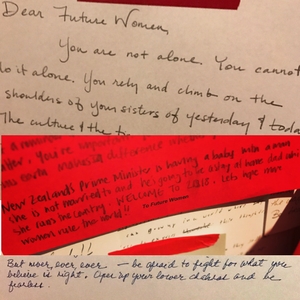 To Future Women memorializes the anniversary of the Women's March in Washington DC. Created by artist Georgia Saxelby, the project invites you to write a letter to women in twenty years time. Part art and part history, our collective trove of letters will be archived participating national cultural institutions in Washington DC and re-exhibited in 2037 on the 20th anniversary of the Women's March. To Future Women uses the platform of art to historicize one of the largest networked protests in global history while creating a time capsule for the next generation of women. Central to the project is an acknowledgement that what a culture celebrates, memorializes and marks as significant reflects and defines who that culture is, and, most importantly, who we want to become.
Thank you to our partners:
Teaism: Michelle Brown and Linda Neumann opened the first Teaism in June of 1996 in Dupont Circle and have been thrilled with the response from the community and visitors to DC. A collection of Asian-inspired teahouses that infuse the cultures of tea and the ideals of Teaism with the informality and casualness of America, Teaism's three locations feature critically acclaimed restaurants, exhibitions of work by local potters and artists, and a constantly updated inventory of over three dozen teas that represent the best of what is available and a belief that selecting, serving, and selling tea is art and love not just commerce.
Potter's House is a nonprofit café, bookstore, and event space in the Adams Morgan neighborhood of Washington, DC. Since opening their doors in 1960 the Potter's House has been a key place for deeper conversation, creative expression, and community transformation. After closing in 2013 for major renovations, The Potter's House re-opened in spring 2015 with a renewed space and revitalized offerings. In a rapidly changing city - one in which development so often means displacement - The Potter's House is a deeply rooted space where people can build relationships across our differences, envision just alternatives, and grow the movements that will make them possible.