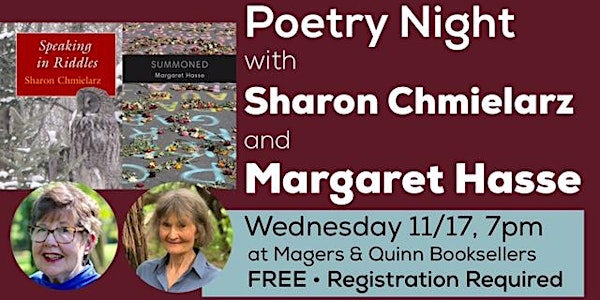 Poetry Night with Sharon Chmielarz and Margaret Hasse
Poetry Night with Sharon Chmielarz and Margaret Hasse
When and where
Location
Magers & Quinn Booksellers 3038 Hennepin Avenue Minneapolis, MN 55408
About this event
Join us for an evening of new work from two Minnesota poets!
About Speaking in Riddles:
Riddles! They're ancient! They're half descriptive poem, half mind-teaser. These riddles range from easy to difficult. Their solutions can lead to interesting associative guesses, not to mention solo or group fun.
Here's one to try out:
I can be dark and sombre.
I can be bright as sequins, many sequins, sewn on.
I can host a moon, a cat, or a snout.
Or even your embroidered name.
My trouble, I muffle.
My mantra, semper fidelis. My motto, do or die.
During these unusual times, when we often find ourselves less active socially than usual, settling down with a challenging riddle might be just the thing. The language is elevated and wry, as readers have come to expect from poet Sharon Chmielarz, yet solutions can prove elusive. If all else fails, the answers are in the back.
About the Author: Sharon Chmielarz was born and raised in Mobridge, South Dakota, but has spent her adult life in Minnesota. Her book The Other Mozart, a biography in poetry, was made into an opera. Her collection Visibility: Ten Miles was a finalist for the 2015 Midwest Book Awards, and The Widow's House was a finalist for the Next Generation Indie Book Awards and was named by Kirkus Reviews one of the best 100 books of 2016.
Chmielarz's work has been a finalist in the National Poetry Series, and her poems have been nominated several times for a Pushcart Prize. They have been featured on American Life in Poetry, and individual poems have been translated into French and Polish. She's the recipient of a Jane Kenyon Award from The Water~Stone Review. Her poems have been published in The Notre Dame Review, The Iowa Review, Prairie Schooner, The Hudson Review, The North American Review, North Dakota Quarterly, Commonweal, Salmagundi, Margie, Salmagundi, The Seneca Review, Louisiana Literature, Ontario Review, CutBank, and in Nodin Press's 2015 poetry anthology.
---
About Summoned: In her new collection of poetry, Hasse explores the sorrows and delights of daily life through narratives and ruminations enlivened by her lightning-quick imagination and her care in choosing images to achieve the desired effect. Her attention ranges widely, from the counter-culture vibe of the distant past (as in "Summer of Love, 1967" and "Marijuana") to the humor and acceptance of aging that enliven the present, as in "Medicare Birthday" and "After a Fall." Readers also encounter moments of reverie, as when, in "Summoning My Dead Mother," Hasse's beloved mother is suddenly a guest at the kitchen table eating toast with honey. The poem ends as mysteriously as it began: "she's insubstantial as wind / that stirs a willow tree / washing its long hair in lake water / and blooming for the bees."
The natural world, from butterflies to moose, makes repeated appearances; more challenging is the sequence of poems scattered here and there throughout the volume that Hasse labels "Another Day of Being White." Being the adoptive mother of two African American children gives her an unusually deep and personal perspective on the crosscurrents of inequity and strife that continue to weaken our social fabric.
Summoned is Hasse's sixth full-length volume. As poet Connie Wanek wrote: "Where else will we find—not necessarily answers, but the right questions? Are people good? Is there a God? How far does empathy extend? In Hasse's work, humor and grief often share the same neighborhood, street, house, room, soul."
About the author: Margaret Hasse grew up in South Dakota, attended Stanford University, and moved to the Twin Cities after college, where she has been active in the literary community since 1973, teaching in an arts and corrections program in prisons, with COMPAS' poets-in-the-schools project, at the Loft, and in other settings. Her work has appeared in publications including Calyx, Poetry Northeast, Saint Paul Almanac, The Sun, Water-Stone Review, and Poetry Northeast. Hasse also edited the poetry anthology Rocked by the Waters: Poems of Motherhood, with Athena Kildegaard. In the midst of the COVID pandemic, she collaborated with artist Sharon DeMark to create Shelter, a book of paintings and poems about places of refuge. Finishing Line Press will publish her chapbook, "The Call of Glacier Park" in 2021.
A note about in person events:
We are very excited to bring authors and readers back together in our space, and we know you are too!
As we all navigate the transition back to congregating in person, we ask that you use honesty, care, and understanding in interacting with fellow event-goers, staff, and authors.
Please note that Magers & Quinn will always comply with current city and state regulations, and reserves the right to change the below policies at any time. These are guidelines only, and if you have questions about the most up to date information, you can always call us at 612-822-4611.
For information about how our in-person events will work over the coming months, please read on:
Q: Are masks required?
A: Face masks are not currently required in our building, but some events may require masks be worn in the event area/signing line at the authors' request. Registered customers will receive information about the specific event's mask policy the week of the event.
For the health and safety of others, in accordance with current recommendations and scientific findings, Magers & Quinn strongly encourages all customers wear a mask, especially if not fully vaccinated against COVID-19.
The city of Minneapolis does not have an indoor mask mandate at this time, but masks are highly recommended. Masks will be made available for event-goers who have not brought one with them.
Q: Are in store events free?
A: Yes, Magers & Quinn events are free and open to the public unless otherwise noted.
Q: Do I need to RSVP?
A: Yes, please. Each event will now include a registration link.
As we navigate this step back to in-person events, we will be limiting event capacity to ensure a safe and comfortable experience for all attendees and authors. By requiring pre-registration, we can easily communicate event updates and policies with those who plan to attend, and can contact attendees after the event with follow-up information.
We strongly suggest registering via the Eventbrite link provided on our website, but if you are unable to sign up online, please call or visit the bookstore and register with a bookseller.
We may or may not be able to accommodate unregistered walk-ins, and seating priority will always be given to registered customers. We appreciate your understanding of this new process!