POETRY NIGHT at Leeds Art Gallery

Tuesday, June 7, 2011 from 6:00 PM to 9:00 PM (BST)
Event Details
The Other Room (Manchester), information as material (York) and Leeds Art Gallery are proud to present an evening of poetry readings by four artists who are internationally renowned for their ongoing contribution to writing and publishing.
On 07 June 2011, Leeds Art Gallery will host a very special performance by Yorkshire-born Steve McCaffery, an acclaimed poet and writer in his own right, and a founding member of the legendary sound-poetry group The Four Horsemen. This will be the first time that McCaffery, who is now based in New York, has performed to a Yorkshire audience, despite the fact he grew up in Barnsley and lived in the region until he moved to Toronto, Canada in 1968. This is a unique opportunity to see an artist whose work and critical writing continues to inform artistic practice of all kinds.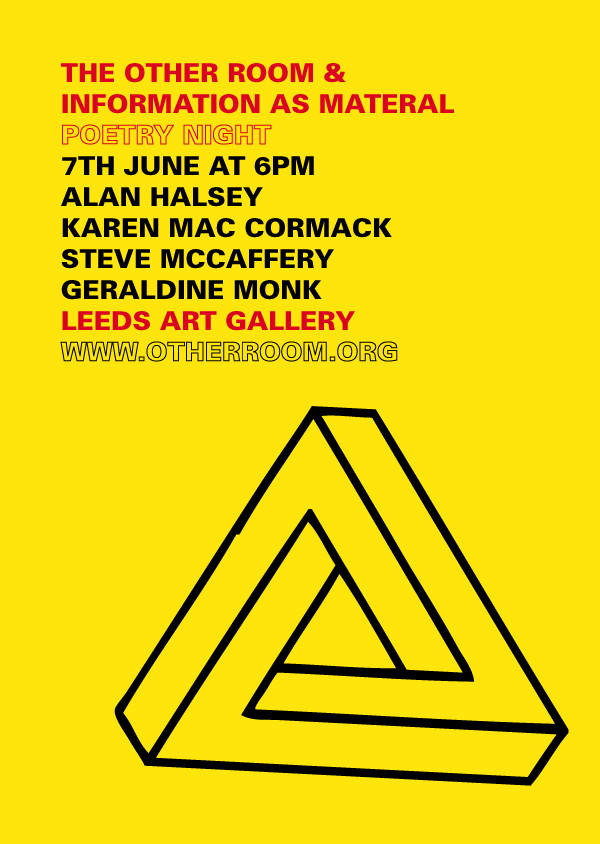 McCaffery's performance is part of an evening of readings by other remarkable writers, organised by The Other Room and Information as Material. The programme includes performances by Zambian born Karen Mac Cormack, a New York based poet who, like McCaffery, emerged as a key figure in Canadian poetry and is often associated with the Language Poets; and the Sheffield-based poets Alan Halsey and Geraldine Monk, both widely respected for their ongoing contribution to writing and publishing. All four performers are connected to one another by publishing collaborations that extend across the Atlantic, and demonstrate the international context in which writers across the North of England are working today.
This free event will take place at 6pm on 07 June 2011, in the Tiled Hall at Leeds Art Gallery. Booking for the event is advised. 
About the artists...
Steve McCaffery – holder of the David Gray Chair of Poetry and Letters at the State University of New York at Buffalo was born in Sheffield in 1947 and grew up in Barnsley before moving to Toronto in 1968, where he became a member of the legendary sound-poetry group The Four Horsemen. 
Karen Mac Cormack was born in Zambia and holds dual Canadian and British citizenship. A key figure in Canadian poetry and a peer of the Language Poets, Mac Cormack's 'polybiography' Implexures traces aspects of her English ancestry whilst opening up to the worlds of history and science. 
Alan Halsey ran The Poetry Bookshop in Hay-on-Wye from 1979 to 1997. He continues to work as a specialist bookseller in Sheffield and co-edits West House Books with Geraldine Monk. Halsey produces text-graphics as well as poetry and has published collaborative works with both Mac Cormack and McCaffery.
Geraldine Monk was born in Blackburn and has lived in Sheffield since 1984. During the seventies she lived in Leeds where she came into contact with the poet and painter Jeff Nuttall who admired and encouraged her work. The Salt Companion to Geraldine Monk, edited by Scott Thurston and with a foreword by Nuttall was published in 2007.
Behind the event...
The Other Room is a programme of events organised by James Davies, Tom Jenks and Scott Thurston at The Old Abbey Inn in Manchester. The Other Room presents work by 'experimental' writers from all over the world. McCaffery and Mac Cormack will both perform at The Old Abbey Inn on 08 June 2011.
Information as Material is a York-based independent publishing imprint and was established by artist Simon Morris in 2002. It continues to publish and exhibit work by artists and writers who, as their website explains: "reuse existing material - selecting it and re-framing it to generate new meanings - and who, in doing so, disrupt the order of things." Information as Material is currently undertaking a year-long residency at one of London's leading visual arts galleries, The Whitechapel.
The event is supported by Leeds Art Gallery and funded by Arts Council England, as part of 'In a word...', a regional programme that aims to stimulate support for people who approach writing in new and interesting ways that both respond to and challenge convention.
When & Where
The Headrow
LS1 3AA Leeds
United Kingdom


Tuesday, June 7, 2011 from 6:00 PM to 9:00 PM (BST)
Add to my calendar