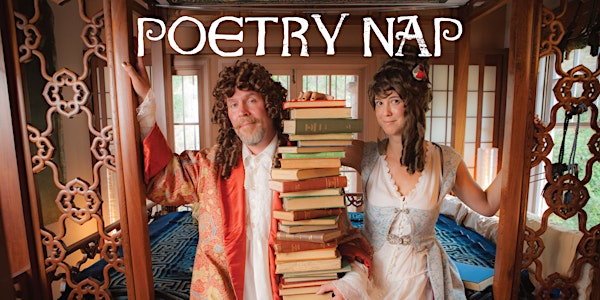 Poetry Nap, Point Reyes Edition ★ The Wild Mysteries of Ancient Love
Lie down and float away with poetry and music woven into an immersive, enchanting tale of whimsy, curiosity and passion.
Date and time
Saturday, April 8 · 4 - 5:30pm PDT
Location
Dance Palace 503 B Street Point Reyes Station, CA 94956
About this event
"But the Poetry Nap… is decidedly for everyone… A brilliant confection that is one part guided daydream, one part radio play, & all parts clever whimsy."-The East Bay Monthly
Picture this...
You've just had a splendid Saturday hike or a relaxing time at the beach in Point Reyes National Seashore...
Now you're longing for a late afternoon rest before a delicious dinner...
Ooo how about a sumptuous, pre-dinner Poetry Nap to complete your perfect Point Reyes weekend getaway???
Come join us! Slip your shoes off, lie down, relax, and doze off to poetry and music of the masters woven into an extraordinary tale we call The Wild Mysteries of Ancient Love, an especially sensual journey for a celebration of love.
We—Lady and Lord Dosis, time voyagers of the dream world—will guide you through the fantastical cosmos.
Cozy up inside the spacious Dance Palace in Point Reyes Station. For full lying down comfort, you'll need to bring your own pillows and blankets, camping or yoga mat. There can never be too much plush, and you'll need to bring it! Wear your PJs if you like. Recline and cuddle with some of our most treasured poets from times past and present.
More details below.
all by all
and deep by deep
and more by more
they dream their sleep
noone and anyone
earth by april
wish by spirit
and if by yes
Women and men (both dong and ding)
summer autumn winter spring
reaped their sowing and went their came
sun moon stars rain 
-e e cummings
RAVING 5-STAR REVIEWS
"This was AMAZING… Wow. We got to cosy up, lie down with cushions and blankets and nap, while two beautifully calm and luscious people in old fashioned regal costume and very comforting English accents told us magical stories about love woven from lines of the poet masters. Genius, and a total delight. I didn't want to go home." -Briony Greenhill
"Dreamy hypnagogic word flow in the hot air balloon of nobility. My childhood, my love for life and my desire for deep rest all thank you." -Hank Obermayer
"Beautiful and comfortable time. They create a gorgeous and romantic ethereal environment in which one is safe to be whisked away in imagination of play." -Jahan Khamsehzadeh
"Poetry nap is an amazing journey into the realms of mystical lands. You might ask yourself what is the difference between magic and a nap riding on a helium balloon with the captains of poetry? This is your chance from a needed break from whatever you need a break from and soak your Soul in delight." -Asli Ors
"I recommend generous doses of Lady & Lord Dosis." -Walt Whitman
"I loved every minute of poetry nap! It was sultry. stimulating, and utterly somniferous! Truly gorgeously conceived and executed, an exquisite pleasure from beginning to end!" -Rachael Knight
"A splendid adventure into the Realm of Dreams." -Sir Pomp
"I agree." -Sir Psycho
WHERE WHEN & WHO
Poetry Nap, The Wild Mysteries of Ancient Love
Saturday, April 8, 2023
Doors at 3:20pm
Show from 4:00pm-5:30pm
Linger til 6:00pm
$25 Online | $30 at Door
AT THE EXQUISITE VENUE OF
The Dance Palace
503 B St, Point Reyes Station, CA 94956
FEATURING 
Lord Dosis via Robert Wyald
Lady Dosis via Jodie Kleeman
Written by Robert Wyald and Jodie Kleeman
Costumes by Katie Lister
Sound Crafted by Robert Wyald
Produced by WYALD
STAY IN TOUCH
Please feel free to love Poetry Nap on Facebook—why limit ourselves to like? You can sign up for our mailing list & newsletter, follow our Instantaneous Gram, and find out more about us and our shared realms at poetrynap.com.
FAQs 
Are there minimum age requirements to enter the event? Adults are open to bringing their inner child; your real child, however, may learn all too quickly about imaginative naughty scenarios. 
Will you be serving anything? We will offer calming, dreamy tea. Mmmm.
What are my transportation/parking options for getting to and from the event? You'll probably need to drive there. Carpooling is encouraged. 
What can I bring into the event? Please wear comfortable clothing which you can lie down in. Pajamas and bathrobes are also welcome. You should bring your own pillows, blankets, and camping or yoga mat (to lie down on the hardwood floor), as well.
How can I contact the organizer with any questions? Please feel free to email poetrynap@gmail.com with your questions. We will try to get back to you as soon as we can.
What's the refund policy? We would love to be able to, but all performance ticket sales are non-refundable. Thank you for your kind understanding.
You do the resting. We do the rest.
Ethereally, surreally, and really yours,
About the organizer
You have landed in exactly the right place, the space where surreal poetic wonders and soft dreamy naps coexist. Why, it is indeed a Poetry Nap. Slip off your shoes, lie down, relax, and float away to poetry and music of the masters woven into extraordinary, witty, magical and immersive tales guided by Lady and Lord Dosis.