Description
MASTER CLASS SERIES: WRITING & THE BUSINESS OF POETRY - How to Market Your Career & To Whom?
w/ BETHSHEBA A. REM AKA QUEEN SHEBA & TAMIKA 'GEORGIA ME' HARPER

Thank you for joining us for the second instalment of our POETRY MASTER CLASSES. We will be scheduling these classes periodically, as the demand calls for it. Please sign up again and again! No two classes will be the same, experience. This class is open to the first 50 participants to ensure personalized attention to the work, questions and answers. The class is open to anyone 18 years old or older, at any stage of your writing/performance career.

The overwhelming feedback we received during the previous class was, "Now that I'm a performer, how do I market my career ... and to whom?" We understand the sense of urgency when creating a tour, and wanted to make sure everyone has the tools they need to present your product (which can be YOU) to the world, so we're back this month to give you a focus class on marketing.

We are bringing a professional photographer to take head and full body action and still shots (depending on your personality! - You will learn in this class that a good comp card doesn't have to look your 8th grade class photo - buyers like personality!) After each mini photo shoot you will get to take home your favorite poses to use howevever you like!
As an added bonus we have a professional graphic designer that will come in and discuss your comp card format options, you will choose the one you like best and apply your favorite photo, company/product/performance bio (3 paragraphs max! to fit formatting) - your final take away project, will be a professional digital EPK that you can email to anyone from the touch of your fingers when negotiating your next project.
Our graphic designer is coming in at a huge discount as a favor to us and the work we're doing to try and help people present their best professional selves. Most recently you can see his work on the 'Dirty Sprite' album cover for Future, Trap or Die 3 for Geezy, all Poetry vs. Hip-Hop graphics, cartooning to calendars and many, many more!
This package could typically cost around $300 to get a professional photoshoot and a comp card plus a class on how to use it - is only $105 for the next two weeks!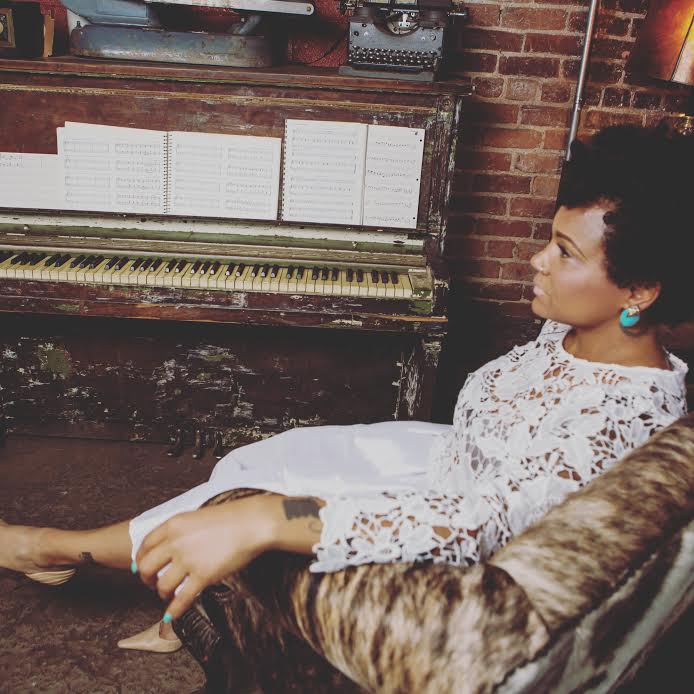 Bethsheba A. Rem|Queen Sheba earned her MFA (Masters of Fine Arts) in Poetry starting at Antioch, then graduationg from Queens University (of Charlotte) which allowed her to study abroad in Argentina in her final semesters. Sheba has been seen on season two of Verses and Flow, brought to you by Lexus on TV One, and has been on the Apollo, Spoken, a featured poet on Lyric Café on BET, 106 & Park, the Apollo and the feature length film "Spit". Sheba has six albums, two of which were up for a Grammy under the Spoken Word category and she is a two-time NAACP Image Award Nominee. Her works have appeared in numerous anthologies, magazines including Vibe Online and the focus of college student's papers. Queen Sheba has two books: From Foster Care to Fame short stories and poems too long for three minutes and Run Ugly! A motivational book for runners. Performed at over 200 colleges, universities and schools domestic and abroad.
Tamika 'Georgia Me' Harper is a decorated veteran of performance poetry boasting a Tony Award, Emmy Award, BAFFTA, Peabody, KUUMBA Award winner; she is awarded her own day in the city of Atlanta: May 4th. She has been the guest poet on: Russell Simmons presents Def Poetry Jam TV, HBO Def Poetry Jam (7 Appearances), Verses&Flow Season 1 Finale, TODAY SHOW, MTV I Used to be Fat episode 113, BET Lyric Cafe ALL STAR TV, CARSON DALY, and BET MONIQUE SHOW. Founder of "ADAM'S RIB" All female performance collective
Tamika 'Georgia Me' Harper is responsible for countless poet's career boosts, appearances on national television and traveling abroad. Performed at over 200 colleges, universities and schools domestic and abroad.
*PLEASE ARRIVE ON TIME - We only have 4 hours to get through a lot of information*
11:30A - Arrive and Welcome
12-1P - First Hour Marketing - The Ripple Affect by Queen Sheba

1P -2P Second Hour Marketing - The Most Vital Part of Performing
2P-2:30 Q & A + Active Lunch Break
2:30 - 3:30 Photo Shoot!

2P - Sharing and Q&A
4P - HARD OUT

The Plug: Tell us the next 5 cities you'd like to perform in and we'll give you the direct connect!

Tuition Includes: light lunch / wine will be available throughout the entire class. Participants are expected to drink responsibly. If participants fall asleep, due to drinking or any other reason, you will be asked to leave immediately.
Tuition *Includes: Notebook, folder and pens, a wealth of information, *photoshoot, *compcard

*Paid for separetly. You can just sign up for the class and make your determination about the photoshoot and compcard on site but you will lose the discounted early bird price.

FMI: 404-697-9734 TEXT ONLY
*Brought to you by: Below the Radar, Lady Girl Production

*HOBI STUDIOS is a black owned business.