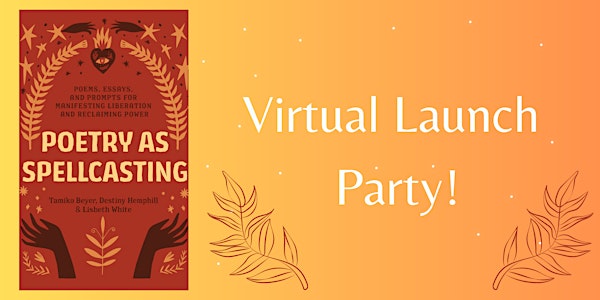 Poetry as Spellcasting Virtual Launch Party
Join us for the virtual launch part for POETRY AS SPELLCASTING : POEMS, ESSAYS, AND PROMPTS FOR MANIFESTING LIBERATION AND RECLAIMING POWER
By Destiny Hemphill, Lisbeth White, and Tamiko Beyer
Date and time
Starts on Wednesday, May 24 · 5pm PDT
About this event
You are invited
to an evening of poems! Readings! A collective ritual! Celebration!
Featuring editors and contributors including:
Amir Rabiyah
Ching-In Chen
Destiny Hemphill
Hyejung Kook
Lisbeth White
Lou Florez
Sun Yung Shin
Tamiko Beyer
Tatiana Figueroa Ramirez
Bring a candle or herbs to burn, a cup of tea or cold libation, and your tarot/oracle deck if you have one.
We will be creating a collective poem/spell focused on the protection and fortification of the forest defenders and organizers of #StopCopCity.
Want to learn more about the movement to stop Cop City? Check out Scalawag Magazine's Week of Writing on this movement, including this primer.
We can't wait to see you!
About Poetry as Spellcasting
Poems, essays, and prompts to sing a new world into being—Queer & BIPOC perspectives on poetry as an insurgent ritual for manifesting liberation and reclaiming power.
For poets, spellcasters, and social justice witches, Poetry as Spellcasting positions poetry as a vehicle for healing-justice transformation.
It asks: If ritualized violence upholds white supremacy, what ritualized acts of liberation can be activated to subvert and reclaim power?
Through essays from a diverse group of contributing poets, organizers, and ritual artists, Poetry as Spellcasting helps listeners explore, play, and deepen their creativity and intuition as integral tools for self- and communal healing and social change.
Purchase your copy here or at your local, independent bookstore.
About the readers
Amir Rabiyah is a mixed-race, queer, trans, and disabled poet. Their work has been published in Kweli, The Feminist Formations, Foglifter, Mizna, and more. They are the coeditor of Writing the Walls Down: A Convergence of LGBTQ Voices. Their poetry collection Prayers for My 17th Chromosome was a finalist for the Publishing Triangle Award and an American Library Association Over the Rainbow Pick. Amir lives in Pennsylvania and is a diversity resident and research and instruction librarian.
Ching-In Chen is a genderqueer Chinese American hybrid writer, community organizer, and teacher. They are author of The Heart's Traffic and recombinant (winner of the 2018 Lambda Literary Award for Transgender Poetry) as well as the chapbooks to make black paper sing and Kundiman for Kin :: Information Retrieval for Monsters (Finalist for the Leslie Scalapino Award). Chen is also coeditor of The Revolution Starts at Home: Confronting Intimate Violence within Activist Communities and Here Is a Pen: An Anthology of West Coast Kundiman Poets. They have received fellowships from Kundiman, Lambda, Watering Hole, Can Serrat, Imagining America, Jack Straw Cultural Center, and the Intercultural Leadership Institute. They have worked in Asian American communities in San Francisco, Oakland, Riverside, Boston, Milwaukee, Houston, and Seattle, and are currently part of the organizing core for Massage Parlor Outreach Project. They are descended from ocean dwellers and currently teach at University of Washington Bothell in the School of Interdisciplinary Arts and Sciences and the MFA program in Creative Writing and Poetics. www.chinginchen.com.
Destiny Hemphill is a ritual worker and poet living with chronic pain on land of the Eno-Occaneechi Band of the Saponi Nation (Durham, North Carolina). A recipient of fellowships from Naropa University's Summer Writing Program, Callaloo, Tin House, Open Mouth Retreat, and Kenyon's Writers Workshop, she is the author of the poetry chapbook Oracle: A Cosmology (Honeysuckle Press, 2018) and motherworld: a devotional for the alter-life (Action Books, 2023). Her poetry has also appeared in POETRY Magazine, Carolina Quarterly, Frontier, and elsewhere.
Hyejung Kook's poetry has appeared in POETRY Magazine, Denver Quarterly, Prairie Schooner, Pleiades, Verse Daily, and elsewhere. Other works include essays in Poetry as Spellcasting and The Critical Flame and a chamber opera libretto. Born in Seoul, Hyejung now lives in Kansas with her husband and their two children. She is a Fulbright grantee and Kundiman Fellow.
Laurin DeChae (they/them) is an Aquarius sun, Sagittarius moon, and Gemini rising. A natural shapeshifter, time traveler, and space bender, they are researching the ways in which magical thinking creates novel pathways for healing in concert with the literary and artistic contributions Black women have made to spiritual investigations of interiority and its praxis. They are currently located in New Orleans, immersed in its hauntings and in conversation with its spirits.
Lisbeth White is a writer and ritualist living on S'klallam and Chimacum lands of Port Townsend, WA. As a cross-genre writer of poetry, fiction, and creative nonfiction, her writing explores the sensual and sociopolitical intersections of healing, ancestry, mythopoetics, and connection to the natural world. She has received support from VONA, Artist's Trust, Tin House, Bread Loaf Environmental Writers Conference, and Blue Mountain Center. Her work has appeared in The Rumpus, Kweli, Apogee Lit, Green Mountains Review, Willowherb Review, EcoTheo Review, Split this Rock, and elsewhere. She is the author of the poetry collection American Sycamore (Perugia Press) and co-editor of the anthology Poetry as Spellcasting: Poems, Essays, and Prompts for Manifesting Liberation and Reclaiming Power (North Atlantic Books).
Lou Florez (Awo Ifadunsin) is an internationally known Bruje/Witch, Medicine Maker, Herbalist, Spirit worker, priest, activist, and artist who has studied with Indigenous communities and elders throughout the globe. His teachings and practice are grounded in prompting connectedness to the body through physical, emotional, spiritual, and environmental landscapes, creating living, dynamic relationships so we can become conscious of the inherent power available to us in every lived second. Lou comes from the spiritual legacies of Latine cultural wisdom keepers, Orisha Priests and Medicine Makers, and Brujas, and his work promotes spiritual activation and social empowerment. As the executive director and cofounder of Water Has No Enemy (2017–present day) Lou creates transformational dialogues and intersectional allyship between social change makers and leaders, and Indigenous culture keepers and medicine holders. As a creative and author, Lou is celebrating the release of his first book, The Modern Art of Brujeria (Simon & Schuster, 2022) and his writings have been featured on Remezcla (2020), Bringing Race to the Table: Exploring Racism in the Pagan Community (2015), as well as cofounding WitchCraft (2020)—monthly full-moon happenings comprising poetry and witchcraft experiments. As a Presiding Priest of Ile Ori Ogbe Egun (2021), Lou creates Orisha centered fellowship, services, and programing rooted in liberative theology and practices, and is an Awo Orunmila, or High Priest in the IFA tradition.
신 선 영 辛善英 Sun Yung Shin is a Korean-born writer whose fourth book of poems, The Wet Hex, was published by Coffee House Press in 2022. She is the editor of essay anthologies most recently What We Hunger For: Refugee & Immigrant Stories about Food & Family as well as the author of two picture books, plus the forthcoming picture book Revolutions are Made of Love: Grace Lee Boggs and James Boggs. She is also a biodynamic craniosacral therapist and jewelry maker as Tyger Tyger Studio. With Su Hwang she codirects Poetry Asylum in Minneapolis and is a teaching artist with the Minnesota Prison Writing Workshop.
Tamiko Beyer is the author of Lambda Literary Award winner Last Days (Alice James Books, 2021), We Come Elemental (Alice James Books, 2013), and co-editor Poetry as Spellcasting (North Atlantic Books, 2023) with Destiny Hemphill and Lisbeth White. She has received awards from PEN America and the Astraea Lesbian Writers Fund, and fellowships and residencies from Kundiman, Hedgebrook, and VONA, among others. She publishes Starlight & Strategy, a monthly newsletter for shaping change. She is a queer, multiracial (Japanese and white), cisgender woman and femme, living and writing on Massachusett, Wampanoag, and Pawtucket land. A social justice communications writer and strategist, she spends her days writing truth to power.
Born in Puerto Rico and raised in the mainland United States, Tatiana Figueroa Ramirez graduated with a BA in English Literature and is a VONA Voices Alumna, having worked with award-winning poets Willie Perdomo and Danez Smith. Tatiana primarily performs, teaches poetry workshops, and hosts events in the greater Washington, DC, area, but has also done so nationally and in the Dominican Republic at venues including New York University, the Kennedy Center, and the Howard Theatre. She currently works in the nonprofit sector providing free poetry programming to underserved students in the district and is completing her Master's Degree in Public Management to continue intertwining her community work with the impact of poetry. You can read her work in The Acentos Review, Here Comes Everyone (UK), and other publications. She is the author of two poetry collections, Coconut Curls y Café con Leche and Despojo.