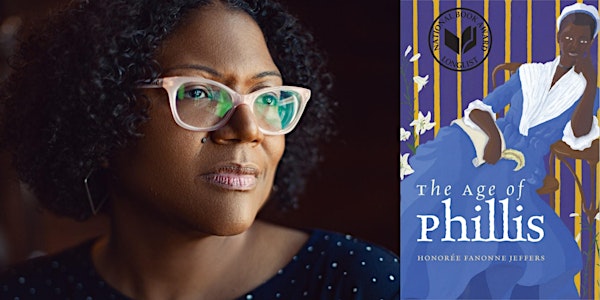 Poetry as Protest: Honorée Fanonne Jeffers
Please join us for an evening of poetry and conversation with Honorée Fanonne Jeffers.
Refund Policy
Contact the organizer to request a refund.
Eventbrite's fee is nonrefundable.
About this event
This engaging reading and conversation will feature Honorée Fanonne Jeffers, author most recently of the book, The Age of Phillis, longlisted for the 2020 National Book Award in poetry.
About the Author: Honorée Fanonne Jeffers is a poet, fiction writer, scholar, and essayist whose work examines culture, religion, history, and family. She is the author of five books of poetry, and the recipient of two lifetime achievement notations, the Harper Lee Award for Alabama's Distinguished Writer of the Year, and induction into the Alabama Writers Hall of Fame. Jeffers has won fellowships from the National Endowment for the Arts and the Witter Bynner Foundation for Poetry in conjunction with the Library of Congress. An elected member of the American Antiquarian Society, she teaches creative writing at the University of Oklahoma where she is a professor of English.
About the Book: In 1773, a young, African American woman named Phillis Wheatley published a book of poetry that challenged Western prejudices about African and female intellectual capabilities. Based on fifteen years of archival research, The Age of Phillis imagines the life and times of Phillis Wheatley Peters: her childhood in the Gambia, West Africa, her life with her white American owners, her friendship with Obour Tanner, and her marriage to the enigmatic John Peters. Woven throughout are poems about Wheatley's "age"―the era that encompassed political, philosophical, and religious upheaval, as well as the transatlantic slave trade. For the first time in verse, Wheatley's relationship to black people and their individual "mercies" is foregrounded, and here we see her as not simply a racial or literary symbol, but a human being who lived and loved while making her indelible mark on history.
"In this vast, imaginative opus on Black female genius, Fanonne Jeffers excavates the figure of Phillis Wheatley Peters, the first Black woman to publish a book in America. Here, too, is a virtuosic deconstruction of the figure of Phillis, stolen from her home in the Gambia at age 7 and enslaved in America during the 18th century – and what she means as a representation of this time in our history that's still influencing American social institutions and life today in relation to power, agency and the histories that are told."― Poet Hope Wabuke
About the Interlocutor: Malcolm Tariq is poet and playwright from Savannah, Georgia. He is the author of Heed the Hollow and is a 2020-2021 playwright resident with the Liberation Theatre Company. A graduate of Emory University, he has a PhD in English from the University of Michigan. Malcolm lives in Brooklyn, New York City, where he is the Programs and Communications Manager for the Cave Canem Foundation, a home for Black poetry.
How to Participate: Registration is required. We ask our audience to please make a donation of any amount to attend.
This program is part of the museum's Giving Voice annual fundraiser. As we remain closed, your donations are vital to preservation of the Royall House and Slave Quarters and the educational work we do on the lives of enslaved people in the North. As we continue to tell a complex story of slavery and the contestation over freedom in America, we will continue to research the history of slavery on our site and amplify how the legacies of enslavement affect communities today.
Photo of Professor Jeffers by Sydney A. Foster.