Multiple Dates
Poetic Medicine For the "Wounded Healer"
A UCSF MERI Center poetic medicine workshop for wounded healers.
About this event
Wednesdays 10:00 am - 11:00 am Pacific starting March 3, 2021
"The wounds are the places where light enters." ~Rumi
Many of us, whether we identify as being in the "healing arts" or not, have wounds that we understand as the foundation of our own ability to heal and to have compassion for others. In these sessions we will open to whatever it is we consider our own "wounded places" and allow our poem-making to be part of our healing process.
"Everyone alive has suffered. It is the wisdom gained from our wounds and from our own experiences of suffering that makes us able to heal." ~Rachel Naomi Remen
The psychologist Carl Jung coined the concept of The Wounded Healer. He took the insights of this Archetypal healing from Greek Mythology. Chiron, the wisest Centaur, was once inflicted with a severe physical wound. In his way to recovery, he found the goal of being a "Teacher of healing." Many wise people have said, healing is not a process between the healer and the wounded. It's a process of two equals. The teacher does heal the wounds, but the one who orchestrates it is the healer's own experience of healing.
Redwing Keyssar, RN, Author & Poet, of the UCSF MERI CENTER for Education in Palliative Care will guide us in using poem-making to explore the concept of what it means to be a "wounded healer" and to find healing in our creative process together.
We will:
-Use poem-making to explore ideas about health and healing-Create a supportive & caring community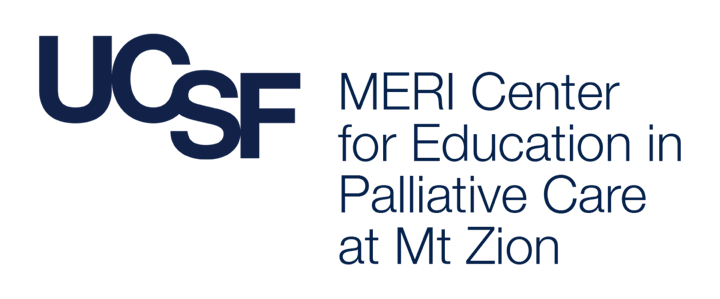 Organizer of Poetic Medicine For the "Wounded Healer"
The MERI Center is founded in the belief that, in a life of both blessings and struggles, a central opportunity for us all is to find meaning and our proper place in the Universe. Within our families and society, a core responsibility is to be of service to each other, helping those we love to face living with consciousness and comfort, and dying with peace. 
 
Building on the traditional strengths of cultures around the world and on the modern medical expertise of UCSF, the MERI Center is committed to making good care for people facing serious illness routine. Although we all wish to live lives as long and as happy as possible, inevitably, a healthy society includes normalizing and humanizing the inevitable processes of dying in our community.
 
To build a healing community, the MERI Center works to support patients facing serious illness, to train family and volunteer caregivers, to promote the competence and openness of professional health care teams, and to bring an openness to how our community sees death via the core domains of adult education imparting knowledge, developing skills, and fostering healthy attitudes.