The Poe House Presents reading series. Join Maryland authors for live readings of Poe, excerpts of their own work, plus Q&A.
About this Event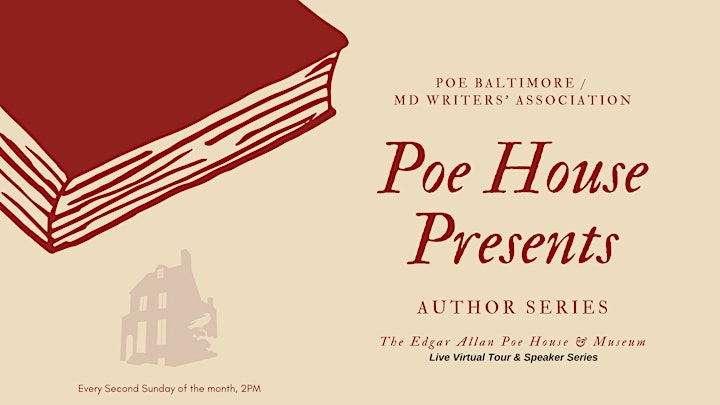 Our Poe House Presents author series has moved online! Join us every second Sunday of the month as we present Maryland authors for live readings of selected excerpts from Poe's short stories or poems, presentations of the author's own written works, followed by author-led Q&A discussion.
Each virtual reading is led by the month's guest author. Each live session has limited seats to encourage interactive discussion and questions for the author, and to personalize the session for the group.
READING ITINERARY
Introduction by Poe House museum Director
Live reading of selected excerpt of Edgar Allan Poe works
Live reading by featured Maryland Author
Author Q & A
In January, Poe House Presents: Amy L. Bernstein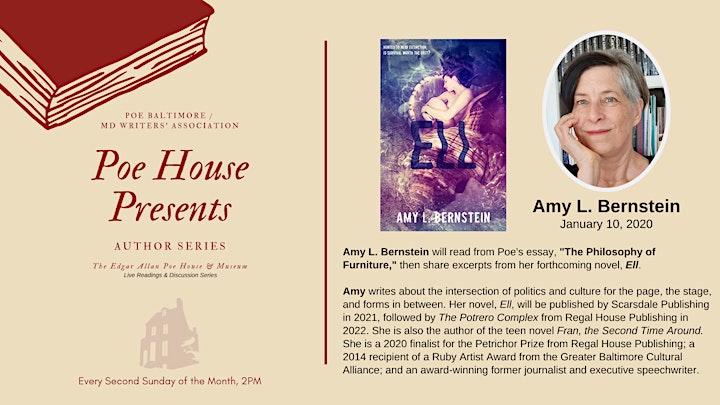 Amy Bernstein will read from Poe's essay, "The Philosophy of Furniture," then share excerpts from her forthcoming novel, Ell.
Amy L. Bernstein writes about the intersection of politics and culture for the page, the stage, and forms in between. Her novel, "Ell," will be published by Scarsdale Publishing in 2021, followed by "The Potrero Complex" from Regal House Publishing in 2022. She is also the author of the teen novel "Fran, the Second Time Around." Selected short plays are published by Routledge and Leicester Bay Theatricals; short fiction by Flying Ketchup Press, Fleas on the Dog, and Parliament Lit; and poetry by Passaic/Voluspa and Yellow Arrow Journal. She is a 2020 finalist for the Petrichor Prize from Regal House Publishing; a 2014 recipient of a Ruby Artist Award from the Greater Baltimore Cultural Alliance; and an award-winning former journalist and executive speechwriter.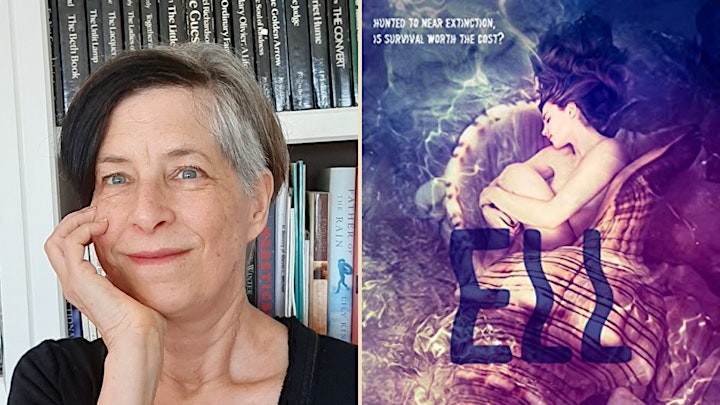 Check back for upcoming authors TBA! All sessions are led online by a live author and museum docent via the Zoom conferencing platform. This series is offered on a Pay-What-You-Can basis. All proceeds benefit the Edgar Allan Poe House & Museum, to help keep Poe's chamber door open to visitors.
LIMITED SESSIONS AVAILABLE. At this time transcription and/or sign-language services are not available. Readings and tours are conducted in English.
Please note: All sessions are conducted online via Zoom conferencing. Virtual tours of Poe House sans reading are offered weekly. Visit http://VirtualPoeHouseTour2021.eventbrite.com for tour dates and times.