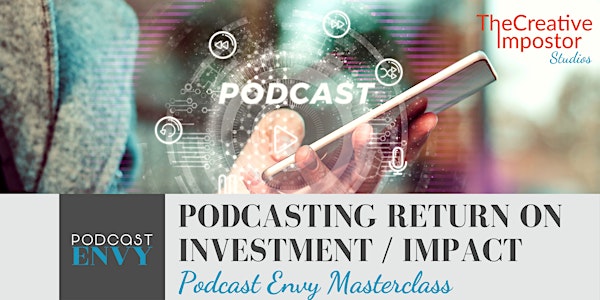 Podcasting Return on Investment/IMPACT: Podcast Envy Masterclass
You're a small business or nonprofit leader producing a podcast for your brand. You LOVE it, but how do you know whether it's working?
About this event
You are a purpose-driven leader creating a podcast to promote your work and provide value to your community. You look at your download stats and metrics, but they don't tell the full story of the influence and impact your show potentially has.
Often, the most powerful podcasts are extremely niche, and the numbers look small. Not only that, but total reach and influence extends far beyond the numbers of downloads and listens your show receives.
What do the stats from my podcast hosting company actually mean?
How do I justify the investment of making the show to my boss, board, or myself?
What determines a successful podcast?
What is the difference between "return on investment" vs "return on impact?
Where else should I be looking for evidence of impact?
We'll explore these questions in a focused Podcast Envy Masterclass via Zoom. You'll get a framework for determining and demonstrating your podcast ROI from Andrea Klunder, Your Podcast Boss at The Creative Impostor Studios, as well as case studies and insights from other impactful podcast creators.
We're not here to sell you the dream! We'll offer real life pros & cons and paint a realistic picture so YOU can make the best moves for your show.
Class will be 1-hour. Stick around for a BONUS 15min of Q&A with Andrea. We invite you to submit your questions ahead of time. A replay will be available.
Want to go deeper? Add on a 1-on-1 session with Andrea to this order. You will receive the Studio Member rate of $250 ($100 off) when you book it along with your Masterclass Seat.
BIO
Andrea Klunder is the creative producer and strategist behind The Creative Impostor Studios.
With a multi-faceted background in theatre, music, film, yoga, meditation, and small business management, Andrea wraps it all up in an approach to podcasting that helps your brand use audio content to break the status quo and influence a positive net impact in their niche. The Creative Impostor Studios has developed shows for clients like the New Mexico Department of Cultural Affairs, Del Norte Credit Union, the Santa Fe Opera, NARM Training Institute and more.
In 2017, Andrea launched Power Your Story, a high school mentoring program and podcast produced by students with neurodiverse learning styles in Chicago. She has been a featured speaker and trainer for Podcast Movement, Podfest, She Podcasts Live, the University of Florida, The Wing, Next Door Chicago, After School Matters, and many, many podcasts. Her mission is to help your voice to shine!
***
The Creative Impostor Studios is a boutique agency that offers:
Show development & strategy consulting
Podcast launch
Premium podcast production, editing & show management
Talent & voice coaching for podcast hosts
Talks, trainings, and interactive sessions online and in person
We work with mission-driven companies, organizations, and brands who want use audio to break the status quo and influence a positive net impact in their niche. Our specialty is crafting character-driven podcast experiences that you and your audience will love.
We partner with professional sound studios and creative audio professionals throughout the United States and Canada and develop custom remote solutions to meet you, your guests, and collaborators wherever you are.
This class is complimentary for all Studio Members of The Creative Impostor. To learn about whether studio membership is right for you, book a call with Andrea.
Learn more about The Creative Impostor Studios.