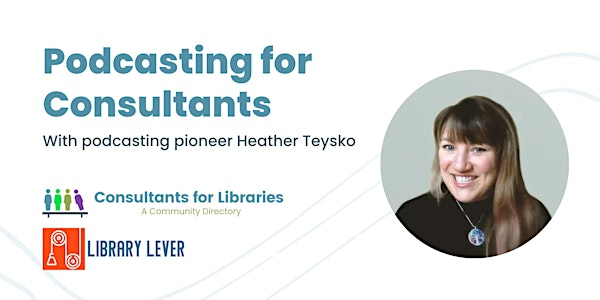 Podcasting for Consultants
Consultants: Join writer and podcasting pioneer Heather Teysko to learn the basic steps to creating a podcast!
About this event
Podcasting for Consultants
Independent consultants around the world are discovering that they can create podcasts that showcase their expertise, build their brand, and build relationships with listeners that can translate into awareness and sales. If you're currently writing a blog or newsletter, a podcast is a next step that can reach more people where they're at - during their commute, at the gym, or just doing chores around the house.
Join presenter Heather Teysko as you learn the basic steps to creating a podcast. She will explore the many ways in which you can use podcasts to increase engagement and build your community, as well as examine best practices of existing shows, all while learning how to avoid common missteps along the way.
By taking this workshop, you will be able to:
Understand what makes podcasts unique and why a consultant would want to launch a show
Identify the key steps to starting a podcast, including basic hosting and editing options
Create a plan for content creation and show launch
Heather's session will be followed by small group networking.
About Heather:
Heather Teysko is a writer and podcasting pioneer whose show on Tudor history, the Renaissance English History Podcast, is one of the longest running indie podcasts, closing in on six million downloads since 2009. She speaks throughout the US and Europe on community building through podcasting, including at the Sound Education educational podcasting conference at Harvard University, and Intelligent Speech, featuring leading education podcasters. She has worked in library consortia for over 15 years, including as the Assistant Director of Califa, where she launched the enki ebook collection, the first statewide shared ebook collection built on a platform owned by the consortia rather than through a third party vendor. She's also recently been with LYRASIS as the head of digital marketing for the Palace Project, a non-profit open source ebook platform, and is currently the Director of Engagement for Library Lever, a new library consortium transforming the buying club model.