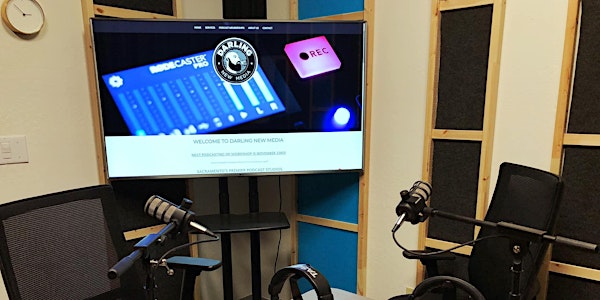 Podcasting 101 Online Workshop
Podcasting 101 is a workshop that focuses on how to create and produce a podcast, make it compelling AND do it again and again.
When and where
Location
Darling New Media 730 Howe Ave., Suite 425 Sacramento, CA 95825
About this event
Due to Covid-19, we are holding the Podcasting 101 Workshop online and discounting it. After you purchase tickets, you will be emailed an invite with a link as well as the Podcasting 101 Workbook. The best way to join is on a computer that is connected to a power source, however you can join the workshop on a phone or tablet, just be sure you either plug in or have enough battery power for a 3 hour workshop.
Workshop participant Becca Costello says:
Darling New Media's Podcasting 101 workshop turns your show idea into recorded reality in 3 hours. Nate and Leslie will help you flesh out your concept and plan a podcast that's engaging and on-message. Then, it's into the studio to record your demo! The atmosphere is fun and low-pressure, and you'll be amazed at how much you accomplish