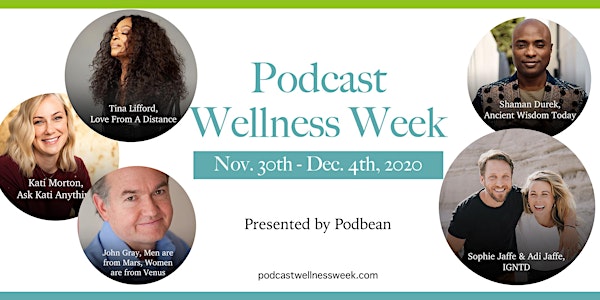 Podcast Wellness Week
Podcast Wellness Week is 5 days of live-streamed podcasts with exclusive episodes and daily meditations from podcasters and shows you love!
Refund Policy
Refunds up to 1 day before event
Eventbrite's fee is nonrefundable.
About this event
Welcome to Podcast Wellness Week presented by Podbean from November 30th - December 4th, 2020!
We are dedicating an entire week to wellness with live panels and interviews featuring many of your favorite podcasters, offering daily featured meditations, wellness hacks, special episode releases, giveaways and more, to give you a curated week of wellness!
Join us for daily live streamed panels and exclusive sessions on Podbean Live as we dive deep into a different topic for each day including Mental Health, Sleep, Yoga & Mediation, Healing & Positive Mindset, Physical Health and the Body.
When you purchase a full pass for $25 you'll be able to join the exclusive daily sessions with some of our favorite names in wellness including:
Kati Morton, therapist, author, YouTube phenom and host of the Ask Kati Anything podcast
Tina Lifford, actress from the critically acclaimed drama Queen Sugar, author of The Little Book of Big Lies, creator of The Inner Fitness Project and Co-Host of Love from a Distance podcast
Shaman Durek, 6th generation shaman, bestselling author and host of Ancient Wisdom Today podcast
John Gray, author of Men are from Mars, Women are from Venus
Sophie Jaffe, LA-based health and wellness expert, certified raw food chef and yoga teacher of the IGNTD podcast
Dr. Adi Jaffe, author and addiction specialist of the IGNTD podcast
The FULL PASS will also give you access to replay all of the live panels for the entire week!
Podcast Wellness Week Livestreamed Panels & Exclusive Sessions:
Tools for Success: Anxiety, Thought Work, and Therapy
Mon, Nov. 30th, 2020 10 AM PST
Our first panel of Podcast Wellness Week kicks off with three powerful women podcasters offering tools, resources and perspective to get out of our heads and succeed, diving into what mental health success looks like, and what works for different people. Shann Vander Leek from The Anxiety Slayer podcast leads the conversation with Dr. Joy Harden Bradford of Therapy for Black Girls podcast and Kara Loewentheil of UnF*ck Your Brain podcast as they delve into mental health, mindset, personal development, thought work, and the everyday decisions we can make to better our lives!
It's All in Your Head! A Conversation about Neuroscience, Mental Health and Coaching
Mon, Nov. 30th, 2020 1 PM PST
Join John Kim of The Angry Therapist Podcast, Dr. Caroline Leaf of Cleaning Up the Mental Mess Podcast, and Andrea Samandi of Neuroscience Meets Social and Emotional Learning Podcast as they discuss our minds and the neuroscience behind much of our mental health. They'll talk about practices and techniques that cut straight to the science and authenticity of how and why we have the feelings and behaviors we do and how to understand and change them.
Exclusive Daily Live Stream: Ask Kati Anything's Kati Morton on Building and Maintaining our Mental Health
Mon Nov. 30th, 2020 4 PM PST
Join therapist, author, and YouTube sensation Kati Morton for this conversation on building and maintaining a healthy mind and healthy body! With mental health becoming more important than ever, Kati reduces the stigma and gives clear and inclusive insight into how we can nurture our mental health, identify when we need help, and what those resources are for our individual needs!
You're Getting Very Sleepy... A Panel of Podcasts to Put You to Bed
Tue, Dec. 1st, 2020 10 AM PST
Some of your favorite sleep podcasters, Drew Ackerman from The Sleep with Me podcast, Kathryn Nicolai from Nothing Much Happens; Bedtime Stories to Help you Sleep podcast, Christopher Fitton from The Sleep Cove podcast and Tom Jones from The Get Sleepy podcast come together to discuss how to put you to sleep! This podcast niche has rapidly expanded in recent years and we're excited to bring you insight from these voices that relax and restore your zzzzz's.
The Science of Sleep and How It Shapes Our Waking Life
Tue, Dec. 1st, 2020 1 PM PST
Dr. Craig Harris Richard of Sleep Whispers, Sleep With Silk, and The ASMR University podcasts, a doctor of physiology focusing on ASMR (Autonomous Sensory Meridian Response) leads this discussion of sleep experts with Dr. Jade Wu of The Savvy Psychologist podcast, whose work encompasses sleep psychology and research at Duke University Medical School, and sleep physician and author Dr. Daniel Erichsen of The Sleep School podcast. They'll dive into the science of sleep, why we need it and how to get it!
Exclusive Daily Livestream: Tina Lifford on Taking Back Our Power and Transcending Trauma
Tue, Dec. 1st, 2020 4 PM PST
Tina Lifford of the television show Queen Sugar, author of The Little Book of Big Lies, creator of The Inner Fitness Project and Co-Host of Love from a Distance podcast, speaks with us about actionable steps we can take to improve our inner health and wellbeing, taking us from trauma to a place of hope and possibility. She offers tools and practices to strengthen our mental and emotional health to empower all of us to face life's challenges from a place of stability, vitality and grace.
Meditation, the Monkey Mind and the Benefits of Disconnecting with Every Thought in Our Heads
Wed, Dec. 2nd, 2020 10 AM PST
Guided meditation artist Chel Hamilton of the Mediation Minis podcast leads this discussion on quieting the mind and the benefits of meditation featuring transformational leadership coach Teresa McKee of A Mindful Moment podcast and Dr. Christine Forte from the Mental Oasis podcast. They'll offer meditation perspectives, tips and tricks to help bring balance to our minds, and as a result, our lives.
The Whole Human: Learning to Love Our Bodies, Minds, and How They're Connected
Wed, Dec. 2nd, 2020 1 PM PST
Through modern mindset and ancient meditation and Ayurveda, health writer and holistic wellness coach, Lauren Vaknine of the Reconditioned podcast leads this panel on integrative wellness and how our bodies and minds are connected, featuring certified Ayurvedic practitioner and yoga therapist Myra Lewin of the Everyday Ayurveda podcast and Katie Krimitsos, founder of the Women's Meditation Network and Sleep Meditation for Women podcasts. They'll discuss integrative wellness, how our bodies intuitively speak to us, insight gained from meditation, the body-mind connection and the ancient science of Ayurveda, one rich in insight for both our bodies and minds.
Exclusive Daily Livestream: Ancient Wisdom Today, Shaman Durek on Harnessing our Inner Strength to Reach our Full Potential
Wed, Dec. 2nd, 2020, 4:00PM PST
6th generation shaman, bestselling author and host of the Ancient Wisdom Today podcast, Shaman Durek demystifies spirituality to enable us to access our inner power and self-actualize. Join this conversation as we go into practical shamanic tools we can all utilize in our everyday modern lives.
How to Happy: From Seeking the Joy and Finding the Power Within to Happiness Spells
Thur, Dec. 3rd, 2020 10 AM PST
Join licensed clinical mental health counselor and bestselling author Richale Reed of The Power Within podcast in conversation with Amanda Meyncke of the Happiness Spells podcast and Sydney Weiss of Seek the Joy podcast as they discuss how to get happy! This panel on positive mindset offers perspectives and tools for increasing your happiness quotient and empowering yourself with steps we can all take to feel that sense of contentment and joy when it's time to take big leaps as well as in our everyday lives.
The Body Love Panel: Ditching Diet Culture, Restriction and Unconditionally Loving Our Physical Selves to Thrive
Thur, Dec. 3rd, 2020 1 PM PST
Spiritual business mentor and author Lauren Smith of the Master Your Mind, Biz and Life podcast leads this conversation with bestselling author and blogger, Stacy Toth of The Whole View podcast, intuitive eating counselor and co-Founder of The Body Love Society, Jenna Free of The How to Love Your Body podcast, and certified international health coach and holistic nutritionist Kayla Nedza of The Wellness Glow-Up podcast. They'll delve into the relationships we have with our physical bodies, how society at large shapes our self-image and how we can learn to love ourselves even more!
Exclusive Daily Livestream: John Gray on Positive Mindset and Our Hormones: How Our Biology Plays a Part in our Relationships
Thur, Dec. 3rd, 2020 4 PM PST
John Gray, the author of international bestseller Men Are From Mars, Women are from Venus joins us for a live interview discussing how our hormones affect our mood, our ability to connect, and how that factors into our relationships. He discusses his most recent book Beyond Mars and Venus, which offers insight into modern relationships, the different ways in which we relate, and connecting in the digital world. As many of us have spent considerable time this year either with our partners or alone, he speaks to our natural tendencies of craving connection and space.
Movement Matters: From Getting into Shape to Recovering from Injury
Fri, Dec. 4th, 2020 10 AM PST
Dr. Dani of the Pursuing Health podcast leads this panel, joined by certified fitness and health coach Brock Armstrong of The Get-Fit Guy podcast and board-certified chiropractor and certified strength and conditioning specialist Dr. Sebastian Gonzales of the Restoring Human Movement podcast on how movement benefits our physical health. They'll discuss how we can not only incorporate sustainable fitness into our everyday lives, but how to get back on track when we've had an injury or setback, how to motivate ourselves to move our bodies more, tips for staying fit from home, and how to prevent injury if you're a beginner or advanced athlete.
Eating for Immunity: Diving into the Role that Food Plays in Our Immunological Response
Fri, Dec. 4th, 2020 1 PM PST
Board-certified, licensed nutritionist and professionally trained chef Monica Reneigel of the Nutrition Diva podcast guides this conversation with award-winning public speaker and New York Times bestselling author Dr. Sarah Ballantyne (aka The Paleo Mom) of The Whole View podcast and board-certified physician and trained chef and health coach Dr. Colin Zhu of the Thrive Bites podcast to discuss how we can increase our immunity with the food we eat! We've all heard Vitamin-C is good for reducing our risk of getting the common cold, join these experts as they expand on the nutrients and foods that build our natural defenses.
Exclusive Daily Livestream: Sophie Jaffe and Dr. Adi Jaffe on IGNTD Whole Body Health
Fri, Dec. 4th, 2020 4 PM PST
LA-based health and wellness expert, certified raw food chef and yoga teacher, Sophie Jaffe and author and addiction specialist Dr. Adi Jaffe of the IGNTD podcast, join us for this livestreamed conversation on how we can incorporate balance and wellness into our daily lives. With wellness moving to the forefront of many people's awareness, they break down actionable steps of how we can all live an ignited life with kindness for ourselves and our journey.
We'll also be releasing a daily featured meditation, special pre-released exclusive episodes for each day of Podcast Wellness Week featuring the podcasters from our panel that delve into different wellness topics!
We look forward to seeing you there!
To access the Podcast Wellness Week live session recordings and access the Full Pass live sessions you will receive an invitation email in 24 hours to invite you to access the live session recordings.
You can access the Full Pass content by following the instructions in the email or you can download Podbean Podcast App and log in with the email you used to purchase the Full Pass.
Go to "Following", you will find all the Podcast Wellness Week channels.
*Lineup is subject to change