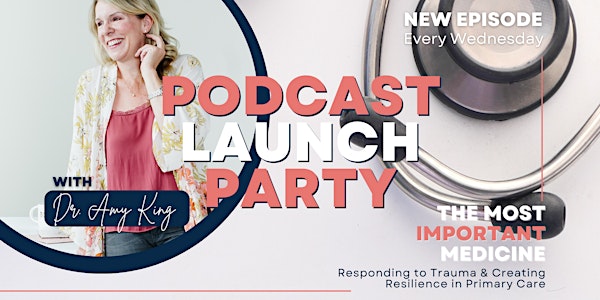 Podcast Launch Party: The Most Important Medicine
Podcast Launch Party: The Most Important Medicine
About this event
Join me in unveiling my brand new podcast! The Most Important Medicine Podcast: Responding to Trauma & Creating Resilience in Primary Care. I'm truly excited to show you what I've been working on and to celebrate my team's hard work in officially LAUNCHING!
FEATURING A SPECIAL GUEST DR. KEN GINSBERG who will be joining to discuss how he got interested in the work of trauma and resilience-building; how trauma shows up in primary care; why it's important to talk about trauma in primary care and why the word "resilience" is getting a bad rap lately. Learn more about Dr. Ginsberg here.
A little bit about me - I am a psychologist living in Newberg, Oregon and practicing as a consultant and trainer in the Pacific Northwest and beyond. Much of my inspiration for doing this podcast comes from my 20+ year career as a psychologist specializing in trauma and consulting with healthcare systems and individuals to answer the important questions: What does trauma look like? And, What do I do about it when I see it?
On this podcast, I interview leaders in the fields of healthcare & trauma, as well as fields that intersect or impact that work such as health equity experts, therapists, nurses, coaches, medical leaders, and other related fields. The primary goal of this podcast is to increase provider knowledge about how trauma impacts medicine through a platform that's easy to access and ingest. But the larger goal, and where the magic will happen, is within stories and community.
I hope you will join me in this virtual celebration -- see you soon!
For more info about me and my work visit doctoramyllc.com.