Description
Guess who's back - back again - Doug & JJ - tell a friend...
Podcast 101 Workshop @Social Workplace

***
Wanna podcast but don't know how to start?
Podcasting is a powerful marketing tool.
When planned correctly, podcasting can generate revenue, attract new clients, grow your community, and position yourself as an influencer.

Do you wonder...?
How can podcasting help me build influence, grow my brand, expand my community and make me money?

What equipment do I need to start a podcast?

What podcast format is right for me?

How do I start? (concept, launch, production, distribution and promotion)

Where is podcasting headed?
Our Podcast 101 Workshop experts are here to answer your questions about launching a podcast!
Featuring: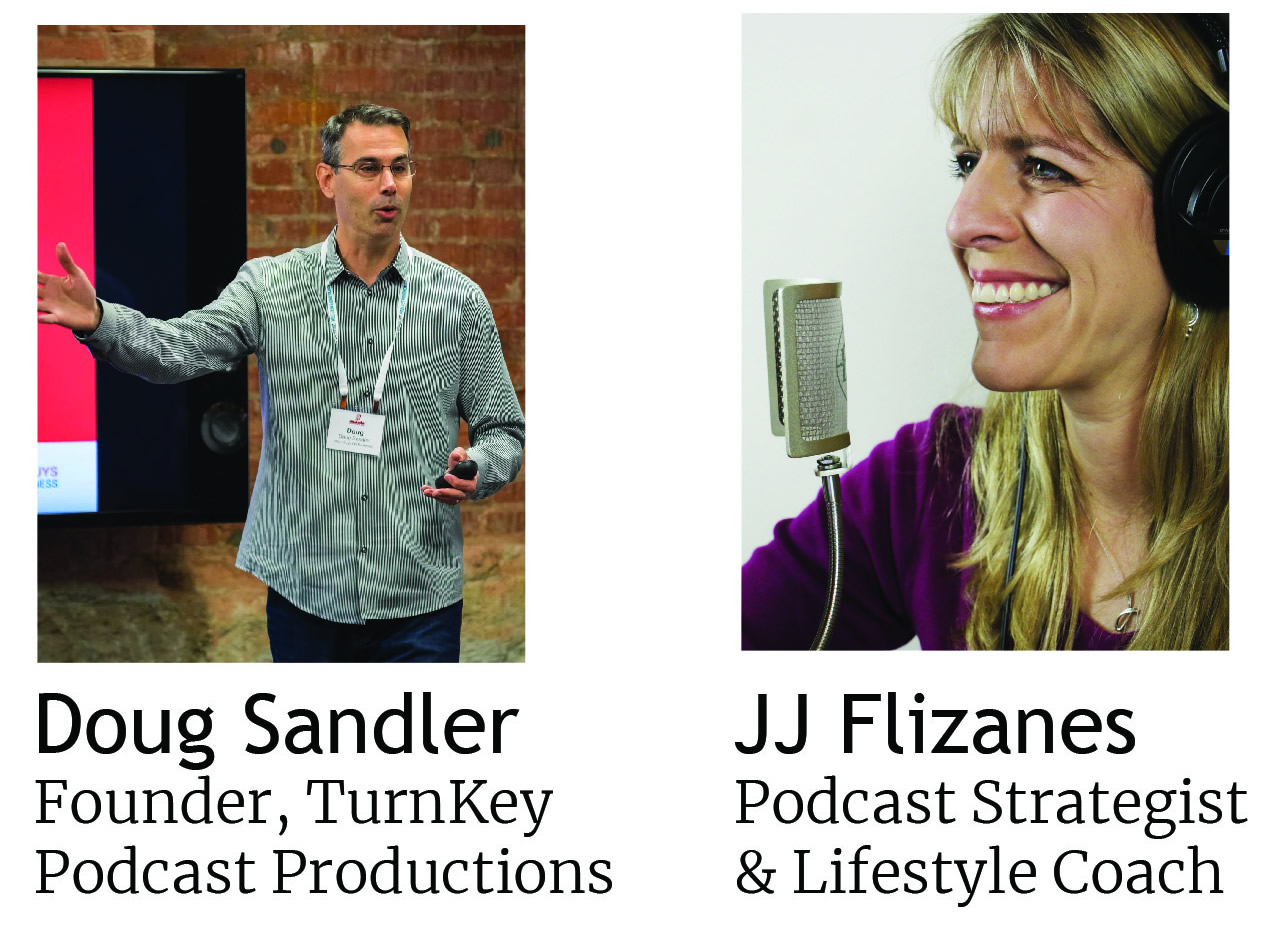 Doug Sandler is an entrepreneur and industry leader. His book, Nice Guys Finish First is a #1 ranked Amazon Best Seller. As a podcast host of The Nice Guys, Doug has interviewed, John Lee Dumas, Gary Vaynerchuk, Arianna Huffington and dozens of celebs. Doug is a nationally recognized speaker, writer, and founder of TurnKey Podcast Productions, providing podcast production, editing and launch services. His Nice Guys podcast, with over 800 episodes has been downloaded 2.5 million times, in more than 175 countries. More info about TurnKey can be found at TurnKeyPodcast.com
JJ Flizanes, Podcast Strategist and Lifestyle Coach, launched her first show Fit 2 Love in September of 2014. Fit 2 Love, a 6 day a week audio and video podcast, spent 11 weeks at #1 of all video podcasts and has been in the What's Hot category for Health ever since. Several shows and over 1.5 million downloads later, JJ teaches people how to repurpose their content and how to use what you already have to get more, build a community, start a movement and make a difference. JJ has been featured in many national magazines, including Shape, Fitness, Elegant Bride, and Women's Health as well as appeared on NBC, CBS, Fox 11, the CW and KTLA. Her newest book, The Invisible Fitness Formula: 5 Secrets to Release Weight and End Body Shame debuted at #2 on the Amazon Best Seller List for Women's Health. Learn more about her shows at jjflizanes.com/podcasts.

Limited to 12 people. $20 Registration Fee
REGISTRATION REQUIRED: All guests are required to register to attend this event.
FREE FOR MEMBERS: Members of Social Workplace and the Lomita Chamber of Commerce attend for free as a member benefit. If you have an active membership, this ticket is just for you! (Get the secret code.)
REGISTRATION INCLUDES 1 HOUR PODCAST RECORDING STUDIO CREDIT AT SOCIAL WORKPLACE!
REGISTER EARLY SO YOU DON'T MISS A THING!