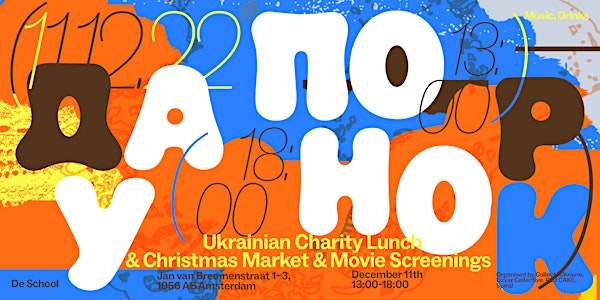 Podarunok
Podarunok (ukr. a present) Ukrainian Charity Lunch, Christmas Market & Movie Screenings
When and where
Location
Doctor Jan van Breemenstraat 1 1 Doctor Jan van Breemenstraat 1056 AB Amsterdam Netherlands
About this event
PODARUNOK in Ukrainian means "a present"
LOCATION
De School (Cafe DS, Het Kunstlokaal)
Dr. Jan van Breemenstraat 3 (entrance through Cafe DS)
ABOUT
In-between Sinterklaas and Christmas celebrations, we invite you to enjoy a few hours of delicious Ukrainian food, documentary film screenings and Christmas market at De School. Book a free ticket, come with an empty stomach and an open heart!
In addition, we are preparing a plethora of attractions: a mini-lecture about Ukrainian (food) traditions and educational bingo game through which you will learn and share about food stories from Ukraine.
All proceeds will go to people and initiatives in the war-torn areas of Ukraine. The harsh winter has already started, exacerbated by country-wide power outages knocked out by air strikes. To help people in the war-affected regions survive the upcoming cold season, the donations collected during the event will be primarily distributed to buy power generators, power banks, thermal clothing and other necessary supplies to survive the winter in the situation of complete blackout.
For more information on previous initiatives of humanitarian aid completed by Collect4Ukraine, please visit our Instagram page.
FOOD
Get ready for delicious vegetarian treats: borscht, varenyky, stuffed paprika, Georgian khinkali, freshly baked bread, variety of cakes and traditional home-made drink: uzvar!
The food is provided by: Batoni Khinkali restaurant, UZVAR collective, REJCAKE, Bakkerij Mater & Lerali
MOVIES
In a separate cinema room, we invite you to immerse yourself in touching stories made by up-and-coming Ukrainian filmmakers:
"Recipes of Displacement" by the Uzvar Collective
"When the warmth will come" by Olexandra Pletenetska
"The flow" by Yulia Piehocka
"Another night" by Daryna Snizhko
CHRISTMAS MARKET
Use the occasion and buy a Christmas present for yourself or your close ones! Choose between hand-knitted hats and scarf, crochet flowers, prints, dry borscht, photographs, t-shirts and many others.
See you on the 11th of December!
Please reach out to organizers via collect4ukraine@gmail.com in case of cancellation.