About this Event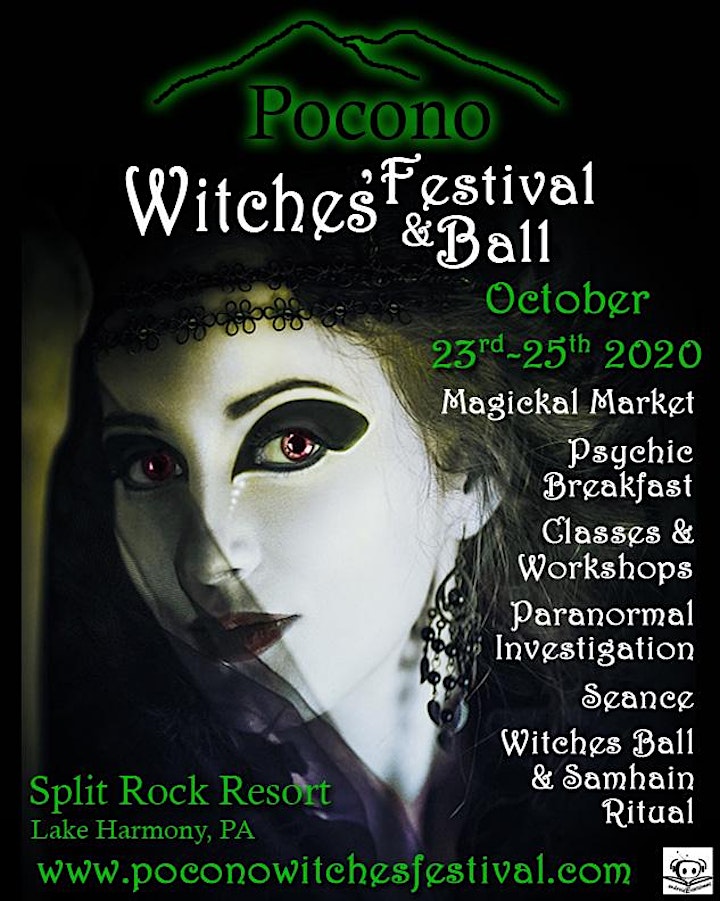 We are returning in 2020 Bigger & Better !!!
The Pocono Witches' Festival & Ball is three days in October that celebrates Halloween and the Witches' New Year, known to Witches as Samhain. The Event will be held at the Split Rock Resort in Lake Harmony, PA. The Weekend Festivities include a Witches' Masquerade Ball and Samhain Ritual.
Friday October 23rd
Séance 7pm-10pm
Paranormal Investigation 10pm-2am
Start the Pocono Witches' Festival off with an authentic Séance with TBA. Experience the techniques used by TBA to receive messages from beyond the veil. Guests will sit in a semi-darkened known haunted room at the Split Rock Resort and experience a séance conducted by an experienced, professional psychic and medium. TBA casts a circle of protection and then guides the group to open the channels of awareness and communication to any spirits present.
Then we will take a small snack and beverage break while guests will be introduced to our celebrity and special guest paranormal investigators and broken into smaller groups to investigate the known haunted areas of the Split Rock Resort. You don't want to miss this!!! Last year many of guests had amazing encounters with the spirits of Split Rock. Special Guest Investigator TV's Mark Keyes
$45+tax&fees
All ticket sales are final.
Saturday October 24th
Magickal Market 10am-5pm
SHOP! SHOP! TIL' YOU DROP! Take the day to explore the Magickal Market, a magical marketplace of vendors offering all your Witchy needs and desires. An open to the public market of unique vendors selling crystals, jewelry, spell kits, books of shadows, candles, voodoo dolls, herbs, incense, wands, books, divination tools, and BONES! Don't forget to stop by one of our psychics or tarot readers for peek into the future. Relax, cleanse, or balance with one of our spiritual services providers offering massages, cleansings, and reiki.
During our Magickal Market expand your knowledge of the Arts of Magick, Witchcraft, and Spirituality with our presenters, authors, and known practitioners. Classes and Workshops will be held throughout the day. The Pocono Witches Festival welcomes Special Guest Author & Witch ….Christopher Penczak
The Blind Raffle will return that help raise money for the Pocono Wildlife rehab center to be held during the Magickal Market.
$8 Entrance Fee or advance tickets can be purchased
12pm to 1pm
During our Magickal Market experience the mystical sounds of METAMORPH at our first ever live concert.
$8 Entrance Fee or advance tickets can be purchased FREE for VIP & ALL ACCESS
Witches' Ball and Samhain Ritual 7pm-12am
Join your host, author and practicing Witch, E. Massey in celebrating a night of magick, music, and ritual at the Pocono Witches' Ball! Dance into the night with other costumed folk as NYC's award winning DJ STEVE SIDEWALK spins all your favorite party tunes and spooky songs. Take a break and enjoy the buffet dinner and cash bar. In addition to fun, food, and dancing, guests will be able to participate in a Samhain ritual that honors the thinning of the veil and our ancestors and loved ones. 2020 will introduce our first theme: MYTHS & MAGICK!
18+ to party/21 to drink.
$60+tax&fees includes buffet dinner
All Ticket Sales are Final
Dinner Menu: TBA
Sunday October 25th
Psychic Breakfast 11am-3pm
Whether you take the day to wind down after the ball or to enjoy all that Slip Rock Resort has to offer, make sure you end your magickal weekend with our Psychic Breakfast. Enjoy a delicious buffet breakfast as our Psychic Mediums Virginiarose Centrillo and TBA delivers an insightful morning of messages and communications from the spirit world.
$50+tax&fees includes buffet and entertainment