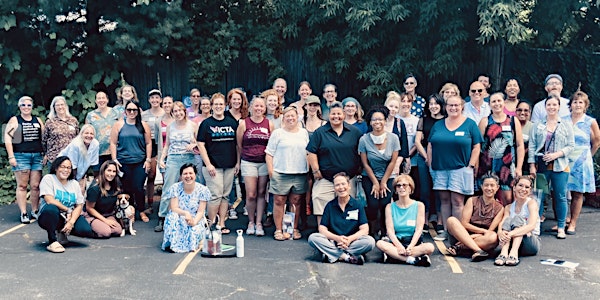 POCA Fest 2023
Our first in-person POCA Fest since pre-pandemic times!
By People's Organization of Community Acupuncture
Date and time
July 28 · 4pm - July 30 · 12pm EDT
Location
Providence Community Acupuncture 1055 Westminster Street Providence, RI 02903
Refund Policy
Contact the organizer to request a refund.
Eventbrite's fee is nonrefundable.
About this event
1 day 20 hours

Mobile eTicket
POCA Fest 2023 The Future is Ear!
Conference Description:
We are so excited to reconvene for the first in-person POCA-hosted event since before COVID.
The Future Is Ear ! will bring together 5NP (Five Needle Protocol) and community acupuncture.
The historical use of the 5 Needle Protocol predates and informed what eventually became the community acupuncture movement. Primary values shared between these two traditions are affordability and equity in access to care. Utilizing historical knowledge, practical experience, and a passion to see this work expand and continue, participants will engage in knowledge-sharing, collaboration and discussion to contribute to the greater development of effective, affordable acupuncture practices and legislative efforts to continue expanding access to care.
Conference Goals:
1. Knowledge Sharing and Education: We will use presentations, workshops, panel discussions, and an onsite ear clinic.
2. Efforts to Expand Access: Through legislative efforts and advocacy, through POCA AAT training and expanded training opportunities.
3. Addressing Implementation Challenges: Through exploring delivery systems and program models, we will envision sustainable, affordable alternative care models.
4. Networking and Collaboration: Building and strengthening connections, communication, and relationships.
[**Please note that Continuing Education Units are for licensed acupuncturists and require an additional registration fee (add-on). Unfortunately there are no CEUs for other professions available at this time or CA CEUs.]
FRIDAY
@ Providence Community Acupuncture 1055 Westminster Street, Providence
"Open House" everyone is welcome from 4:00 to 8:00PM to stop by to register, meet new folks, reunite with old friends, enjoy some snacks and join in a round table discussion.
SNACKS PROVIDED
4:30 to 7:00PM "Grand Rounds" Panel Discussion [2.5 CEU pending] Facilitator: Andy Wegman Panelists: Ellen Vincent, Steve Kingsbury
Panelists will answer several questions to explore topics ranging from clinical strategies for treating unprecedented trauma and stress, co-morbidities related to COVID, safety measures, to changes to clinical systems. Come and listen or participate in answering these questions for yourself.
SATURDAY
@Farm Fresh RI 10 Sims Ave, Providence
8:00-8:45 LIGHT BREAKFAST
9:00 - 11:00 AcuDetox/AcuWellness after Community Trauma: Community Tools for Strength, Resilience, and Healing Facilitator [2 CEUS pending]: Facilitator: Avani Dilger
Many kids and adults are struggling with stress and anxiety right now. We often didn't learn how to respond to stress or trauma in productive ways and often feel alone with our day-to-day struggles. We understand the brain so much better now than ever before and in this training you will learn the latest science behind stress, anxiety and trauma. We will discuss and practice strategies that you can use in your daily life to manage stress and anxiety in productive ways. These strategies will change how you can deal with stress as a parent, as a family, and/or as a professional. All these tools are practical so that you can immediately share them with your friends, family and/or clients. They will support families, teens, and communities to feel more resilient and empowered.
In this training you will learn more about the Neuroscience of stress, anxiety, and trauma, strategies to unlock the freeze response and to use stress and anxiety as a productive force in your life, resources for parents, teens, and communities, and AcuDetox/AcuWellness as a resiliency tool after trauma.
or
9:00-10:30 Trainers Session (no CEUs)
Facilitated discussion that looks at some of these questions and more: How do we get more trainees to complete the certification requirements? Why are trainings sometimes 4 days and sometimes 2 days? What's the cost/benefit of each? What are some challenges of training? How do we assess competency of trainees? How do we sequence and/or prioritize the various components of our trainings? How to identify future trainers? How to train new trainers?
11:00 - 1:00 Safety in Auricular Acupuncture Clinics [2 CEUS pending] Facilitator: Cris Monteiro
Real time safety in action. Punks will work with AAT Trainees to address safety issues related to the delivery of ear acupuncture in public settings. We will cover best practices for clean needle technique, provider ergonomics, developing safety protocols for any space/situation, and how to handle various contraindications and adverse events, both theoretical and actual. Free ear clinic will be open to the public during POCA Fest. Feel free to stop by during breaks between other sessions, or stay for a while!
or
11:30- 1:00 AcuDetox/AcuWellness in Justice System Contexts - Acudetox for trauma healing, recovery, harm reduction, resiliency, empowerment and peer leadership, A Community Dialogue
Facilitators: Avani Dilger and Nobi Pyle
Many professionals in Justice System contexts are recognizing the prevalence of trauma and mental health issues in their clients and acknowledge that often traditional approaches are not reducing recidivism and support healing and recovery. More than ever before probation departments and drug court programs are opening up to more holistic and somatic approaches in supporting their clients. This is a community dialogue in how AcuDetox has been successfully used in Justice System contexts, how it is empowering our clients into recovery, empowerment, and leadership and what strategies have been successful in implementing AcuDetox in Justice System contexts.
1:00-2:00 LUNCH PROVIDED
2:00-3:00 Keynote and discussion groups [2.5 CEUs pending]
Beyond AAT Training: Legislative Advocacy, Community Collaboration and Social Justice Initiatives -- Chuck Pyle
The explosion of drug overdose deaths during the fentanyl crisis, increases in gun violence and mass shootings, the relentless multi-generational traumatic impact of mass incarceration and, of course, the death, fear and isolation caused by the pandemic, make it clear that our country could use many more AATs. But a meaningful response to these and other crises requires more than teaching the 5-points. We must create opportunities for AATs to quickly and effectively get into community to provide 5NP. Eliminating statutory and regulatory restrictions is step one. The presentation will discuss the legislative picture in states across the country, along with advice for getting a legislative advocacy effort started. Reaching out to collaborate with any of the many community groups impacted by trauma is the most important and ongoing need we must attend to. Successful community collaborations greatly increase access to 5NP as well as opportunities for AATs to serve their communities. Finally, strategies to incorporate 5NP into social justice initiatives will be explored. Social justice initiatives seek to directly or indirectly impact our political and community institutions. These institutions can benefit greatly by learning more about the client-centered, trauma- informed, humble focus of the 5-Needle Protocol.
3:15 - 4:30 Presentation -- Laura Cooley
The complex history of The People's Detox and the transformation into Lincoln Recovery spans many decades. This presentation will cover the collaborations of various groups that directed and assisted the takeovers, their goals, outcomes, and phases of the program. Working from radical assumptions, and desperate to end the western medical and pharmaceutical dominance, Mutulu Shakur and Walter Bosque Del Rio initiated using ear acupuncture in the under resourced Bronx. Ultimately Lincoln becomes the first detox program for narcotics and methadone in NYC (all others were strictly maintenance), and the first maternal addiction program in the nation. Lincoln Recovery became a training Center, the foundation of NADA, and Mike Smith mentored thousands. NADA exists in over 40 countries.
SUNDAY
@ Providence Community Acupuncture 1055 Westminster Street, Providence
8:00-8:45 LIGHT BREAKFAST
9:00-Noon Panel with Follow-up Discussion in Groups [3 CEUS pending]
Panelists: Elizabeth Ropp, Chuck Pyle, Susan Murphy, Tanya Sullivan, Daisy Ferreira
This panel discussion will focus on legislative work. Panelists will discuss current efforts, challenges and recent victories. There will be a focus on ear acupuncture programs and training initiatives. Following this presentation, attendees will break into discussion groups, where participants can share in more indiviudual detail. Groups will offer mutual support for starting or continuing legislative work.
REFUND POLICY: https://pocacoop.com/workshop-events-policy/
LODGING RECOMMENDATIONS:
In Providence:
$240 - 280 per night at The Dye House
$209-$229 per night at the Christopher Dodge House B&B
The Dean $311-$377 per night plus tax & fees.
Marriott $307-350 per night plus tax & fees.
Hotel Providence $340-$390 per night plus tax & fees
Hotels in Seekonk, MA range in price from $120-$275 per night plus tax and fees.
Thanks to acu-market for their sponsorship of this event and POCA AAT trainings.