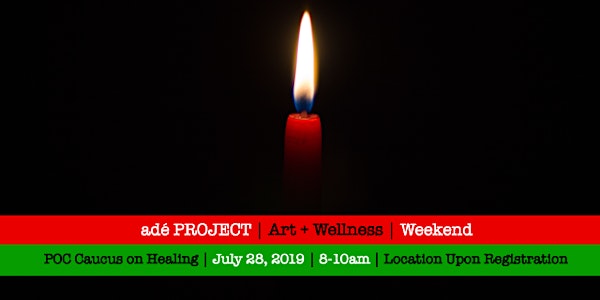 POC Caucus on Healing [adé PROJECT Art + Wellness Weekend]
adé PROJECT presents, in collaboration with Transformation Yoga and Daniway Yoga + Wellness...
When and where
Location
Asheville 1 Asheville, NC 28801
About this event
Nothing about us, without us, is for us.
###
THE REASON WE GATHER ::
While Asheville is definitely a yoga dense city, there are few instructors, practitioners and/or healers of color in this small mountain city. To that end, in collaboration with Asheville Yoga Festival, Daniway Yoga & Wellness, we are creating an opportunity for visiting yoga and martial arts instructors to share their gifts with the community here by engaging in a conversation on healing as POCs.
EVENT CO-HOSTS ::
Daniele Martin | Daniele Martin is a yoga teacher, storyteller, racial equity activist, animal lover and healer dedicated to transforming individual and collective racial trauma through strategic partnerships. Specifically, Daniele specializes in working with health and wellness organizations, conferences, and festivals committed to decolonizing their spaces. Passionate about equity, spirituality, and true expressions of love, Daniele infuses her work with more than 30 years of alternative medicine and metaphysical wisdom. Having been described as a spiritual doula, Daniele is someone who sees what we are capable of birthing, while simultaneously being deeply skilled at navigating the unavoidable labor pains required to bring a new way of being into the world. For more info on Daniway Yoga & Wellness, email - daniwaywellness@gmail.com
Kennae Miller | Kennae Miller was born in Frankfurt, Germany in a strong military family and was raised in Colorado Springs, CO where her father completed his military career and her family planted their roots. While living in Colorado and being exposed to many different experiences and forms of art she discovered yoga as a junior in high school. Initially lured by the invitation of a free class for relaxation as she navigated her teenage years she enjoyed the calmness of mind a yoga practice provided for her. It was only after the beginning of her parent's difficult divorce was she able to observe and benefit in different aspects of life, from focus to self-inquisition, stemming from a yoga practice. Kennae credits the practice of yoga as the only place she could go to just be herself and relax her mind. For more info on Transformation Yoga, visit - www.transformationyogasc.com
###
THE CALL TO ACTION + DISCUSSION::
Historically African-American communities have been plagued by urban renewal, gentrification, erasure and yet still, is resilient, forward-facing, and seeking more ways to collaborate, celebrate and heal as a community. To that end, this feels like our way to contribute to the goal of mobility, wellness, equity, and healing for the community.
###
For more info on Artists Designing Evolution (adé PROJECT), email - connect@theadeproject.org
###
WITH GRATITUDE ::
Special thank you to: Asheville Yoga Festival; Kennae Miller; Transformation Yoga; Daniele Martin; Daniway Yoga & Wellness, and various community members!
OFFICIAL HASHTAGS :: #ashe2019 #adeprojectaww