Description
NEATEC presents a FREE, two-day workshop on Pneumatic Technology. This 2-day hands-on training will provide an introduction to pneumatic technology used in industrial systems including mechatronic systems. Students will assemble and operate basic pneumatic systems and learn the basics of pneumatic circuit design, assembly and testing. Students will also learn basic skills and approaches for pneumatic system troubleshooting. This workshop is offered at SUNY Polytechnic's Albany campus.
For 2-year and/or 4-year college students with a background or interest in math, engineering, or technology.
---
Attendees will be provided electronic copies of all workshop materials.
---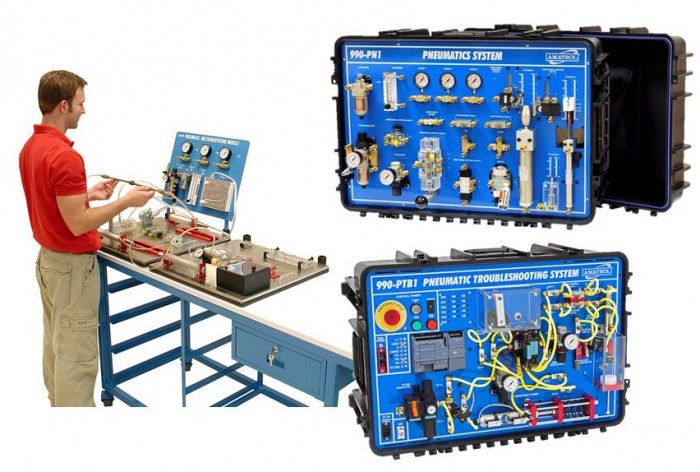 courtesy of Amatrol.com
---
You will gain this knowledge and these skills:
Interpret pneumatic symbols on pneumatic circuit drawings

Understand behavior and design of simple pneumatic control circuits.

Familiarity with hardware within pneumatic control circuits, such as: FRL units, relief valves, safety valves, pressure regulators, pressure switches, etc.

Ability to analyze, diagram, and create various pneumatic circuits used in industry (i.e. two handed safety circuit).

Troubleshoot basic maintenance problems within pneumatic systems.


Your Instructors:
Presented by: Jon Ashdown
Dr. Ashdown received the B.S., M.S., and Ph.D. degrees from Rensselaer Polytechnic Institute, Troy, NY, USA, in 2006, 2008, and 2012, respectively, all in electrical engineering. Dr. Ashdown has worked as an adjunct professor at SUNY Polytechnic Institute for several years and has expertise in a variety of areas including both analog and digital electronics, radio frequency (RF) systems, mechatronics and pneumatic systems.


Presented by: Robert Geer, Ph.D.
Dr. Geer is a Professor of Nanoscale Science at the College of Nanoscale Science & Engineering (CNSE) at the State University of New York (SUNY) Polytechnic Institute. Over the past 20+ years Dr. Geer's research has focused on various areas of silicon integrated circuit processing, fabrication, design, testing and metrology.