Description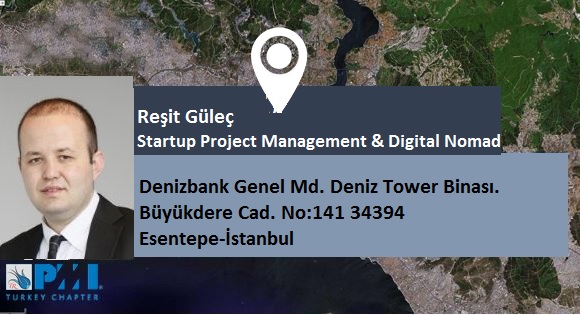 ETKİNLİK PROGRAMI:
18:15 – 19:00 Kayıt
19:00 – 19:10 PMI TR'den haberler
19:10 – 19:50 Reşit GÜLEÇ – "Startup Project Management & Digital Nomad"
19:50 – 20:00 Çay-Kahve Arası
20:00 – 20:40 Reşit GÜLEÇ – "Startup Project Management & Digital Nomad"
20:40 – 20:50 Sorular, Cevaplar
20:50 – 20:55 KAPANIŞ
KONUŞMACI/KONUŞMACILARIN BİYOGRAFİLERİ:
Reşit Güleç, MBA, PMP, ITIL
2007 yılında İTÜ elektronik mühendisliği bölümünden mezun oldu. 2013'te London School of Business & Finance'ta MBA eğitimini tamamladı. 2007-2011 yılları arasında Alcatel-Lucent'in Belçika ve İngiltere ofislerinde entegrasyon mühendisi olarak çalıştı. Bu sırada, Vodafone, Belgacom, Deutsche Telecom, British Telecom, Brazil Telecom operatörlerinde telekom projelende çalıştı. 2011-2013 yılları arasında Ericsson'da çalıştı. Azerbeycan ve Iran'da projelerde görev aldı. Dünya'da ilk kez Türkiye'de Turkcell'de gerçekleştirilen "Gerçek Zamanlı Ücretlendirme" (Single Rating) projesinde çalıştı. 2013-2015 yılları arasında OBSS'de uzman proje yöneticisi olarak çalıştı. Türkiye'nin en büyük dijital platformlarından birisi olan Turkcell Dijital Akademi projesinde vendor tarafında proje yöneticisi olarak görev aldı. TEB, Yapı Kredi, Aktifbank bankalarında ve BNP Paribas, Anadolu Sigorta şirketlerinde yazılım projelerini yönetti. 2014 yılında kendi girişimi olan Master of Project Academy'yi kurdu ve dünya çapında 170'den fazla ülkede 50.000'den fazla profesyonelin sertifika sınavlarına hazırlanmasını sağladı. Girişiminin başarısı Yahoo Finance, Wall Street Journal, San Francisco Business Times gibi pek çok ünlü mecrada haber oldu.
Kariyerine proje yöneticisi olarak devam etmektedir
KATEGORİ BİLGİSİ:
Stratejik (Strategic) & Proje Yönetimi (Technical Project Management)

ÜCRET ve PDU BİLGİSİ:
Katılım ücreti 30 TL'dir.
PMI TR Chapter üyeleri ücretsiz katılabilecektir.
PMI sertifika sahipleri için etkinlik 2 PDU (1 PDU-Strateji, 1 PDU-Proje Yönetimi) değerindedir.
Katılım ücretleri için hesap bilgileri:
Hesap Sahibi: Proje Yönetim Mesleği İlkeleri Teknikleri ve Rotası Derneği İktisadi İşletmesi
Banka: Akbank Ulus Şubesi
IBAN Numarası: TR38 0004 6006 3688 8000 0594 18
LOKASYON BİLGİSİ:
Yer: Denizbank Genel Md. Deniz Tower Binası (Selma Akboğa Salonu) Büyükdere Cad. No:141 34394 Esentepe-İstanbul