Description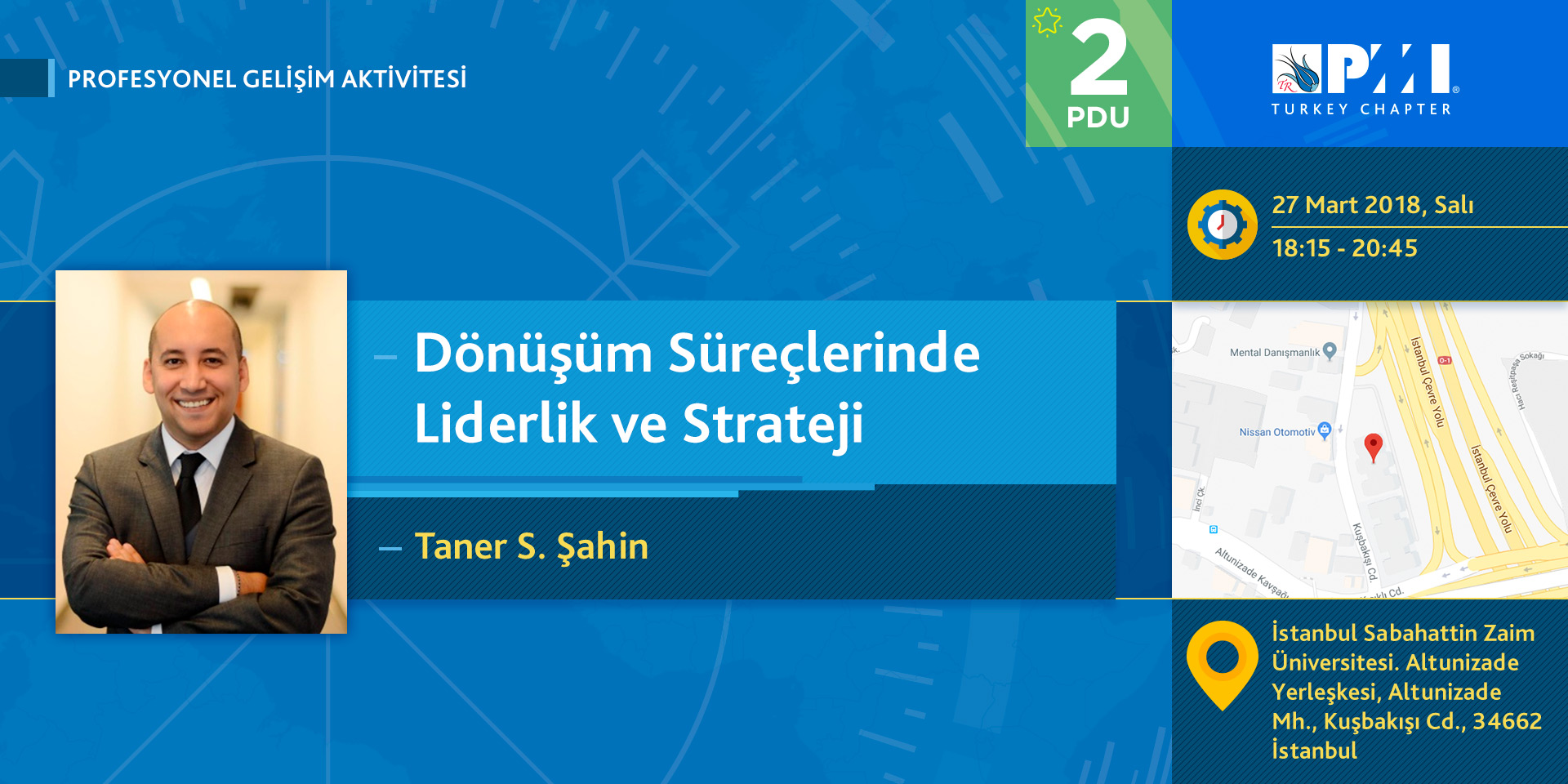 ETKİNLİK PROGRAMI:
18:15 – 19:00 Kayıt
19:00 – 19:10 PMI TR'den haberler
19:10 – 19:50 Taner S. Şahin – "Dönüşüm Süreçlerinde Liderlik ve Strateji"
19:50 – 20:00 Çay-Kahve Arası
20:00 – 20:30 Taner S. Şahin – "Dönüşüm Süreçlerinde Liderlik ve Strateji"
20:30 – 20:40 Sorular, Cevaplar
20:40 – 20:45 KAPANIŞ
KONUŞMACI BİYOGRAFİSİ:
Taner S. Şahin
İş hayatına girişimci olarak kurucu ortaklarından olduğu ve Borsa İstanbul Özel Pazar tarafından en hızlı büyüyen girişim şirketi ödülü alan distribütörlük firması ile başlamıştır. Sonrasında profesyonel yöneticilik kariyerine geçerek Danimarka ve İsviçre borsalarında kote iki yabancı şirketin Türkiye pazarına giriş süreçlerinde Genel Müdürlük görevlerini üstlenmiştir.
2015 yılından beri Alman ortaklı bir Türk ISO-100 firmasında Grup Direktörü olarak yapılanma, dönüşüm ve yatırım süreçlerini yürütmektedir. Yöneticilik görevine ek olarak 2016 yılından beri İZODER Yönetim Kurulu ve EAE Avrupa Türkiye temsilci üye statüsüyle dernek çalışmalarına katılmaktadır.
Formal eğitimine Boğaziçi Üniversitesi Kimya bölümü ile başlamış olup sonrasında Manchester Business School'da MBA, Kelley School of Business'de Marketing Major, Harvard Business School ve IMD Lausanne'da ise Liderlik ve Değişim Yönetimi Executive Eğitimleri ile devam etmiştir.
ETKİNLİK İÇERİĞİ:
KATEGORİ BİLGİSİ:
Strateji ve İş Yönetimi (Strategic and Business Management)
ÜCRET ve PDU BİLGİSİ:
Katılım ücreti 50 TL'dir.
PMI TR Chapter üyeleri ücretsiz katılabilecektir.
PMI TR Chapter üyeleri Arkadaşını Getir Kampanyası ile 20 TL karşılığı misafir getirebilirler.
PMI sertifika sahipleri için etkinlik 2 PDU değerindedir.
Katılım ücretleri için hesap bilgileri:
Hesap Sahibi: Proje Yönetim Mesleği İlkeleri Teknikleri ve Rotası Derneği İktisadi İşletmesi
Banka: Akbank Ulus Şubesi
IBAN Numarası: TR38 0004 6006 3688 8000 0594 18
LOKASYON BİLGİSİ:
Yer: İstanbul Sabahattin Zaim Üniversitesi. Altunizade Yerleşkesi, Altunizade Mh., Kuşbakışı Cd., 34662 İstanbul